Recent years have seen interest grow once again in industrial policy, specifically micro-interventionist industrial policy. A search of the Nikkei Keizai Shimbun database produces a greater number of hits for the keywords "industrial policy" and "policy & system" for the period beginning 2016, showing a particularly high increase since 2018 (see graph).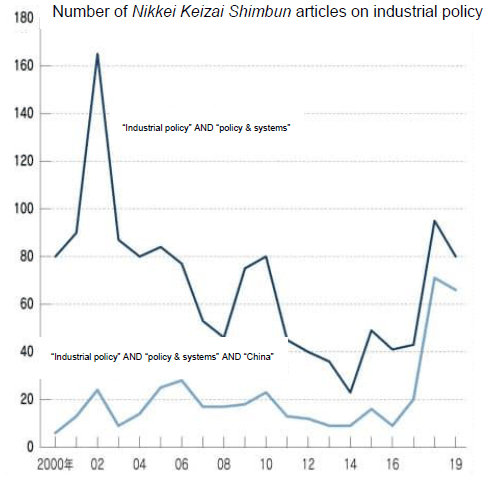 In international academic circles of economics also, there has been a notable increase in interest in industrial policy. For example, the European scholarly publication Journal of Industry, Competition and Trade, compiled a special issue on industrial policy that was guest edited by Professor Karl Aiginger of the Vienna University of Economics and Business and Professor Dani Rodrik of the Harvard University. Both pointed out in their editorial notes "Rebirth of Industrial Policy and an Agenda for the Twenty-First Century" that "After a period of decline in interest and premature predictions of demise, industrial policy is back on the scene."
This academic interest in industrial policy has also extended to the United States. The American Economic Association's Summer 2019 issue of the Journal of Economic Perspectives included an article by Nicholas Bloom, Professor of Economics at Stanford University, and two other authors entitled "A Toolkit of Policies to Promote Innovation." Predicated on a survey of relevant empirical studies, they evaluated evidence for the effectiveness, cost-benefit differences, as well as other outcomes related to a total of nine policy tools that included R&D grants, R&D tax credits, and patent boxes (preferential tax systems on revenues generated from patents).
This same trend has also manifested in the topics of articles published in the so-called "top five journals," which are regarded as the most authoritative journals in the field of economics. An "industrial policy" keyword search found only one article in the American Economic Review (AER) for the period between 2000 and 2009, but generated six AER hits and a total of eight articles overall for the period between 2010 and 2019.