A Power-Saving Economy: Opportunities to enhance technical innovation and strength

MOTOHASHI Kazuyuki
Faculty Fellow, RIETI
After the Japanese government announced a target of reducing electricity use by 15%, public institutions and companies have been exploring initiatives for saving power. In large part, Efforts mainly involve conserving energy through temperature control and reductions in energy use for indoor lighting, as well as electric-load balancing through the shifting of work hours to weekends and early morning. The introduction of energy-saving office equipment and systems, and renewable energy, including photovoltaic power, is also gathering momentum.
As the role of nuclear power—which was expected to play a major role in action against global warming—is being reviewed, we need to view power-saving efforts not just as an issue for this summer but as a long-term challenge for the Japanese economy and society.
What effects will the promotion of saving power at companies and households have on technological innovation?
As the population declines, the key to long-term growth of the Japanese economy is raising productivity through innovation. Although power-saving initiatives will likely restrict corporate activities in the short term, they may trigger innovation and become a driving force for growth in the long term. In this paper, I discuss the possibilities for innovation and what action the government and companies should take to achieve raising productivity through such innovation.
♦  ♦  ♦
First, I would like to note that Japan is a leader in terms of energy saving and energy efficiency. According to statistics of the International Energy Agency, energy consumption per unit of gross domestic product (GDP) in Japan is much lower than that of the Organisation for Economic Co-operation and Development (OECD) average and about half the level of the U.S. and China.
Thomas Friedman, the author of The World is Flat raised an alarm about the global spread of American lifestyles, a symbol of the mass-consumption society, saying that the American way is no longer needed and that the example of Tokyoites should be followed. He says that Tokyoites, who live cleverly in compact living spaces, are the opposite of Americans.
The reasons for Japan's advanced energy-saving and environmental initiatives include not only its natural characteristics, including its lack of land area, but also steps taken by companies to promote these areas in response to pollution problems associated during the era of high economic growth and oil crises. The government's regulations and support systems, including subsidies and tax breaks for investments in energy-saving and environmental actions, have also been effective.
Japan is a leader in energy-saving and new energy technologies. The figure below shows a breakdown in applicants for solar cell-related patents in Japan, the U.S., and other countries by nationality. Patent applications from Japan account for about half of the patents in the U.S. and China.
Figure: Breakdown of applicants for solar cell-related patents (by nationality)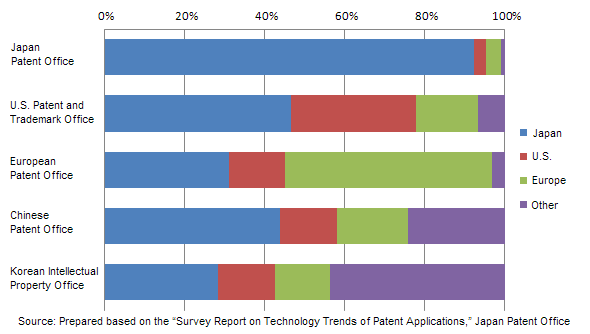 Japan accounts for about 40% of the patents related to light emitting diode (LED) lighting, which is expected to make a major contribution to saving power if introduced in earnest, far exceeding the U.S. or Europe. The semiconductor technology—the basis for solar cells and LED—possessed by Japanese electronics manufacturers is also at world-leading levels.
♦  ♦  ♦
We should consider a power-saving economy an opportunity for Japan, a leader in energy-saving and environmental action, to bolster its strengths.
The yield of solar panels and LEDs, like that of semiconductor chips, will rise and production costs will fall as production increases. The competitiveness of these products is therefore strongly linked to capital expenditures. Japanese companies have strengths in cutting-edge technology for solar cells but lack cost competitiveness. As a result, companies in the U.S., Europe, and China have larger market shares.
In addition to research and development to improve the efficiency of energy conversion, developing an environment in which companies can more readily invest based on enhanced foresight about future demand is important. There is definitely a trend to promote renewable energy, including solar energy. However, the long-term national energy policy, including the position of nuclear power generation, remains unclear, and this does not create a good investment environment. The government should show a general direction as soon as possible.
Although Japanese companies have outstanding technologies, there are questions about their management skills in linking the technologies to profitability. They need to develop strategies to transform their strengths in energy-saving and environmental technologies into economic value.
To that end, it is important not only to develop methods for producing and selling parts and products but also to design business models for providing parts and products as packages or systems for customers. It is difficult for Japanese companies to differentiate their individual technologies and products from those of competitors overseas. Consequently, they lack cost competitiveness, as in the case of solar cells.
Packages include the home energy management system (HEMS), which is a combination of solar cells, storage batteries, and water heaters, as well as the building and energy management system (BEMS), which saves energy by optimizing the management of demand for energy, including energy for lighting and air conditioning in a building. Although markets for these packages are not yet fully developed, they could emerge first in Japan due to the trend of conserving power.
The need for smart grids (next-generation power grids), which determine power demand from each consumer and controls power distribution, is expected to rise for stable electricity supply as more and more renewable energy is introduced. To provide a smart grid, you need to design a system that will control the whole grid by combining equipment effectively based on the different conditions of different users.
Complicated systems such as smart grids are more difficult to copy than individual products. If markets are created in Japan ahead of other countries, Japanese companies will likely enjoy first-mover advantages.
♦  ♦  ♦
Developing open strategies geared to global development is also important. Domestic demand for new systems is expected to rise as part of power-saving initiatives. However, overseas markets, such as the U.S. and China, will be larger markets in the long term. It is therefore important to develop cost-effective systems, leveraging domestic demand and considering global development.
To standardize technologies for systems that require the collaboration of companies, it is important to consider overseas markets. Japanese companies should develop collaborative relationships with universities, research institutions, and companies in areas that are expected to become major markets, such as the U.S. and China.
In open innovations, it is important to strike a balance between open technologies that will attract the attention of other companies and critical closed technologies that will become sources of profits and to achieve gains in both technology and profitability. Activities to standardize smart grids are under way with a view toward future international development. However, companies have different standards for HEMS and BEMS, and they should encourage standardization in Japan and develop internationalization strategies at an early stage.
Urban development projects to create new environmentally friendly cities, called eco-cities, combining new energy systems and infrastructure are attracting significant attention. Actual construction projects have begun in the U.S., China, and India. Many of those projects are undertaken by international consortiums that include local developers.
Demonstration experiments of eco-cities are under way in Japan, but not enough consideration has been given to profitability. Meanwhile, overseas projects come with greater risks and Japanese companies should therefore assess both the business risks of such projects and potential profitability before making proposals.
In the infrastructure business, it takes a long time to see a return on investment, and financial expertise, including project finance, is vital. The government should consider a scheme for supporting public-private partnerships (PPPs), where private enterprises take on risk.
In developing new business overseas, internationally minded people who have the ability to come up with new ideas about business are needed. Japanese companies must promote open and global management, including active use of talented people overseas.
* Translated by RIETI.
June 27, 2011 Nihon Keizai Shimbun
Article(s) by this author