Toward the Revival of Japan's Industrial Competitiveness: Promotion of open innovation for the science-based economy

MOTOHASHI Kazuyuki
Faculty Fellow, RIETI
Has Japan's industrial competitiveness declined?
Measured by the nominal gross domestic product (GDP), the size of Japan's economy has not changed much since 1990 before the burst of its economic bubble. Meanwhile, emerging economies such as China and India have grown rapidly from 2000 onward, and, as a result, Japan's share in the global economy dropped from 15% in 2000 to 9% in 2010. Based on my estimates, it will fall further to 4% in 2030, which means that Japan's presence in the global economy would shrink to less than one-third in the first three decades of this century.
Following the end of World War II, Japan achieved remarkable economic growth, rising to be on par with the levels of the United States and Europe. With particular strength in manufacturing, Japan attracted much attention from around the world for its technological capabilities and ability to produce high quality products. Can Japan restore its glories such as those that garnered global attention in the 1980s? In 2006, Bill Emmott, a former editor of The Economist, published "Hi wa Mata Noboru," an expanded book version of an essay published in the magazine in October 2005 under the same title ("The Sun Also Rises"). He predicted that someday Japan will restore its competitiveness by increasing productivity through economic structural reforms.
Indeed, Japan's economic institutions have undergone significant reform including massive financial deregulation (referred to as the "Financial Big Bang") carried out in the latter half of the 1990s and onward and the reform of the Companies Act and other relevant laws and regulations designed to facilitate the restructuring and realignment of business. However, real economic activities seem to have failed to respond. In Japan, various trade practices such as long-standing relationships with customers and stable employment remain in place and simply changing formal institutions would not change things in any significant way. In order to turn Japan into a truly strong economy, all of the actors in the economic system?i.e., the government, companies, and individuals?must share the direction of reform and work in a coordinated fashion at their respective levels.
There has been a decline in the competitiveness of Japanese companies in certain segments of the electronics industry such as semiconductors and flat panel television sets. Although Japan has many highly competitive industries such as the automobile industry, competition with U.S. and European companies has been intensifying with no signs of easing. Meanwhile, Japan is beginning to lose its competitive advantage in terms of operational capability of shop-floor employees, which has been the primary source of Japanese manufacturers' strength, as emerging economies are catching up fast. South Korea, Taiwan, and China are coming up from behind in the same way as Japan moved up from behind the United States and Europe in the past. Japanese companies' product-centric business model, which is based on the competitiveness of products fostered and sharpened in the course of their catch-up process, is spreading now among their rival companies in emerging economies. Japan needs a new growth model in order to restore its industrial competitiveness under such situation.
Open innovation in the era of the science-based economy
Open innovation is the key to industrial competitiveness in the global economic society of the 21st century. The product-centric business model, which focuses on the production of competitive products and at which Japanese manufacturers demonstrated their strength, has its roots in shop-floor capabilities to produce high quality products. Japanese manufacturers made continuous improvements to the shop floor under the policy of doing everything in house and expanded into the global market with their highly productive manufacturing techniques. They also adopted new technologies from U.S. and European companies and turned them into products to enhance their export power. However, Japanese companies now have reached the world technology frontier where they face fierce competition from emerging economy companies closing in. In order to open a new frontier of technology and build new business models, it is crucial to embark on an open innovation strategy.
As has been the case with the rapid spread of the Internet since the latter half of the 1990s, the decoding of the human genome in 2003, and the development of new drugs based on gene functions, innovative technologies that have been developed on the basis of scientific knowledge and findings are making a significant impact on the economic society.
With the impending end of the industrial economic model, which has its origin in the Industrial Revolution that began in Britain in the 18th century, the 21st century can be described as the era of the science-based economy. In this type of economy, the horizontal division of labor will occur between providers of technology platforms and business innovators who collaborate with users on the platforms and together develop new businesses.
A typical example in the field of pharmaceuticals is the division of innovative labor between biotech ventures that explore potential drug candidates and large pharmaceutical companies that develop them into commercial products. Likewise, in the information technology (IT) industry, the division of labor is observed between cloud service providers that offer IT platforms featuring advanced functions at low prices and service vendors that provide services to their customers using the platforms.
A growth strategy aligned to the needs of the science-based economy must consider the innovation process by looking at each of its two aspects as a two-phase process, i.e., science-based innovation (composed of scientific discoveries and the development of technological platforms) and business innovation (composed of the use of the technological platforms and the provision of new products and services) (see Figure below).
Figure: Innovation processes in the industrial economy and the science-based economy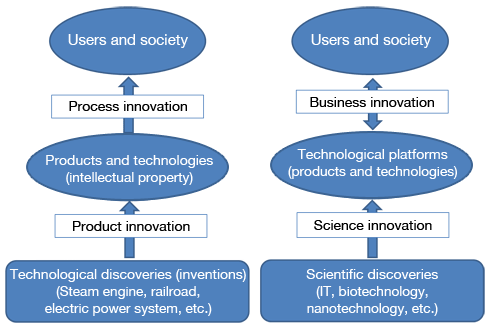 Strategic investments in the science sector and the promotion of industry-academia collaboration
The key to revitalizing science innovation is to incorporate scientific knowledge in the process of business innovation. Scientific knowledge typically is obtained from universities, public research institutes, and other players in the science sector. However, amid intensifying competition in the global market, private-sector companies are being required to bring about nonlinear innovations by exploring more deeply into fundamental mechanisms governing natural and social phenomena. Incremental innovations under the influence of conventional policies would not provide any fundament solution to the fierce competition from emerging economies based on the industrial economy model.
First, Japan must expand financial support for universities and public research institutes. Research funds spent in the university sector increased by only about 5% between 2000 and 2010, which is extremely small compared to 43% in the United States, 41% in Germany, and 33% in France. Over the past 10 years, university research funds increased 2.34 fold in South Korea and 4.35 fold in China. Japanese universities have been slipping in their international rankings measured in the quality and quantity of research papers as well. A mechanism for efficient use of research funds should be implemented through reforming the university system.
Second, it is also important to promote industry-academia collaboration so that scientific knowledge created in universities can be utilized effectively for corporate innovation activities. However, there exists a significant gap between academia, which seeks to make scientific discoveries and a quest for truth, and private-sector companies, which are geared toward maximizing profits, and their joint research initiatives often go awry. A model in which university ventures, those established on the basis of research achievements made at universities, serve as intermediaries in the transfer of technologies to large business corporations is effective. In this regard, the spin-out model in the United States is going a step forward. In Japan, however, many second-tier companies as well as small and medium enterprises (SMEs) already have been delivering results in collaboration with universities and can be expected to play a bridging role between universities and large corporations. Thus, in addition to promoting university ventures, the government should enhance support measures for SMEs' collaboration with universities.
Globalization and business innovation through collaboration with customers are important on the part of companies
What is important in the science-based economy is to drive the process of business innovation (technology platform→delivery of new products and services to users and society). Here, the key question is to what extent companies can raise value for customers through interactions with them?i.e., general consumers and corporate clients?based on their respective technology platforms. It is also important for each company to create a technology platform that corresponds to its customer base and provides competitive advantage to its business. Holding the key to business innovation is collaboration with customers. Success hinges on how much value companies create through customer services, not on how companies minimize dead stock by producing highly competitive products (as would be the case under the product-centric business model). Continual innovation for continual service improvement through interaction with customers is essential. For instance, Komatsu, Ltd. collects data from users on the operational status of construction machinery and utilizes such information to improve its customer services.
In the area of consumer business, companies are taking an approach called "one-to-one marketing," which is to sell specific products and services matching the specific needs of individual customers by operating in conjunction with social network services such as Facebook. In order to promote such business innovation utilizing so-called big data, Japan should: 1) establish appropriate privacy laws and regulations to set out explicit rules and thus enable the distribution of such data; and 2) pursue open government policies to make data held by the government available for use in the private sector.
Lastly, as the Japanese market becomes increasingly marginalized in the world, Japan needs to promote open innovation on a global level and thereby embrace growth in emerging economies as a source of its strength. In order to achieve this end, it is essential to develop a business model unique to each economy, incorporating the characteristics of the local market that differ from those of the Japanese market. In reality, however, innovations from overseas subsidiaries are hard to emerge as they typically are under the strong control of their parent companies in Japan. Accordingly, Japanese companies generally lag behind their U.S. and European counterparts in open innovations with local universities and companies in overseas markets.
As a policy response, it is important to create a facilitating environment for cross-border mergers and acquisitions. Particularly in emerging economies, relevant laws and regulations such as company laws are absent or not yet fully developed, while antimonopoly law and foreign capital restrictions are enforced in an arbitrary manner. In order to make it easier for Japanese companies to advance into those economies, the government should provide information on laws and regulations in each country and, if necessary, urge the governments of host countries to provide more accommodative regulatory environments in negotiations for bilateral investment treaties or through other forms of bilateral consultations.
Japan has many industries that are highly competitive with their product-centric business model, a type of industrial economy model, as is the case for automobile and industrial machinery manufacturers. However, in the long-term perspective, even those industries will likely lose their technological advantage over their rivals from emerging economies. Before it becomes too late, Japanese companies should renew their business model by adopting an open innovation strategy, which is imperative to be successful in the science-based economy. Meanwhile, what is important on the part of the government is to provide an environment that would facilitate the smooth implementation of changes at Japanese companies. The recent weakening of the yen has fostered a recovery in profitability for many Japanese manufacturers, but this does not constitute a fundamental solution. It is necessary for the government and companies to work in unison to reform Japan's economic system with an eye on the big trends of the global economy.
** This article is a summary of my proposals, mainly those contained in Chapter 8 of my book titled Hi wa Mata Takaku: Sangyo Kyosoryoku no Saisei [The Sun Also Rises High: Regenerating Japan's industrial competitiveness] published in February 2014 by Nikkei Inc.
March 11, 2014
Article(s) by this author