Cloud Computing and Companies' Responses: Act now to restructure IT platforms

MOTOHASHI Kazuyuki
Senior Fellow, RIETI
In the wake of the economic crisis, companies continue to cut back on their information technology (IT) budgets. However, new trends in IT innovation will continue to emerge one after another and even in such a tough economic climate, companies need to latch on to emerging trends and take up new challenges as needed.
The technology that may bring fundamental changes to IT management in the coming years is cloud computing. This refers to a mechanism in which IT users use external IT systems accessed through the Internet without purchasing the IT assets, such as computers and software. These computer services are supplied through the Internet just like electricity is supplied through an electric outlet and water is available at the twist of a faucet, i.e., users "tap in" to such services as needed.
* * *
The leading providers of cloud computing services are fairly new companies in the United States, namely, Google Inc., Amazon.com, Inc., and Salesforce.com, inc. Cloud computing services can be classified into two types: the provision of "platform as a service" (PaaS), a concept that offers servers, storage, and software development platforms; and the provision of "software as a service" (SaaS), which provides software applications on the Internet. Google and Amazon are mainly engaged in PaaS business, taking advantage of their enormous server and storage capacities. Meanwhile, Salesforce, which is well known for its customer management software products, has a strong foothold in SaaS business.
First of all, speed can be cited as a major advantage of using cloud computing services. Server and storage services provided by Google and Amazon are readily available for users with a credit card, which is a world apart from how things would be if users were to try to build their own network systems. Cloud computing also offers greater flexibility in dealing with changes in the processing capability and data capacity of IT systems.
Furthermore, for users whose demand for computer services fluctuates widely, cloud computing is more economical because users are charged on a pay-as-you-go basis. For instance, cloud computing is an optimal choice for online shop operators that receive a disproportionately large number of orders during the Christmas season. Finally, cloud computing offers a price advantage. For instance, Google rents a certain amount of server and storage space for free, while Amazon provides its services for 10 cents per hour.
* * *
In this way, cloud computing offers significant advantages for rapidly growing startup ventures as well as for small and medium enterprises (SMEs) with limited IT budgets. In Japan, the Ministry of Economy, Trade and Industry (METI) has been promoting the use by SMEs of financial accounting and other business software applications by means of SaaS. At the moment, however, only a limited number of progressive-minded companies are using cloud computing services.
The FY2008 survey on the use of information and communication technology conducted by METI found that only 7.1% of surveyed companies used SaaS during fiscal 2007 (April 2007 - March 2008). Although no official statistics are available for PaaS, given the fact that full scale PaaS services only started a year or two ago, the perception is that PaaS is used even less than SaaS. So, why has cloud computing failed to take off in Japan?
Problems Surrounding the Introduction and Use of SaaS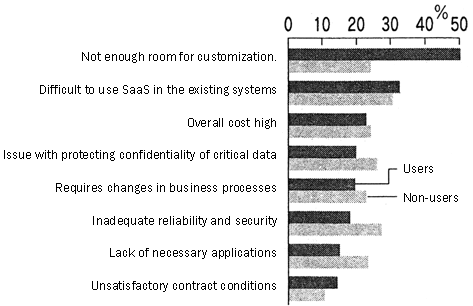 (Source)2008 nendo joho shori jittai chosa [FY2008 survey on the use of information and communication technology], METI
The above diagram separates respondents to the METI survey into users and non-users and shows problems associated with the implementation or use of SaaS.
Looking at users, many are dissatisfied with the lack of customization. Since SaaS customers need to use packaged software through the Internet, the degree of freedom for customization is inevitably lower than would be the case with a made-to-order system designed to incorporate the specific needs of a customer. Many users also cite the difficulty of using the SaaS in the existing systems as a problem.
Meanwhile, the insufficient level of protection to ensure the confidentiality of critical data as well as the less-than-satisfactory reliability and security of services are prominent problems cited by non-users. Many potential users feel uneasy about the fact that critical information such as client data would be processed by and stored in external servers when they use cloud computing.
One way to solve this problem is to guarantee the quality level of services. For instance, PaaS service providers typically guarantee a system availability of 99.9%, however, for certain users, such as banks, that require more stable systems, such a level is insufficient. Furthermore, when PaaS providers fail to achieve the guaranteed availability, they may be able to offer a certain percentage discount on service charges as compensation but would not provide any redress for business losses resulting from disrupted services.
Even though there are numerous problems at the moment, that is not likely to stop the progression of cloud computing. An IT system consists of two parts, i.e. an IT platform including the operating system (OS) and application software running on the platform. With the progress of the Internet, there has been a rapid shift toward standard and/or open-source platforms. In the process, the economy of scale plays a significant role, which is why Amazon and Google are able to provide PaaS services at low prices.
On the other hand, application software remains subject to a degree of differentiation because needs differ by use and user. Salesforce, well known for customer management software, offers its products in the form of packaged software but these products need to be customized in accordance with the needs of each user company. A typical practice at the moment is to develop an integrated system, comprising both the platform and application software, in accordance with the needs of customers. It is expected, however, that such integrated systems will soon lose economic competitiveness as the difference between platforms and application software expands further.
From the viewpoint of users, this represents a positive development as they can build a more efficient system by separating platforms and application software. It should be noted, however, that Japanese companies introduce IT systems separately for each type of task and they have yet to achieve company-wide optimization.
The company-wide optimization of IT systems is essential to the effective use of cloud computing. Defining a post office as a base for providing postal, banking, and insurance services, the Japan Post Group (JPG) has been using a Salesforce system to enable the group-wide sharing of customer information collected through the network of post offices. JPG officials said that the use of the SaaS service has been very effective as it allowed them to get a new system operational within a very short time frame. The JPG case provides a good reference for companies trying to optimize company-wide customer management systems currently operated on a division-by-division basis.
According to the METI survey, the proportion of companies having IT systems optimized on a company-wide level is smaller in Japan than in the United States. Before the wave of cloud computing becomes too big to catch, Japanese companies need to analyze and review their business processes, and make company-wide efforts to develop a common IT platform across the board.
* * *
When cloud computing becomes more wide spread, Japan's major IT vendors (system developers) delivering platform and application software in a package will quickly lose their competitiveness. International Business Machines (IBM) Corp. of the United States, which is the largest integrated IT vendor, will be no exception.
Major IT vendors have been proposing a concept called "private cloud," which is to optimize system operations through distributed processing and virtualization technologies although users need to prepare systems and data on their own. This is effective in building a company-wide IT platform but would not be able to compete in the coming era of cloud computing. Innovative initiatives, which take advantage of the ongoing move toward the use of common IT platforms among multiple user companies, are needed.
From the viewpoint of data transmission speed, the Internet is subject to certain local factors. In particular, given the circumstances surrounding the use of the Internet in emerging economies such as China and India, it is unrealistic to provide cloud computing for business users that is premised on the presence of high-quality information communication infrastructures. In this regard, the construction of a data center by IBM in the Chinese city of Wuxi can be seen as a pioneering move toward building local platforms.
Japan's strength is the presence of the broadband and mobile environments that allow for the world's fastest data transmission. It is necessary to strategically promote the building of common IT platforms in Japan by taking advantage of such favorable communication infrastructures. In the area of PaaS business, competition between platforms led by U.S. venders has just begun. Japan must take action at the national level before the emergence of a de facto standard or it may run into a serious problem in the future.
* Translated by RIETI.
November 11, 2009 Nihon Keizai Shimbun
Article(s) by this author