At a meeting of the Council on Economic and Fiscal Policy on May 14, Prime Minister SUGA Yoshihide expressed his resolve to raise the national average minimum wage to 1,000 yen per hour at an early time. As the current national average is 902 yen, this represents a significant increase.
As a preliminary step before discussing this matter, let us look at how minimum wages are determined in Japan. As with other labor policy matters, they are determined by a deliberative council comprised of members who represent public interests, workers and employers.
The minimum wage council system is a two-tier structure comprised of the Central Minimum Wage Council and regional minimum wage councils. The Central Minimum Wage Council classifies the 47 prefectures into four classes—Classes A to D—according to their wage level and recommends an appropriate level of increase for each class as a guideline level. Based on the guideline level, the regional minimum wage council in each prefecture determines the actual amount of increase.
The Central Minimum Wage Council's guideline levels are determined based on the actual percentage rates of wage increases identified through the Ministry of Health, Labour and Welfare's annual survey on wage revisions of Fact-finding Survey on Minimum Wages. The survey asks companies with a workforce of less than 30 permanent employees about the wage levels in June of the survey year and in June of the previous year.
The figure below shows the relationship between the rates of wage increases as identified through the survey on wage revisions and the rates of increases recommended as targets for each class of prefecture in 2012 to 2019. It indicates that the target rate has been set higher than the actual rate of wage increase, particularly since 2016. In 2020, it was recommended that minimum wages be kept at the present level in view of the impact of the COVID-19 crisis.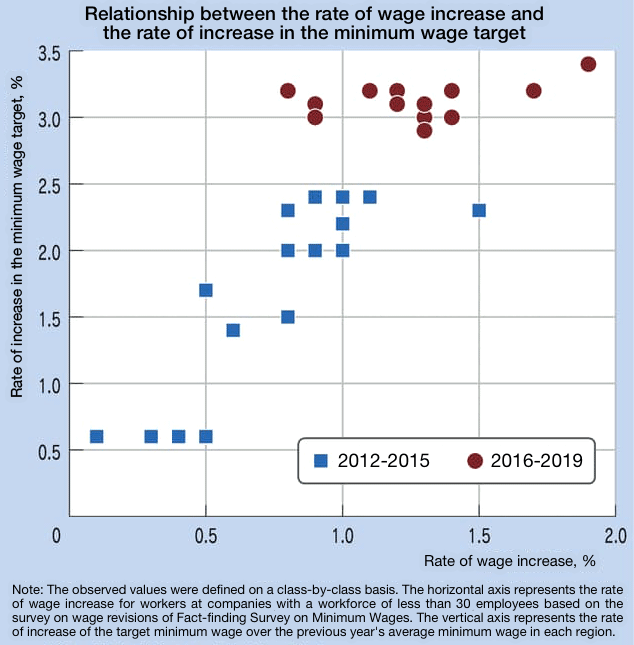 The proposal to raise the national average minimum wage to 1,000 yen is probably intended to promote the acceleration of the uptrend in minimum wages. However, Japan has reached a point where it is necessary to consider on what basis minimum wages should be raised. When considering this question, it is useful to look at evidence observed in other developed countries for reference. All the same, what matters is evidence in Japan. Particularly worrisome is a decrease in employment associated with a minimum wage increase.