The United States is accelerating its restrictions on imports. On March 23, 2018, the Donald Trump administration imposed a 25% tariff on steel imports and a 10% tariff on aluminum imports. On the same day, it announced its policy to slap a 25% tariff on the more than 1,300 imports from China in response to China's alleged violation of intellectual property rights and mandatory technology transfer.
The restrictions on steel and aluminum imports are based on Section 232 of the Trade Expansion Act, which claims that the decline in the steel and aluminum industries as a result of increased imports could threaten national security, and thus such imports should be restricted.
Initially, it was announced that the restriction would apply to imports from all countries but eventually Canada, Mexico, South Korea, the European Union (EU), Brazil, Australia, and Argentina were temporarily exempted. Steel imports from the above countries and the regions account for more than 60% of all steel imports, and aluminum imports from those countries and the regions account for roughly half of all aluminum imports, casting doubts on the integrity of the claim of imposing import restriction for the sake of national security (See Figure 1).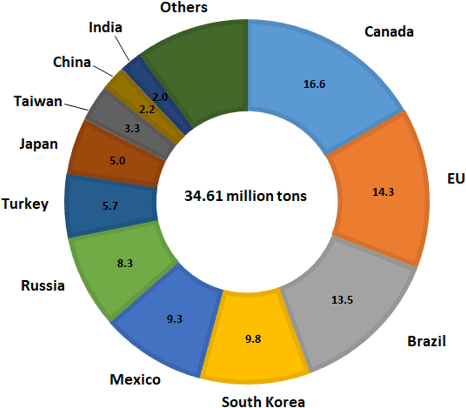 It is presumed that Canada, Mexico, and South Korea are exempted because they were in the process of renegotiating a free trade agreement (FTA), as well as the EU due to resuming FTA negotiations. This is because the United States is expected to play this as a negotiating card. In fact, South Korea was subsequently exempted from tariffs by setting quotas on steel exports to the United States and making concessions in the import of U.S. automobiles and the export of South Korean pickup trucks.
Furthermore, since his inauguration, Trump has been strongly concerned with bilateral trade deficits. It has been pointed out that Brazil, Australia, and Argentina have been exempted from the import restrictions because the United States has a trade surplus against these countries.
It makes sense to talk about overall trade and current balance surpluses and deficits, but discussing bilateral surpluses and deficits is nonsense from an economics perspective. Trump is trying to get the upper hand in the negotiations through misleading the public by labeling "trade surplus as good and trade deficit as bad."
Import restrictions in response to China's violation of intellectual property rights and mandatory technology transfer are based on Section 301 of the Trade Act. Under Section 301, the president may unilaterally impose trade sanctions such as raising tariffs if a country is found to be engaging in unfair trade practices. Trump seems to be using this as an excuse to drag China into bilateral negotiations, reduce the U.S. trade deficit with China, and expand U.S. exports of automobiles and semiconductors to China.