Study on Strategies for Operations in East Asia - Japanese companies lagging in "localization"

FUKAO Kyoji
Faculty Fellow, RIETI / Senior Economist, Japan Center for Economic Research
Japanese companies operating in other East Asian countries (simply, East Asia) are lagging behind their U.S. and European rivals in "localization" efforts. This is one reason for their continually poor earning performance in East Asia relative to that of U.S. and European companies. Therefore it is vital for Japanese companies to rebuild their East Asian operations strategies, particularly in the areas of procurement and personnel management.
How do Japanese companies compare internationally in their East Asia strategies? It is generally perceived that efficient use of local resources - ranging from parts and components to human and capital resources - increases business efficiency and leads to greater profits. But it is exactly in these areas that Japanese companies' localization efforts are said to be lagging. We at the Japan Center for Economic Research (JCER) examined Japanese companies' localization in various aspects focusing on areas such as procurement and marketing, personnel management, and research and development (R&D), attempting to determine the degree of localization achieved and to explore future challenges.
Japanese companies rely heavily on local affiliates of Japanese suppliers
This research project (for which the author served as Project Manager), undertaken by 22 researchers from Japan and abroad, consists of nine themes. Previously, due to constraints on data collection, there have been few comprehensive international comparative studies of this type and scale. Thus, our quantitative analysis of nationality-based differences in corporate strategies is quite significant.
One of the pillars of this project is to find out what sorts of procurement and marketing strategies companies are implementing. East Asia is undergoing dynamic changes in its trade structure. Intraregional division of labor transpires not in a way that each country specializes in products for which it has comparative advantage, but that different countries undertake different segments of a product's production process. Characteristics of procurement and marketing strategies by nationality can be observed in trade data.
Comparison between Japanese and U.S. companies reveals no great difference in the sales destination of products produced in East Asia, measured from among the host country, home country and a third country. In procurement, the proportion of intra-company transactions, in which a local affiliate imports key parts, components and materials from its parent company in the home country, has decreased over the years with more companies utilizing local suppliers and other external resources. That is, the proportion of inter-company transactions or outsourcing has grown.
From a theoretical viewpoint, companies operating overseas basically have two choices for corporate strategy; fully integrate local operations under their umbrella, or rely on procurement from external suppliers.
Theory on multinationals professes that integration is the optimal choice in cases where production is technology-intensive, with the headquarters having significant control over local operations, while outsourcing is the optimal choice in cases where production is labor-intensive with the increasing role of local companies in such operations. The ongoing expansion of outsourcing in East Asia is probably attributable to the general perception of the region as a base for labor-intensive production.
However, a closer look at individual countries or specific industry sectors within a country reveals distinct differences between Japanese and non-Japanese companies.
Our analysis, based on microdata on automakers and related companies operating in China, confirmed the tendency of Japanese automakers to rely heavily on suppliers of their own nationality as compared to their non-Japanese counterparts. More specifically, Japanese automakers operating in China have been procuring parts mostly from local affiliates of Japanese parts makers with only a trivial portion of procurement coming from Chinese suppliers or local affiliates of non-Japanese parts makers. This conclusion was derived by taking into account such factors as the technical capabilities (productivity) and size of parts suppliers as well as geographical distances between parts suppliers and automakers in terms of their impact on transaction costs.
We also found that transactions with Japanese automakers lead to improved productivity by parts suppliers regardless of their nationality. Such a relationship was not observed in transactions with automakers of other nationalities. This suggests an overseas transplantation of Japanese management practice, in which an automaker and its parts suppliers work together to enhance technologies through long-term business relationships, rather than suppliers simply being subcontractors to an automaker.
Specifically with regard to Thailand, we conducted a survey of 246 automobile and electronics companies from Japan, other Asian countries (simply, Asia), the United States and Europe, comparing how they manage local operations. In marketing and procurement, U.S. and European companies - particularly those in the electronics industry - are actively seeking transactions with local Thai companies. This stands in marked contrast to Japanese companies' procurement practice of primarily relying on local affiliates of Japanese parts makers. Japanese companies also tend to heavily rely on imports from Japan in the procurement of machinery and equipment used in their production facilities.
Local employees not directly managed by headquarters
Concerning personnel management strategies, we conducted extensive interviews with a total of 20 companies, including the headquarters and local affiliates of Japanese, U.S. and European companies operating in Asia. We found two characteristics of Japanese companies: 1) only Japanese expatriates, no local managers and employees, are under the direct management of the headquarters in Japan, and 2) there exists no unified, globally-applicable personnel management system.
Conversely, U.S. companies have a single, unified, internationally applied personnel management system and all senior managers - regardless of nationality - are directly managed by the U.S. headquarters. European companies' personnel management systems fall somewhere between the decentralized and centralized management of Japanese and U.S. companies respectively.
These tendencies are also supported by the findings in the aforementioned survey of 246 companies in Thailand. Though the position of chief executive officer is occupied by a foreign national in 80%-90% of these companies, there is a distinct difference between Japanese companies and their U.S. and European counterparts in senior management positions. Only 33% of senior managers at Japanese automakers' affiliates are Thai nationals compared to 65% in Thai affiliates of U.S. and European automakers.
Similar gaps in the degree of localization are observed in such areas as intellectual property management and R&D.
A look at the way in which intellectual property management is implemented in China reveals that locally appointed Chinese staff are given important tasks and receive relatively high compensation at U.S. and European companies whereas Japanese companies have to date made little progress in such localization. This has been blamed for certain instances of Japanese companies' inability to take prompt and effective action.
In prevention of counterfeiting, a problem particularly prevalent in China, substantial gaps exist between Japanese companies and their U.S. and European counterparts in the allocation of human and financial resources, such as litigation expenses. Japanese companies allocating less than ¥20 million in budget for anti-counterfeiting measures stand at 65% yet no U.S. or European companies put aside that little. Meanwhile, 22% of U.S. and European companies allocate ¥100 million or more, but only 8% of Japanese companies.
Localization in China contributing to ROI
We compared R&D strategies, using information on the inventor's country of residence as shown in patent applications filed in Europe. Specifically, we focused on 186 Japanese, U.S. and European companies actively engaged in R&D in five industries: general machinery, pharmaceuticals, chemicals, information technology hardware, and electric machinery.
The number of patented technologies developed in R&D bases in Asia generally remains modest, accounting for only a fractional percentage of those held by each company. Yet, a noticeable difference exists between Japanese companies and their U.S. and European counterparts: the percentage of patented technologies developed in Asia is 0.1% for Japanese companies compared to 0.7% and 0.6% for European and U.S. companies respectively. Quantitative analysis of patent application determinants has also provided significant evidence that Japanese companies have shown relative restraint toward R&D in Asia.
Apart from those discussed above, we conducted comparisons in terms of financial, locational and exit strategies as part of our research project. As to financial strategies, we examined areas such as whether the transfer of internal funds (funds provided by a parent company to its local affiliates) is transpiring efficiently. It was confirmed that Japanese companies are just as efficient as their U.S. counterparts in utilizing internal funds.
Comparison concerning locational and exit strategies was made between Japanese and South Korean companies. In terms of following their predecessors, South Korean companies show two characteristics: 1) avoidance of countries in which their Japanese rivals have already established a foothold in selecting a destination for investments; and 2) they rarely locate their operations in neighboring countries, directing their investments only to specific countries.
Japanese companies show no tendency to avoid South Korean rivals when locating their operations. With respect to 2) above, South Korean companies, compared to Japanese ones, may be taking a more rational and strategic approach in launching overseas operations, as seen in their avoidance of overlapping investments.
What has become apparent through a series of analyses is Japanese companies' sluggishness in localization. So then, how is the situation with Japanese companies' return on investments (ROI)?
Although we have yet to comprehensively examine all the points discussed above, our microdata analysis has confirmed some points concerning Japanese manufacturers.
First, an increase in the proportion of local procurement has a positive effect on ROI in countries with a large economy, industrial agglomerations and cheap labor, such as China.
Meanwhile the prevailing worldwide mechanism concerning sales to the local market is that a rise in the proportion of such sales within a company's overall sales results in increased ROI. In China, an opposite phenomenon had been previously observed. Yet following its accession to the World Trade Organization, it ceased being an exception.
The impact of localization on ROI differs in degree depending on the economic conditions of each invested country. Comparative analysis confirmed that areas of potential improvement for Japanese companies are diverse; ranging from procurement and personnel management to intellectual property management and R&D. In Asia, competition is intensifying as companies continue to enter the market. Thus, it is imperative for Japanese companies to quickly and comprehensively rebuild their strategies.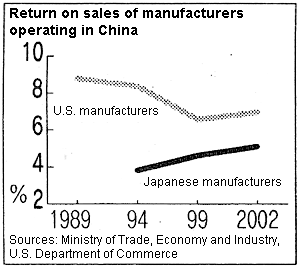 * Translated by RIETI.
July 5, 2006 Nihon Keizai Shimbun
Article(s) by this author