Prerequisites for Reaping the Benefits of Big Data: Integration of IT and management is the key

MOTOHASHI Kazuyuki
Faculty Fellow, RIETI
It is said that Twitter alone generates 12 terabytes of data a day (one terabyte = one trillion bytes). Indeed, an enormous volume of data is being generated and stored on the Internet. Such web-based information in combination with other data such as the location of cars and mobile phones is known as "big data," which is evolving as a new source of business.
For instance, the East Japan Railway Group (JR East) has introduced "smart" vending machines in its train stations. Installed with a camera, these dispensers can recognize the characteristics of customers and recommend drinks according to age and gender, achieving a remarkable boost in sales. They are also programmed to collect and store sales data by the type of weather, temperature, and time slot for analysis together with data on customer attributes to predict consumer behavioral patterns. Meanwhile, by combining the location information of mobile phones and information on the Internet, NTT DoCoMo, Inc. offers various location-based mobile services such as a list of restaurants nearby the user's current location and alerts on the departure of the last train of the day from the nearest station.
♦  ♦  ♦
Mechanisms for driving economic value from a flood of web-based information are being utilized by Google Inc. and Facebook, Inc. of the United States. However, in the case of business models utilizing only web-based data, such as theirs, economic value is determined by the volume of data which tends to result in a winner-takes-all situation. Things are quite different in the world of big data, where various devices such as cameras inside JR East vending machines and DoCoMo mobile phones with global positioning system (GPS) chips serve as sensors and provide more in-depth information on the behavior of individuals. Utilizing different types of data, we can develop and provide a great variety of services that were previously unable to be offered. The use of such data, including the secondary use thereof, will enable us to build diverse kinds of revenue models. This means that a broad spectrum of businesses can enjoy the benefits of big data.
Various devices—electronic money cards, tablet computers, automobiles with Internet connectivity, smart meters for electricity and gas, etc.—are and will be functioning as sensors, opening up the possibility of new business models utilizing data collected from them. As one of the most advanced nations in the use of mobile Internet services and electronic money, Japan has a good opportunity to lead the world in the development of big data business models.
The arrival of the era of big data may also change the IT strategies of Japanese companies. The International Comparative Survey of Firms' IT Strategy, conducted in 2007 by the Research Institute of Economy, Trade and Industry (RIETI), found that Japanese companies deploy and utilize IT primarily for the purpose of rationalizing their operations such as reducing costs and improving operating efficiency, quite different from their U.S. counterparts where IT is used as a tool to develop new businesses and acquire new customers.
IT systems utilized in companies are broadly classified into mission-critical systems designed to improve the efficiency of routine tasks such as those for personnel affairs management, accounting, and order placement and receipt, and information management systems used for tasks in support of management strategy, market analysis, and customer development. Japanese companies' IT investments are mostly in the former.
It is not common for Japanese companies to have chief information officers (CIO). Defined as nothing more than tools for operational rationalization, IT systems are typically not on the agenda in management meetings. Furthermore, relative to their U.S. counterparts, Japanese corporate managers are limited in their understanding of IT and often skeptical of using data analysis as a basis for their management decisions. Although some large companies are beginning to integrate their IT systems globally in a bid to merge IT and business management, the gap between Japanese and U.S. companies is far from being closed at the moment.
♦  ♦  ♦
However, as more Japanese companies start utilizing big data, skepticism toward data analysis will probably disappear in due time. According to our questionnaire survey, "formulation of business strategy" and "improvement of customer services" are most commonly cited by Japanese companies as the purposes of using big data (see the figure).
Figure: Purposes of Japanese companies using big data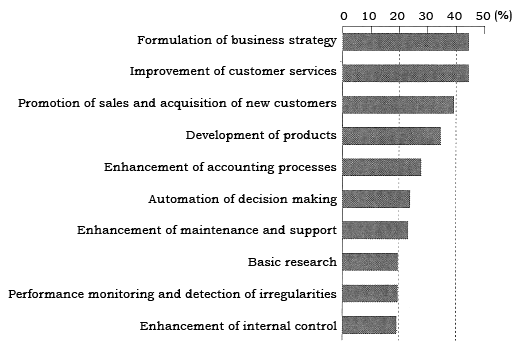 So far, the utilization of big data by Japanese companies is mostly limited to the purpose of enhancing certain existing services, as seen in the cases of JR East and NTT DoCoMo, and has a long way to go before being incorporated into company-wide management strategies. However, big data can be a powerful tool to differentiate them from other companies and enhance their competitiveness. When the value of such data becomes discernible in the form of contribution to business operations, Japanese corporate managers' understanding of information management systems will deepen. Furthermore, this may lead to a boost in investment in "aggressive"—rather than "defensive"—IT strategy, an area where Japanese companies have been lagging behind their overseas rivals, and enhancement of their competitive advantage in the global market.
What measures are needed to be implemented to reap the benefits of big data in the form of economic development and the greater enrichment of life? Information-technology Promotion Agency, Japan (IPA)'s study group on IT as a foundation for life and the economy, for which I served as chairman, compiled a set of recommendations revolving around two main policy goals, namely, building a foundation of trust and promoting the creation of value.
Building a foundation of trust is creating a new social mechanism in which personal information is handled with due consideration and people would feel comfortable providing their personal information. From the viewpoint of business operators, the key advantage of big data is the inclusion of detailed information on the behavioral patterns of individuals in addition to attribute information such as gender and age.
However, from the viewpoint of individuals who are the providers of such information, it is confidential information that should be kept secret as a matter of privacy. That is, big data can work both ways just like a double-edged blade. For instance, smart vending machines installed by JR East indicate that they are camera-equipped. They are also designed in such a way that only non-specific personal data—such as age and gender—is kept and accumulated after erasing the photographic images. As such, business operators are required to take extra caution in handling information captured in such a manner.
Since the right to privacy is the right of each individual to his or her information, what constitutes an infringement of privacy is based on the subjective judgment of the individual concerned. In other words, even when using the same kind of information, judgment over whether or not it constitutes an infringement of privacy differs depending on the subjective view of each individual.
In recent years, there has been a rapid increase in the number of users of social network sites (SNS) such as Twitter and Facebook. A survey conducted by the Japan Privacy Accreditation Council (JPAC) has found that the psychological costs of providing personal information have decreased for SNS users but increased for non-users. Privacy guidelines regarding the collection and application of big data should be developed to allow for flexible business models, rather than setting strict restrictions based on the needs of those with high psychological costs. For instance, one possible business model would allow users to provide their personal information selectively based on their preferred level of privacy.
♦  ♦  ♦
In promoting the creation of value, what is necessary, first and foremost, is to develop human resources capable of integrating IT and management so as to enable the development of business models utilizing big data. IT divisions need people who are capable of not only building and maintaining in-house systems but also supporting strategic business planning and designing company-wide database infrastructure. Meanwhile, business divisions, for their part, need to enhance their understanding of IT and develop capabilities to build big data-based business models.
Next, Japan needs to encourage an environment that facilitates the use of big data. While Japan's e-government initiative is focused primarily on the computerization of administrative procedures, the United States is promoting the Open Government Initiative that calls for making administrative data available to the private sector. The Japanese government needs to improve customer (taxpayer) services by overcoming bureaucratic sectionalism. It should also consider ways to enable the secondary use of private-sector data by utilizing anonymization technology and creating detailed aggregate data.
It is hoped that further constructive discussions will take place, involving both the public and private sectors, so that the Japanese people as a whole will have a better understanding of the potential value of big data and to reinvigorate the nation's economy and realize a society and environment in which people feel enriched and assured.
* Translated by RIETI.
July 13, 2012 Nihon Keizai Shimbun
Article(s) by this author