In response to the COVID-19 pandemic, fiscal expenditures have continued to increase. Under the FY2021 general account, the total amount of expenditures came to 143 trillion yen, including additional expenditures of 36 trillion yen under the supplementary budget adopted at the end of the year. The total amount of outstanding government debt is around 2.5 times as large as the size of gross domestic product (GDP).
On the other hand, Japan's potential economic growth rate at present is lower than 0.5%, with the growth of total factor productivity in particular slowing. In short, the government's growth strategies, which have been formulated almost every year, have not succeeded in raising productivity. While total demand may increase if government expenditures are expanded, the potential growth rate will not necessarily rise. There is a widespread misperception that policies that are designed to increase demand are effective in enhancing the potential growth rate, but sustainable economic growth requires policy measures that lead to productivity growth on the supply side.
The figure below shows the negative correlation between the amount of outstanding government debt as a proportion of GDP and the economic growth rate since the global financial crisis. While not indicated here, there is also a negative correlation between the amount of net debt and the productivity growth rate. What those correlations indicate is not that government debt has negative causal effects on growth, but that government debt and growth affect each other. High growth reduces government debt as a proportion of GDP, because it increases tax revenue and also means an expansion of the size of GDP.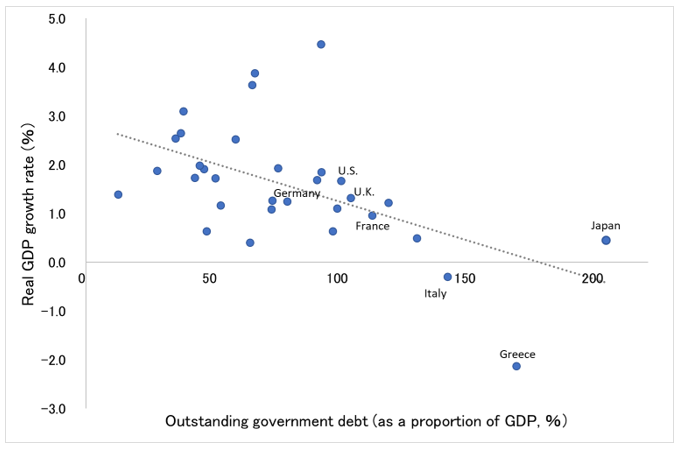 On the other hand, how government debt affects economic growth may need explanation. For one thing, an increase in the fiscal deficit and government debt prevents productive investments by increasing fund-raising costs through an interest rate rise. Under the zero-interest-rate environment, the effects generated on growth in this way are limited. However, when interest rates rise in line with economic recovery or due to concerns over inflation, the presence of a massive government debt may undermine economic activity in the private sector.
Some economists have also pointed to other mechanisms whereby government debt may affect growth, such as expectations that future tax hikes will lower expected rates of return on investments or, that increased uncertainties will trigger risk aversion. An empirical study showed that the negative causal effect of a debt increase arising from economic forecasts with an optimistic bias lead to lower economic growth and productivity growth rates. In politics, economic growth tends to be put before fiscal consolidation. However, this argument cannot be justified if a cumulative increase in government debt holds down growth.