With the steep decline of gross domestic product (GDP) under the novel coronavirus (COVID-19) crisis, how much has productivity dropped?
The figure below shows month-by-month changes in the overall productivity of the Japanese economy. While production activity in May 2020 was down around 15% compared with the end of 2019, productivity declined only about 3%. Although productivity still remains below the level before the consumption tax rate hike, it recovered to almost the pre-COVID-19 level in August.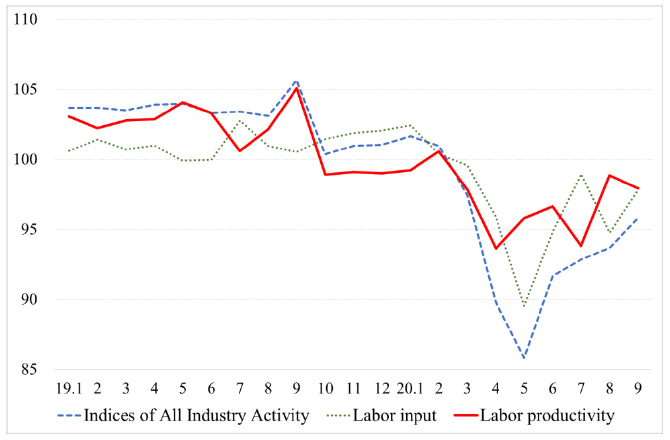 The decline in labor productivity until now has been smaller than might have been expected because labor input, which corresponds to the denominator in the calculation, has dropped steeply in tandem with industrial activity. A breakdown shows that working time adjustments, including reduction of overtime work and temporary layoffs, contributed much more to the decline in labor input than any fall in the number of employees. If examined from a different angle, the increase in unemployment was limited because working time adjustments were quick and substantial. Among other factors limiting the labor force adjustment are the use of the employment adjustment subsidy program and companies' behavior of retaining workers with a future labor shortage in mind.
While total factor productivity (TFP), which reflects the effects of technological innovations, cannot be calculated easily, TFP is estimated to follow a similar trend to labor productivity, given that no technological regress has occurred under the COVID-19 crisis. As productivity is determined by the relationship between output and input, the productivity level that is measured does not change significantly if the input of factors of production are quickly adjusted in accordance with a change in demand.
Given the huge negative supply-demand gap, the challenge at the moment is achieving a recovery in demand, rather than in productivity, so various measures to increase demand have been attempted. On the other hand, as raising productivity is fundamentally a medium- to long-term challenge, productivity improvement efforts should be made continuously. Even so, future productivity could be determined by our ability to successfully manage productivity under the COVID-19 crisis. Below, I will examine what should be done in order to raise productivity in a post-COVID-19 world.