Behavioral economics is a field of study that attempts to explain irrational human behavior scientifically. What is important in this approach is to make an accurate analysis of actual human behavior, for instance, as to how people behave and what factors cause behavioral changes. In recent years, it has become possible to conduct experiments in economics to obtain a precise understanding of human behavior.
It has long been believed that experiments are difficult to conduct in economics. However, recent years have seen a series of economics experiments conducted in the field, i.e., real-world economic environments, by using a randomized controlled trial (RCT).
RCTs are a form of experimental method that divides experimental targets—individuals, households, businesses, or else—into multiple groups and compares the effects of certain intervention across different groups. The point is to divide targets randomly into groups. This is meant to create a situation where the groups are no different except for whether or not being subject to the intervention, and thereby to remove bias from experimental results and identify causal relationships (Figure).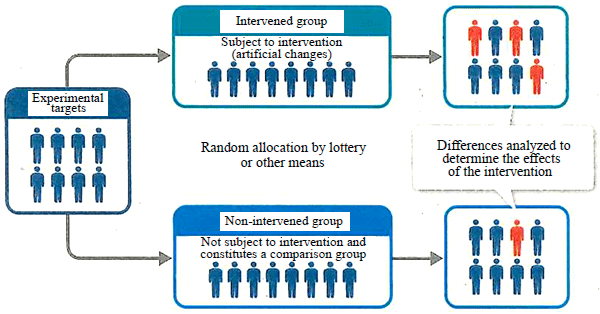 In campaigning for the U.S. presidential election in 2008, Barack Obama's camp selected its website design by using an RCT. It prepared 24 website designs using different images and wordings on click buttons, displayed them randomly to 310,000 viewers, and measured the percentage of viewers who registered their name address for each. The one that had the highest registration rate was used in the campaign.
The design selected by viewers was not the one the camp had expected. This means that Obama's campaign staff were able to build a smarter strategy than relying on their intuition.