Growth Strategy Based on Evidence

INUI Tomohiko
Faculty Fellow, RIETI

NAKAMURO Makiko
Keio University
The Japanese government led by Prime Minister Shinzo Abe defines economic and educational regeneration as the key to its growth strategy. In achieving sustainable economic growth, there is indisputable importance of presenting the grounds for and debating over industrial policy responsive to globalization and policy means to realize human resource development.
What is needed in particular is to present sufficient information through measuring the effectiveness of various policies and analyzing their cost performance, so that the people can make rational judgments. Japan must manage its policies based on empirical analysis using data and rigorous methodology, i.e., "evidence-based policy" built on scientific ground.
♦ ♦ ♦
While it has been pointed out that the promotion of globalization is highly likely to bring various benefits such as increased productivity, slow corporate response to globalization has left some communities ill-equipped to enjoy the benefits. The figure below was created by the Research Institute of Economy, Trade and Industry based on analysis of the factors contributing to prefectural labor productivity differences, which are strongly correlated with wages. It shows that total factor productivity (TFP) including technological advancement is the main source of such differences.
(Highest 15 prefectures and lowest 15 prefectures of labor productivity)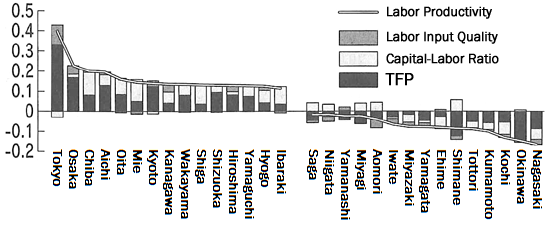 Note: Logarithmic value as of 2008. Created by the authors based on the paper written by Shinshu University Professor Joji Tokui and others (RIETI Discussion Paper 13-J-037)
In Japan, there are numerous small and medium-sized enterprises (SMEs) that have high technological capabilities, but have lagged behind in overseas business operations. This often leads to lower TFP in those regions. Assisting and promoting overseas business operations for such SMEs have become an important policy challenge.
Against this background, the government outlined a framework for supporting SMEs in overseas business in 2011, and has since promoted regional revitalization through a variety of SME overseas expansion support measures. In the coming years, the effectiveness of each policy should be measured, and focus should be placed on policy measures with higher cost effectiveness. To this end, it is necessary to present evidence based on rigorous empirical analysis.
Many point out the lack of information on overseas markets as a stumbling block for SMEs' overseas operations. Yet, there has been little discussion regarding effective channels for providing such information. We analyzed the effect of differences in information sources on the commencement and continuation of firms' export activities using the Basic Survey of Japanese Business Structure and Activities of the Ministry of Economy, Trade and Industry, which comprises company-level panel data (data contain observations obtained over multiple time periods for the same samples).
The result showed that information provided by lender banks plays a particularly important role for SME overseas business operations. The finding is likely to reflect the fact that lender banks accurately grasp the needs of their clients through their day-to-day business transactions, and provide necessary information in a timely manner according to each of the clients' business characteristics.
The aforementioned government outline cites "providing information necessary for SMEs in detail and in an easy-to-understand manner" as a priority issue for policy support. However, for the government which does not have daily transactions with SMEs, providing such information is difficult.
Yet, our results imply that the government's information provisions in partnership with regional banks may be effective in promoting companies' overseas expansion. As such, by evaluating policies using panel data, it will become possible to show evidence that enhances the policies' feasibility.
♦ ♦ ♦
The importance of human resource development is also stressed in the growth strategy, but there is an overwhelming lack of evidence-based policy discussion on what kind of investment approach should be taken as a national strategy.
The most notable example is the discussion on the review of class size at schools. As is widely known, the Ministry of Finance (MOF) insisted that the current threshold of 35 students per class, introduced to public elementary schools in FY2011, should be brought back to the previous level of 40 students per class, as the size reduction has not changed the rate of bullying and violent incidents at schools. The Ministry of Education, Culture, Sports, Science & Technology (MEXT) refuted the argument, saying that the small-class approach was effective in providing enhanced educational guidance, in view of teachers' strenuous workload.
It is true that a simple comparison between different age-based cohorts (generations), presented by MOF, is not enough to rule out the effectiveness of the small-class system. Yet, in a country where workers generally have long working hours, the strenuous workload of teachers alone does not justify maintaining the system when its effectiveness is unclear.
With regard to the small-class system, there has been empirical research using multiple large-scale social experiments, including Project STAR in the state of Tennessee. These studies have shown that while there is a causal effect of a small class size on increased academic performance among children, its cost performance is not necessarily high.
Nobel Prize-winning economist James J. Heckman of the University of Chicago has stated that "small classes are not a wise social investment," presenting his estimate indicating that such a system actually reduces lifetime earnings of high-school graduates. Study conducted by Keio University Professor Hideo Akabayashi and others also showed that the positive effect of small classes was not uniformly shown across subjects or grade levels. In fact, the correlation was only observed in Japanese language class performance among elementary school pupils.
The discussion over classroom size in Japan ended when the government decided to keep the 35-students-per-class threshold amidst failure by both MOF and MEXT to present reliable data or analysis-based evidence. Debates on education policies in Japan appear to lag severely behind the international standard.
♦ ♦ ♦
It is crucial to release data on schools and academic performance to researchers to pave the way for external, third-party assessment in order to establish an evidence-based approach in making educational policies.
For example, the surveys on national academic levels and study conditions, which are a compilation of the main data on academic performance in Japan, are not categorized according to the laws of statistics, preventing researchers from analyzing individual data. Such constraint in data use is presenting a major impediment. Holding the key to evidence-based education policy-making is the use of a suitable methodology in collecting and releasing data.
Panel data are superior when it comes to identifying individual educational investments at various stages of life. The Ministry of Health, Labour and Welfare has been conducting the Longitudinal Survey of Newborns in the 21st Century, which is unprecedented panel data compiled by the Japanese government. This long-term survey tracks samples from birth to present. Accumulated data have been used in numerous studies on children's education, health, and poverty, providing useful insight for policy formulation.
Randomized controlled trials, a type of social experiment that is described as "golden standard" of policy evaluation, are becoming increasingly common in the field of education overseas. The measurement for the causal effect of policies using such method and scientific verification is also important.
Due to regional disparities in education, it is also essential to collect data through collaboration with local governments and boards of education to make a policy response that reflects local situations. We have also been conducting a large-scale study in partnership with the boards of education in the city of Fussa in the Tokyo metropolitan area, as well as the cities of Koga and Tsukuba in Ibaraki prefecture, to examine the effect of information and communications technology (ICT) on children's cognitive and non-cognitive abilities.
Fiscal resources are limited and must therefore be provided selectively and intensively, even when it comes to investments in education, the most important factor in fostering people enriched with humanity and creativity.
To nurture internationally competitive human resources capable of adapting to population aging and market globalization, Japan must explore which of its policies should receive a greater share of our resources for education at various life stages. We must employ an evidence-based approach to find the answer, and to fulfill our accountability toward schools, parents, and taxpayers.
* Translated by RIETI.
February 13, 2015 Nihon Keizai Shimbun
Article(s) by this author