Over the past 20 years or so, Latin American economies have pursued the path of globalization. The globalization in Latin America is divided into the South American type, which is characterized by the growth of the resources sector, and the Mexican-Central American type, which is notable for the development of global value chains (GVCs) integrated into North America.
The figure below shows the results of a study conducted jointly by this author and Assistant Professor Yoshimichi Murakami of Kobe University with regard to Latin American economies.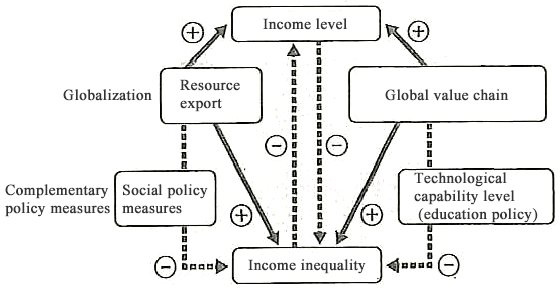 Although both types of globalization directly have a positive impact on income (increase the income level), they also work to expand income inequality. As a result, the net effect may be a reduction in income level. However, the expansion of income inequality due to resource exports may be partially offset by the enhancement of social policies, while the expansion of income inequality due to GVC integration may be partially offset by an education policy that promotes improvement of the technological capability level. Therefore, implementing appropriate policies to complement globalization can be expected to lead to economic growth accompanied by the shrinkage of inequality.