1. Introduction
In 2021, the Digital Agency was established to begin efforts to realize Japan's new national and social system. The digitization of society will continue to progress beyond 2022. As digitization is the process of transforming information into zeros and ones, it is in essence nothing other than the standardization of information (Note 1) [1]. This article examines how standardization, a technological concept of growing importance, can be handled in an analytical framework pertaining to business strategy. I discuss the limitations of analyzing technological standards using conventional administrative strategies. Moreover, by expanding existing management strategy theory (i.e., VRIO framework), I attempt to analyze the effects of standardization, especially in terms of its impact on competitive strategy.
2. Perspectives and Limitations of Conventional Administrative Strategy Theory
Currently, standardization has a growing impact on the competitiveness of products and services, but the implications of standardization for strategy have been analyzed only as a side issue in major existing management strategy theories (Note 2) [2, 3].
By its very nature, traditional management strategy theory has some aspects that are not suitable for delineating standardization strategies. One reason is that standardization was not as important a technical concept when the basic concept of the traditional analytical framework was presented (in the early 2000s) as it is currently. Another reason is that existing management strategy theory emphasizes how to achieve differentiation that is meaningful from a managerial perspective; standardization, which is the commonization of technology or non-differentiation, does not fit into the basic idea.
3. Impact of Standardization
(1) Analytical framework
The VRIO framework is a conventional leading analytical framework for business strategy [2]. VRIO is an acronym for Value, Rarity, Imitation, and Organization. Namely, a company's competitiveness is determined by four factors: value (economic value), rarity (resource scarcity), cost of imitation, and organizational exploitation (organizational capability) (Note 3). In firm-level strategy, this framework emphasizes, among other things, having firm resources that are difficult for competitors to imitate. In other words, it focuses mainly on a company's distinctive internal resources that bring about sustainable competitive advantage.
The VRIO framework stresses the importance of producing products that are difficult to imitate and that can respond to market demands. In particular, this framework emphasizes the importance of organizational discipline for finding the technology that leads to such products to ensure the sustainability of a competitive advantage as a factor related to the organization. In the case of product manufacturing, if a company can seize market opportunities and create products (i.e., manufacture products that consumers want to buy), if it has a monopoly on the resources needed to manufacture those products, if it has the organizational capabilities to handle that technology successfully, and if the technology used to manufacture those products is difficult to imitate, the firm can secure a sustainable competitive advantage.
Even if a research department produces valuable and difficult-to-imitate technology seeds, it will be difficult to secure a sustainable competitive advantage if the organization cannot find new economic value in these seeds. For example, Xerox's Palo Alto Research Center (PARC) developed the graphical user interface (GUI) that is widely used in computer operating systems currently; however, it was Apple Computer's Macintosh that initially implemented this technology in products in the market (Note 4) [2, 4].
(2) Effects and impact of standardization
I discuss what effect standardization has on each analysis item within the VRIO analysis and what impact standardization has on business strategy (Table 1). I delineate this issue by referring to telecommunications equipment that provide communication functions as an example; all factors are assumed to be fixed, except for technological factors.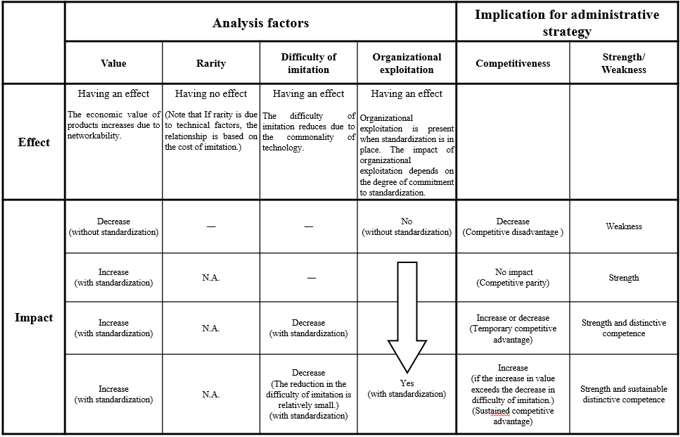 First, in terms of economics, the standardization of technology increases the economic value of products owing to external economies that result from network effects among the terminals. As for scarcity, the impact is considered neutral if scarcity is not due to technological factors. As for the difficulty of imitation, standardization may reduce the difficulty of imitation. Organizational factors have a positive or neutral impact on the continuation of competitive advantage if internal coordination of standardization activities is in place [5]. However, the higher the commitment to standardization, the greater the magnitude of the impact, given that standardization varies in intensity from using existing standards to developing original standards. In other words, this framework suggests that standardization increases economic value while decreasing the difficulty of imitation. If standardization increases economic value more than it decreases the difficulty of imitation, one can expect to secure a sustainable competitive advantage. Conversely, if the increase in economic value is less than the decrease in difficulty of imitation, one can expect only a temporary competitive advantage.
My analysis based on this VRIO framework suggests the importance of technical information management in standardization in terms of management strategy theory, and the importance of improving organizational exploitation and capability. Given that a certain amount of technical information must be disclosed in the formulation of technical standards in advanced technological fields, it is essential for companies to manage their technical information during standardization activities and to develop a management system for disclosing information in standards development organizations (SDOs) in order to make imitation difficult [5—10]. While the development of systems for information management within companies related to standardization is considered to be progressing to some extent, some differences exist in the treatment of disclosing information by companies in SDOs [10].
4. Conclusion
The significance and inherent limitations of analyzing the effects of standardization with the conventional theoretical frameworks regarding administrative strategy, especially in terms of competitive strategy, are delineated. The analysis, which is based on an extension of the existing framework, suggests that standardization increases economic value while decreasing the difficulty of imitation. The findings suggest that to secure a sustainable competitive advantage, improving organizational exploitation and capability regarding technical information management, among other actions, is essential for increasing the difficulty of imitation; encouraging this treatment is an important administrative and policy issue.
Acknowledgments
My studies in this article were supported by JSPS Grants-in-Aid for Scientific Research (15K03718 and 19K01827: Principal Investigator: TAMURA, Suguru). Because this remark is important academic information, the JSPS granting policy is appended as follows. "The views and responsibilities regarding research results resulting from a grant shall exclusively belong to researcher; the implementation and publication of said research results is not based on requests from the Japanese government body that provides the grant or others. Namely, the research funded by Grants-in-Aid for Scientific Research shall be conducted under the individual researcher's authority with the researcher's awareness and responsibility." (Handbook on Grants-in-Aid for Scientific Research Program [Japan Society for the Promotion of Science] [in Japanese]) (Note 5).
December 22, 2021