Since February 2020, due to the spread of COVID-19, accommodation facilities have seen a significant decrease in the number of overnight visitors compared to the figures in the previous year. However, the number is showing signs of recovery nationwide thanks to various tourism campaigns by local governments targeting local residents and the commencement of the Go To Travel Campaign by the Japan Tourism Agency on July 22 (Fig. 1). At the meeting held on July 27, the Tourism Strategy Promotion Council announced a policy for new patterns of tourism on the premise that longer stays would contribute to reduction of COVID-19 infection risk, such as "work-ations," i.e. teleworking while enjoying leisure time at a hot spring or other resort (Note 1). Nevertheless, under the current circumstances where the end of the COVID-19 pandemic is not in sight and entry of foreign tourists is not permitted, the number of overnight visitors is unlikely to recover to the pre-pandemic level within the short term.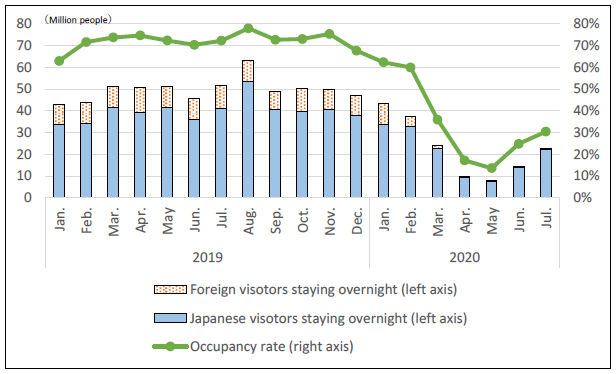 Japan has a tradition of hot spring healing, that is, Japanese people stay at hot spring resorts not only for the treatment of a disease or injury but for the promotion of good health by reducing the tiredness of the mind and body. However, it is rather difficult for modern working people to take a three- to four-week-long holiday for hot spring healing, unlike people in the Edo era. These days, repeated, short-term stays, such as day trips or weekend trips have replaced the former weeks-long stays of the Edo era, providing much of the benefit of the longer stays, but such recently termed "modern hot spring healing" and "new hot spring healing," which adds the enjoyment of local resources to the hot spring experience, have gained prominence. In addition, tours to natural areas focused on enjoying the natural environment, hot springs, and healthy food which together refresh both the body and mind are being promoted as "health tourism."
Germany, France and other European countries position hot spring treatments as medical treatments based on scientific evidence, and effectively utilize hot springs for treatment under their medical insurance systems, which cover hot spring treatments. Japan also has an official support system under which the use of any of the health promotion facilities including hot springs that are approved by the Ministry of Health, Labour and Welfare for hot spring treatments allows part of the expenses to be deducted as medical expenses from the patient's income tax. Initially there was very little use of the system, partly because the system was not widely known, but Toyotomi Hot Springs (Toyotomi Town in Hokkaido) after being approved as a collaborative-type health promotion facilities that utilize hot springs for treatment, where scientific evidence on the effects on dermatological diseases has been accumulated, allowing doctors to recommend the hot springs as medical treatment, saw increases in the number of visitors seeking hot spring healing based on doctors' information (Fig. 2).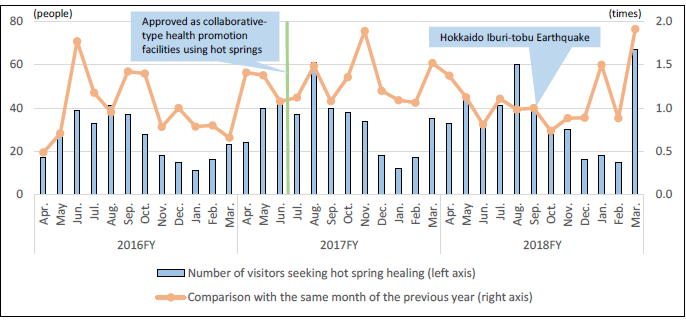 Hereinafter, I will consider measures for establishing new forms of hot spring healing that organically combines an increase in evidence accumulated on the effects of hot spring treatments with programs centered on local resources of hot spring resorts in order to achieve regional revitalization through promoting tourism involving overnight or longer stays.