Expectations for Rural Revitalization and Reality: Data-based quantitative assessment is crucial

GOTO Yasuo
Senior Fellow, RIETI
Growing importance of rural revitalization
How to invigorate local economies is an "old but new" question. This has become a major policy issue, particularly in recent years, as the government seeks to revitalize rural regions at a time when the population decline is posing an increasingly serious problem. Under the mantra of "rural revitalization," the government of Prime Minister Shinzo Abe has been making vigorous efforts to grapple with this issue. An ad hoc headquarters encompassing all of the government ministries and agencies was set up in September 2014, whereby the council of relevant ministers was established to discuss ways to overcome population decline and revitalize rural economies with Prime Minister Abe serving as its chairman. This culminated in the entry into force of the Act on the Vitalization of Towns, People, and Jobs (Act No. 136 of 2014) and the development of a comprehensive package of measures (hereinafter "Comprehensive Strategy") in December 2014.
Needless to say, we must not allow such rural revitalization initiatives to end up as yet another pork-barrel scheme. On the other side of the same coin, this also means that rural municipalities must consider and establish a direction for themselves. Indeed, the government has made it clear that self-initiative of local communities is crucial to the revitalization of rural regions. However, demonstrating local self-initiative is not as easy as it may sound. As is the case for any sort of public policy, local authorities first must grasp the current situation, then, based on the understanding of the situation, develop necessary measures to address the situation, and, finally, implement them, each of which involves difficulty. Many local governments, which have been apt to rely on the central government for good or bad, would find themselves at a loss even with the very first step.
Importance of quantitative assessment: An example of simple calculations to help foresee the future
In order for local governments to work out the necessary revitalization measures, the availability of quantitative data for the assessment of local conditions is essential. In particular, in view of the ongoing demographic trends characterized by an aging population and low fertility, there must be a vision for the future in addition to an accurate understanding of the current state. In other words, they need to "visualize" both the current situation and future prospects of their region. In what follows, I would like to show the importance of understanding the situation in quantitative terms through data visualization, using an example of simple calculations.
Shown in the figure are the projected changes in the number of people at work in each prefecture in 2025, based on the assumption that each prefecture will maintain a level of economic prosperity. Here, the maintenance of a "level of economic prosperity" means the continuation of past growth in per capita prefectural income (real gross prefectural expenditure). In the projection model used here, an increase in the size of the economy and population (particularly, those aged 15 years old or above with an intention to work) leads to an increase in the number of people at work. Thus, while the number of people at work will be boosted by greater economic prosperity, it will be depressed by population aging and low fertility.
The average annual change in the number of people at work between 2010 and 2025 was calculated for each prefecture, using values based on the above assumption for the future size of the local economy and projected value based on the National Institute of Population and Social Security Research's Population Projections for Japan. The average percentage change per year ranges significantly across prefectures, from +0.1% in Okinawa to -1.5% in Akita. Meanwhile, labor productivity obtained by calculating back from per capita income ranges from +0.2% in Tokyo to +2.0% in Akita, indicating that each prefecture would have to improve its productivity by such percentage in order to realize its assumed "level of economic prosperity," although these are merely the results of mathematical calculations.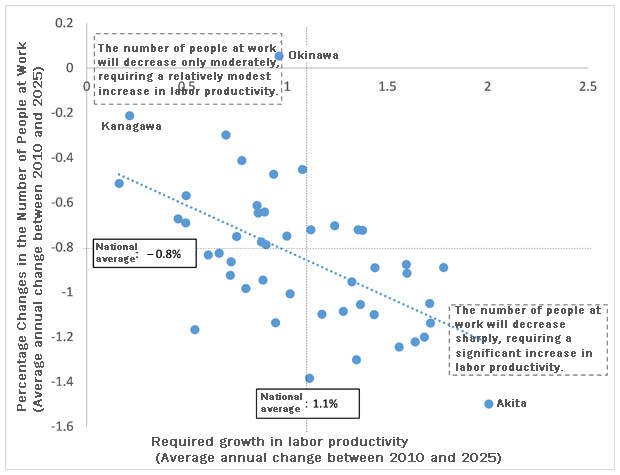 Since the projections provided thus far strongly reflect the macroeconomic trends in the 1990s onwards, a period that roughly coincides with the lost two decades, some people may find them to be too conservative as an outlook for the future. Indeed, we can assume various scenarios in making projections for the future course of events. For instance, if we assume that all of the prefectures will achieve 2% economic growth as desired by the government, the average annual change in the number of people at work between 2010 and 2025 would range from +0.1% to -1.4%, while the required growth in labor productivity would vary from +1.9% to +3.4%.
As such, all of the projected figures presented above are just selected examples of calculation results based on various assumptions. However, what is positive about this approach is that it has no "black box," a problem often encountered in making projections for the future, and is comfortably manageable for local governments on their own. Furthermore, even very simple calculations such as those introduced above would be much more helpful than extensive discussions based solely on intuitive observations as they provide local government officials with a concrete and quantified image regarding the management of their region. Such quantitative measurements also can serve as a foothold for local government officials to explore and consider further information to be taken into account in deciding specific matters that are important to their region. For instance, they can seek information that can help them determine which industries should be promoted in order to achieve regional goals. It also would be useful to expand the coverage of projections, for instance, to include the scale of population mobility and the resulting agglomeration effects.
Future challenges
In order for local governments to obtain a quantitative picture of their regions, the presence of data on local economies is indispensable. Indeed, a variety of such data are already available. Many statistics compiled and released by the central government include prefectural level data, which are published on the government's statistical website along with nationwide data. Some private-sector databases also contain subnational statistics. In April 2015, the government launched the Regional Economy and Society Analyzing System (RESAS), an information tool that enables users to download subnational data or view them in an easily comprehensible visual format.
Some attempts have been made to provide a truer picture of local economies by processing government data in a highly sophisticated manner. For instance, the Regional-Level Japan Industrial Productivity (R-JIP) Database, developed and maintained by RIETI, offers annual data on the economic activities in Japan's 47 prefectures--such as those on value-added, capital and labor inputs, etc.--classified by 23 industries in a bid to provide a basis to analyze interregional differences in productivity and other factors. Meanwhile, some prefectural governments have been producing local input-output tables so as to capture how production activities spread across different industries within their respective regions.
However, there are some challenges that must be addressed in order to enable local governments to understand and assess the status of the local economy in quantitative terms. First, they need to collect and develop more data. The more local the focused area is, the less data are available. Even when data exist, it often takes an enormous amount of time and work to organize the data into a continuous time series format. Neither the government's statistical website nor the RESAS necessarily covers the entire historical data.
Handling data requires significant skills and know-how. But it is unlikely that local governments are equipped with human resources adequately trained for this purpose. Thus, the second challenge for local governments is to secure human resources capable of handling regional data or outsource this to professionals as appropriate.
The third challenge, which is very fundamental and relates to both of the first two challenges, is for each local government to have a clear idea of the needs and goals of its region. Should they place top priority on stopping a decline in the number of residents or should they focus on the labor force? Should expanding the size of the local economy be their goal, and, if so, should they seek to promote the inflow of population as a major policy option to achieve that goal or should they limit their efforts to mobilizing resources available within the region? Policy priorities differ depending on the actual circumstances, needs, and goals of each region. Accordingly, the kinds of data and projection models required in considering policy measures could differ just as much.
Local governments cannot afford to take much time to address these challenges. Under the Act on the Vitalization of Towns, People, and Jobs, all prefectures and municipalities are required to develop their plans for revitalization, a local version of the Comprehensive Strategy, by the end of March 2016. Rural regions have long been pointing to the importance of rural revitalization. Local governments and people in rural regions now must take up the challenge and carry it out under their own initiative.
May 28, 2015
Article(s) by this author