The consumer inflation rate is steadily rising in the United States and European economies underpinned by the recent economic recovery, and, even in Japan, the consumer inflation rate has been mainly positive. Looking at the April consumer inflation rate (general index), the personal consumption expenditure (PCE) deflator for the United States recorded a relatively high rate of increase of 2.0%, compared to 1.2% in the eurozone. Japan saw a lower level at 0.6% (Figure 1).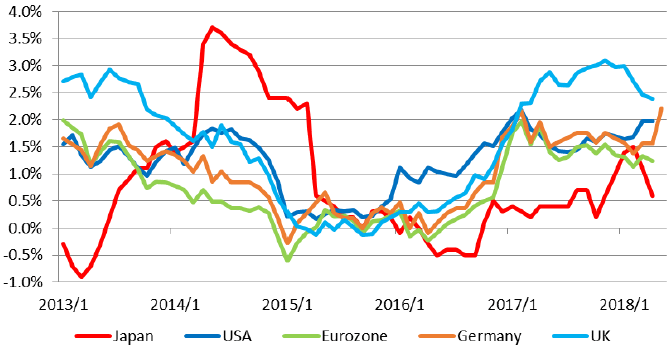 Particularly when the consumer price index is divided into goods and services, Japan's consumer prices of goods are growing relatively higher than the United States and the eurozone against the background of increasing import prices due to a cheaper yen and increased energy and resource prices globally (Figure 2). Other factors include increased prices of agricultural products due to unseasonable weather among other things.
Yet, the issues related to consumer prices in Japan are due to the low rate of service price inflation, which is a major reason why overall consumer prices are not rising much in Japan.
The figures for April 2018 show that the prices of goods rose by 1.0%. Prices of services, on the other hand, rose only by 0.2%, distinctly lower than that in the United States and Europe, and it has been consistently close to zero since the end of 1998, except for the times when the consumption tax rate was raised.
Major factors keeping service prices low are a decline in rents, which account for a large share in service prices, especially imputed rent (owner-occupied homes' rent is calculated and recorded in service prices as if they generate rent), and consumers cutting their spending. For the former, some are skeptical about the way imputed rent is calculated amid increasing market rents, while for the latter, it seems that consumers are trying to cut spending on cultural and recreational activities as their wages are not rising much.