Policy Update 062
Findings from SME Research: A path to restoring Japan's economic vitality

GOTO Yasuo
Senior Fellow
RIETI Senior Fellow Yasuo Goto received the 55th Mainichi Economist Award for his book Macro-performance of Small and Medium Enterprises. In this interview, RIETI Chairman Atsushi Nakajima speaks with Goto about the issues that have emerged from his research on small and medium-sized enterprises (SMEs) and future challenges.
NAKAJIMA:
Congratulations on your winning the 55th Mainichi Economist Award.
GOTO:
Thank you.
Issues raised by Macro-performance of Small and Medium Enterprises
NAKAJIMA:
Let me first ask you to highlight your key research findings discussed in this book.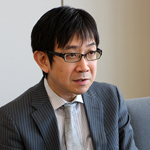 GOTO:
I always thought that Japanese SMEs had not been sufficiently analyzed. More than 99% of Japanese companies are SMEs and approximately 70% of employed persons work for them. Despite this significant presence in the Japanese economy, there have been very few attempts--if any--to conduct a detailed quantitative analysis of SMEs due to the non-availability of data and because of the scholarly trends. So, I wanted to understand this important sector comprehensively and empirically.
There are three major findings. First, Japan is the only advanced economy where the weight of SMEs in the manufacturing sector, in terms of the number of establishments, is on the decline. I pointed out that fact and analyzed the reasons. Second, it is highly likely that the SME sector, particularly non-manufacturers, has been putting downward pressure on the overall productivity of Japan's entire industry, a tendency that has been conspicuous since the 1990s. Third, it is highly likely that government financial support programs for SMEs, introduced consecutively since the latter half of the 1990s, retarded balance sheet adjustments in the SME sector and hence became a significant drag on the entire Japanese economy.
From these three findings, we can derive one general or cross-cutting message, i.e., there is a high likelihood that the government's long-held SME policies geared toward protecting and supporting SMEs--financial support measures in particular--have been impairing business metabolism in the SME sector, resulting in a smaller number of new entrants and lower productivity than would have been otherwise.
NAKAJIMA:
That is interesting. So, you see the financial support and other measures as preventing SMEs from making timely exits. However, when we look back on the overall economic reality of Japan in the past two lost decades, including an unprecedented appreciation of the yen, I think that it was necessary to implement support measures for certain industries and SMEs. Maintaining employment security is an indispensable element of government policy for SMEs. But the question is the balance between this and other policy goals. So my understanding of your comment is that Japan has been placing too much weight on addressing the need to support SMEs while doing little to addressing another important need to promote competition. Am I correct?
GOTO:
Yes. In reality, it is generally reasonable to implement temporary alleviation measures in the event of a major economic shock. For instance, it would make sense for the government to implement short-term, shock-absorbing measures in times of a major crisis, such as the banking crisis in the late 1990s, which threw Japan's financial system into deep uncertainty in an unexpected turn of events, or the global financial crisis triggered by the collapse of Lehman Brothers.
However, the problem is that a path to an exit from the emergency mode was not clear. In other words, the government implemented financial support measures extensively without setting any criteria. I agree that it was necessary to provide such support. But it was too extensive and maintained way too long.
Why have Japanese SMEs lost their vitality?
NAKAJIMA:
In the past, the performance of SMEs used to be a leading indicator of the Japanese economy and industry as the output of the SME sector was usually the first to recover when the economy began to rebound. Viewed against that background, it seems to me that the dynamism of Japanese SMEs has waned significantly as a result of what might have been an overdose of financial support or due to very difficult economic conditions over the years. What do you think?
GOTO:
I fully agree with your observation. It is probably the case that the SME sector has been losing its vitality. I repeatedly made that point in my book. There are two aspects to this.
First, productivity is difficult to improve because the metabolism of the SME sector is impaired. To be more specific, those that are supposed to be playing key roles in bringing about innovations or incubating innovations--i.e., entrepreneurs, business ventures, venture capitalists, etc.--seem to be losing their vitality.
There is no question that entrepreneurs, business ventures, and venture capitalists play important roles as innovators or incubators. But what I would like to point out here is that SMEs have been fulfilling those roles in a broad range of business fields including those in the service sector.
NAKAJIMA:
That is, when viewed from a different angle, SMEs have venturesome spirits. Am I correct?
GOTO:
Yes. My concern is that Japanese SMEs in a very broad range of industries--not limited to high-tech manufacturers but including those in various service industries--may be losing their driver akin to animal spirits. So, that is one aspect.
The other aspect concerns SMEs' role as a component of the business cycle mechanism. Just like large companies, SMEs are playing an important role in driving the business cycle by making capital investments and distributing a portion of their income to labor. However, their activities both as the generator of demand and the distributor of income have stagnated probably due to the lack of progress in making necessary balance sheet adjustments.
Importance of a smooth exit
NAKAJIMA:
The two problems you have just mentioned may provide clues to finding the answer to the question of how to invigorate SMEs. Let me ask you a few more questions regarding those points. First, how can we restore the lost animal spirits of SMEs? Second, as you pointed to the lack of progress in balance sheet adjustments as a background factor for SMEs' failure to play their roles on both the supply and demand sides of the economy, for instance, by making facility investments, how can we accelerate balance sheet adjustments? What do you think from the viewpoint of enhancing the dynamism of SMEs?
GOTO:
The answer to your first question relates to the roles that SMEs play both as drivers and users of innovations. It may sound paradoxical, but facilitating the smooth exit of nonviable businesses will be an important step in promoting innovations.
Today, it seems to be very difficult to bring out animal spirits. I am concerned about this situation and particularly about the fact that the can-do spirits of new entrants are hard to take shape. This is probably because incumbent SMEs have been protected so heavily that the entire SME sector is prone to excesses, which translates into higher barriers to entry, making it difficult to start up new businesses. Thus, it is important for the government to implement policy measures that would facilitate the smooth exit of businesses with little prospect for long-term sustainability.
Here, I would like to emphasize the term "smooth." That is, I am not calling for driving out all of such businesses randomly under whatever circumstances. For instance, in the case where a business owner has difficulty sustaining an otherwise viable business because he or she has no successor, finding a third-party company to take it over would be one way to solve the problem. Or, closing the business in such a manner as to not involve excessive sacrifice in the personal lives of affected individuals would be another. In any case, facilitating the smooth exit of unsustainable businesses would lay the important foundation for bringing out the can-do spirits of new business operators.
To answer your second question as to how to accelerate balance sheet adjustments, I would actually like to offer the same prescription, i.e., facilitating the smooth exit of unsustainable businesses is one important way to achieve that end. Making an exit usually involves drastic balance sheet adjustments. At the industry level or from the macroeconomic standpoint, it would serve as an important driver of balance sheet adjustments.
Also, I have another idea in mind that could be an effective policy measure targeted at incumbent businesses or, more specifically, those SMEs that will remain sustainable at least in the foreseeable future. In Japan's SME sector, bank loans used to be rolled over perpetually and hence regarded as quasi-capital. A major turning point came in the 1990s when the financial system crisis hit the country. The mindsets of creditor banks and SMEs as borrowers have changed. SMEs seem to have realized that borrowings are borrowings, nothing more or less than what they are, and should not be assumed to be rolled over automatically. Indeed, in the course of such developments, many SMEs have reoriented themselves toward building up additional capital while holding down borrowings from banks.
So, it would be effective if the government could implement measures designed to help SMEs to secure some sort of stable funds to constitute a portion of their capital, replacing what used to be pseudo or quasi in nature. This is to create an environment where SMEs would find it easier to build up additional capital or issue their shares.
NAKAJIMA:
Could you explain more specifically?
GOTO:
Investing directly in individual stocks issued by SMEs involves high risks. So, investments funds designed to invest in SME stocks are one effective way in terms of pooling and diluting the risks involved. Public money could be invested in such funds to further reduce the risks. To begin with, however, there must be SME stocks to be invested in. Thus, I think it is both important and effective to provide an SME-friendly environment in a broad sense, for instance, by creating a mechanism for making it easier for SMEs to issue and find buyers of their stocks.
NAKAJIMA:
What you have just discussed about the facilitation of smooth exits also relates to what you have discussed about the succession or closure of businesses. In Japan, owner-operators of SMEs have a tendency to try to find their successors from within their companies.
However, their counterparts in the United States and Europe, particularly founders of startups, typically choose to sell their businesses and exit, rather than seeking an initial public offering on their own, when the value of their technologies or services reaches a certain level. Meanwhile, large established companies seeking to expand business often do so by looking out for promising new business areas and acquiring startups or other companies operating in such areas. Since individuals having ownership of technologies are not necessarily capable of successful business management, mergers and acquisitions are often used as a means of passing the torch from tech-savvy innovators to skilled business managers in the United States and Europe. You would think that these kinds of practices should become more prevalent in Japan as well.
GOTO:
Yes, exactly. In a broad sense, Japanese SMEs should be more agile in changing organizational structures. However, indirect financing through banks often inhibit such changes.
NAKAJIMA:
There is a certain limit.
GOTO:
Yes. There is a limit to what SMEs can do so far as they rely heavily on indirect financing. Paving the way for direct financing or enabling them to raise funds in the capital market will be effective recipe to change this. Needless to say, bank loans will remain a major financial source for SMEs. However, since Japanese SMEs have been relying too much on bank loans, shifting from indirect to direct financing just for a portion of their financial needs would have a significant marginal effect.
NAKAJIMA:
There are many U.S. companies that are major players today but did not exist 30 years ago. We have seen the rapid rise of growth companies in new business areas, such as information technology (IT) companies that were born out of the IT revolution and new types of retailers that sprouted with the unfolding of the marketing revolution. Do you see any signs of such developments among Japanese SMEs, at least in some industries?
GOTO:
In the United States, the capital markets have long been a major source of financing for companies. Thus, when comparing the current situation in Japan with that of the United States, we have a long way to go.
NAKAJIMA:
Does it mean that there is a huge difference in the level of dynamism?
GOTO:
I would rather say that Japan and the United States are fundamentally different. However, even in Japan, momentum for entrepreneurship is building below the surface with more people willing to try their luck by starting up their own businesses if they can secure financing and market conditions are right.
For instance, young, technology-savvy entrepreneurs are beginning to emerge, albeit small in number. Also, there was a temporary boom of startups that are not necessarily technology-intensive particularly in the IT-related area. While that startup boom was regrettably short-lived, I nevertheless think that those startups played a significant role in the sense that they set a precedent for entrepreneurship in the future. We may see a more full-blown boom of entrepreneurs and startup businesses in the coming years. Such possibility is emerging today, as compared to before, although we are still in the stage of seeing "signs of signs."
Why SME research?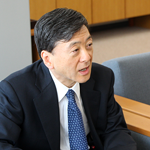 NAKAJIMA:
Given your career background, your main area of expertise is macroeconomic analysis. What prompted you to conduct this in-depth analysis of SMEs?
GOTO:
It seems that quite a few people were surprised to hear that I, someone who has been doing analysis from a macroeconomic perspective, wrote a book on SMEs. But it is exactly through such macroeconomic analysis that I took interest in SMEs.
My interest in SMEs dates back to a quarter century ago when I had just started off my career at the Bank of Japan (BOJ). In the early days of my career, I was assigned to the BOJ's Matsumoto Branch in Nagano prefecture, where I was tasked with conducting a survey of industries in the prefecture. About a half year later, just as I was getting accustomed to the work, a question came to my mind.
In terms of various measurements including the number of employees and the amount of value added, SMEs account for more than half of the Japanese economy. In this sense, it is fair to say that SMEs comprise the majority of the Japanese economy. Nevertheless, the focus of attention, whether in research and analysis or media coverage, is overwhelmingly placed on large companies. This led me to a simple question: Why is the spotlight always on large companies? That was the starting point of my interest.
This question, which had long been with me in a vague and undefined way, started to take concrete shape when Japan's financial system was thrown into crisis in the late 1990s. As a matter of reality, it is understandable that the government implemented a special credit guarantee program and other liquidity support programs for SMEs as temporary emergency measures. However, my impression was that the government had a surprisingly poor grasp of the quantitative picture of the situation, given the scale of the measures involved. That made me wonder how carefully those support measures for SMEs had been assessed quantitatively to estimate the cost required or to what extent their effects were verified afterwards. These questions prompted me to start working on this specific research.
NAKAJIMA:
However, there are an enormous number of SMEs in Japan and no complete set of data is readily available to provide the overall picture of SMEs. You must have faced difficulty from the very beginning.
GOTO:
Yes, exactly. When I came upon the aforementioned question while working at the BOJ's Matsumoto Branch, I raised it to my supervisor. His response was as follows: "You are probably right. However, because of significant statistical constraints, it is practically difficult to analyze the SME sector." On hindsight, what he told me could not be truer.
The importance of analyzing the SME sector was fully recognized and many researchers were willing to take up the task. But the task was difficult to carry out due to data constraints. Such was the circumstance at the time. But today, a quarter century later, things are quite different. The problem of data scarcity has been largely overcome by now. Advanced statistical techniques for processing a massive volume of data, which have now become available, have been developed along with computers capable of processing them. These developments altogether have made it more and more possible to analyze SMEs. In this sense, I consider myself lucky to be a researcher in this age where we can conduct the kinds of research that used to be impossible.
Goals of research activities at RIETI
NAKAJIMA:
I believe that your experience as a macroeconomist has been useful in taking a close look at individual SMEs while keeping the macroeconomic picture in mind at all times. Let me now ask you about the future direction of your research activities. I am sure that your target is not limited to the analysis of SMEs. Which direction will you be heading, particularly in your research activities at RIETI?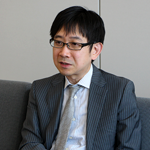 GOTO:
My research of SMEs originated from my broader interest in the question of how we can enable the Japanese economy to grow. So, I have the perspective of economic growth in mind. Through this research, I have accumulated a considerable amount of knowledge on SMEs, and I would like to utilize it in my future research. More specifically, I would like to build upon what I have learned to further expand my research with the perspective of economic growth in mind. Encouraged by the rich research environment at RIETI, I am expanding my dream. I might be asking for too much, but I have three research subjects I would like to work on.
The first subject is regional economies, which are closely related to the SME sector. I am particularly interested in analyzing regional economies from the perspective of finding ways to revitalize rural economies. The classification of companies by size into large companies and SMEs and the classification of regions into urban and rural areas are essentially two different things. In reality, however, large companies are mostly located in urban areas, whereas the economy of rural areas is supported by SMEs. Given the significant overlapping between regions classified as rural areas and those that are home to SMEs, I might be able to utilize my knowledge on SMEs to find ways to revitalize rural economies.
The second theme is the relationship between finance and the real economy. This is a very big theme. But I have always been interested in this theme, and I intend to deepen my interest further. The transmission of effects from the real economy to the financial economy, or the presence of the causal relationship between the real economy as a cause and the financial economy as its result, is obvious. However, a causal relationship that goes the other way round, i.e., the mechanism of how the financial economy causes changes in the real economy, is also important. I believe that this question has been shared by many researchers in recent years.
The SME sector is one of the areas where such reverse causal relationship or the mechanism of the financial market affecting the real economy is the strongest. So, I believe that what I have found in my research of SMEs will provide some clues to understanding the relationship between finance and the real economy.
Lastly, the third theme of my interest, which is extremely deep and may sound far-fetched, is the source of economic growth over an ultra-long term such as science and high technologies. Actually, this area of research has high affinity with that of SME research. For instance, startups and their founders you have mentioned earlier probably belong to the boundary zone between the two research areas. I would like to consider growth possibilities of the Japanese economy from such an ultra-long-term perspective.
NAKAJIMA:
The perspective you have just mentioned is quite important and one that RIETI should be supporting, particularly, from the viewpoint of policy making. Actually, I would like to encourage you to pursue all of the three themes in parallel, rather than pondering over which one to work on first.
In any case, how to enable the Japanese economy to grow is a big question, and it is a huge challenge to understand relevant background factors and implement effective economic policy measures. So, I do hope that you will shed many rays of light on this question through your research. Thank you for joining me today.
GOTO:
Thank you.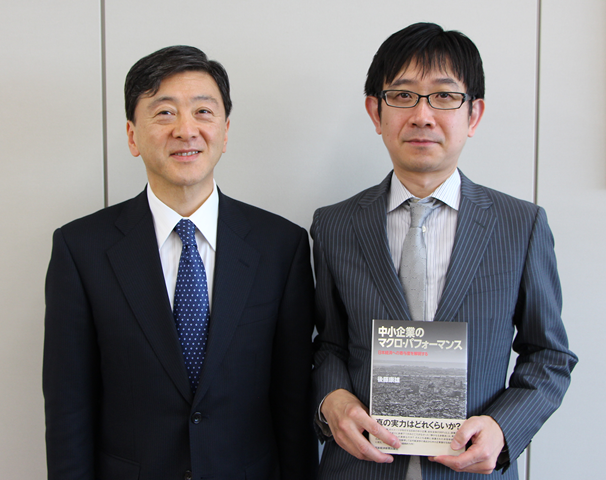 The interview took place on April 23, 2015
The original text in Japanese was posted on June 8, 2015.
July 22, 2015
Article(s) by this author