The Bank of Japan (BOJ) will achieve its target of a 2% year-on-year increase in consumer prices (excluding fresh food) within about two years. Launched in April 2013 with this target, the BOJ's quantitative and qualitative easing (QQE) policy has turned out to be a failure. The latest monthly figures show that Japan's core consumer price index (CPI), which excludes fresh food prices, fell by 0.4% from a year earlier. The year-on-year drop is deeper than those in the final months of former BOJ Governor Masaaki Shirakawa's term.
Given these developments, the BOJ's Policy Board decided on November 1, 2016 to push back the deadline for achieving 2% inflation from "within FY2017" to "around FY2018," marking the fifth postponement in the past three and half years (Figure). With this, the BOJ effectively admitted that it is unable to achieve its target under Governor Haruhiko Kuroda whose term is to end in April 2018, i.e., after working toward it for five years.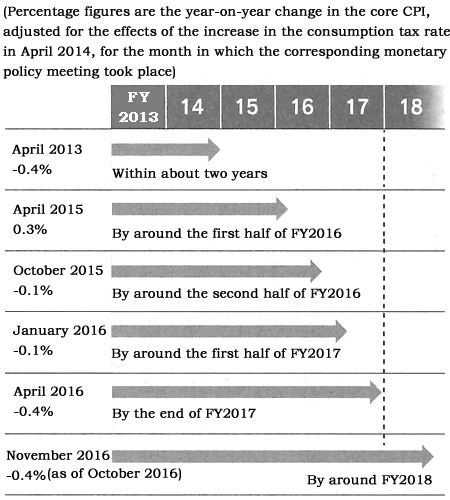 The BOJ has purchased 250 trillion yen worth of Japanese government bonds (JGBs) and increased the current account balance to 300 trillion yen. Despite all of this, why have prices failed to rise? In this article, I would like to consider this question by focusing on expectations, a factor that supposedly plays an important role for the success of quantitative easing in a zero-interest rate environment.
The theme of Kuroda's speech delivered on August 27, 2016 in the United States was "Re-anchoring Inflation Expectations via Quantitative and Qualitative Monetary Easing with a Negative Interest Rate." Even today, he is referring to inflation expectations as a key element of monetary policy.