In 2017, the world economy made a gradual recovery. The robustness of both the United States and China's economic growth significantly contributed to this, and the continuation of monetary easing policies in major countries, low inflation and low interest rates worldwide, and a gradual rising of crude oil and resource prices were also significant factors that supported the growth of the world economy. Many emerging countries are resource-rich countries, thus the rally in oil and resource prices was a significant positive factor in the economic recovery.
A considerable increase in the sales of high tech products was another positive factor. Global semiconductor sales and Japanese robot shipment value rapidly increased to record high levels. This was due to factors such as the launches of new smartphones and the brisk advancement of digitization and informatization with regard to automobiles and so on.
It appears as if this trend will continue through 2018. It is expected that monetary easing policies in major countries, and hence low interest rates, will continue. Furthermore, while there are geopolitical risks, it is anticipated that oil and resource prices will remain steady against the backdrop of moderate world economic growth. As for demand for high tech products, as the era of artificial intelligence (AI) approaches, a further upsurge in sales related to Internet of Things (IoT), robots, and so on is expected.
Along with the recovery of the world economy, exports by both developed and emerging countries have been increasing (Figure 1). For emerging countries, the growth of exports to developed countries has been a major engine for economic growth, and this indicates that the economies of both developed and emerging countries have been recovering.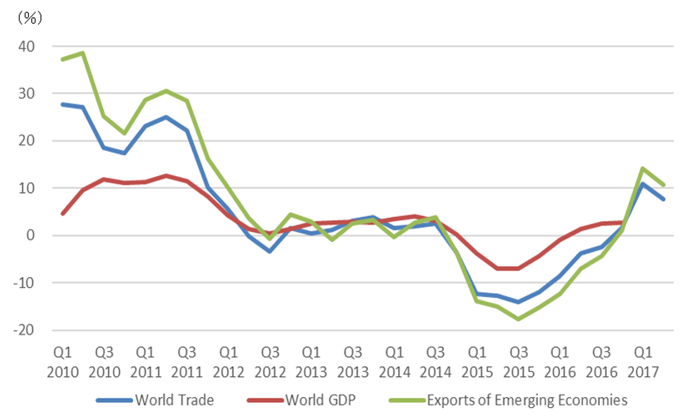 There was a rapid rise in the first decade of the 21st century in the proportion of emerging countries that contributed to world trade, but that proportion is now decreasing (Figure 2). Nevertheless, as can be seen in Figure 1, the export growth rate of emerging countries exceeded that of developed countries for the first time in 2.5 years in the second quarter of 2017, so it is a matter of time before the share of world trade accounted for by emerging countries starts increasing.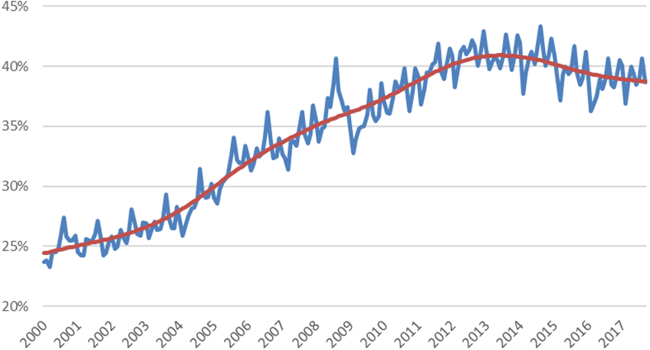 The growth of exports by emerging countries is not necessarily entirely desirable. This is because if there are rising concerns in developed countries that increases in imports from emerging countries will cause the hollowing-out of domestic industries and loss of employment, the long-awaited economic recovery in the emerging countries could become destabilized.
Looking at the examples of China, Japan, South Korea, Germany, and Switzerland, which are on the "monitoring list" in the Semiannual Report on International Economic and Exchange Rate Policies of the United States, the trade deficit ratio of the United States with regard to each of these economies has not been growing, and it currently appears as though the United States does not have much reason to push for the correction of trade imbalances. Nevertheless, there are signs that the United States may increase its pressure on such economies to correct trade imbalances.
For example, the percentage of consumer goods imports of the United States accounted for by China not only continues to be at a high level, but also has started rising again (Figure 3). Tax reforms are currently being established with the intention of significantly lowering taxes, so while it does not appear that the United States will immediately fall into an economic recession, if its economy starts slowing down and calls for a return to domestic production, the appreciation of the yuan could grow stronger and be tricky to address.