When I was working on my doctoral thesis from 2008 through 2011, collecting data for analysis was one of the toughest tasks. My thesis was on the effectiveness of public policies to support startups, and I analyzed the effects of the Organization for Small & Medium Enterprises and Regional Innovation (SME Support, JAPAN)'s funding program designed to provide equity finance to startups (hereinafter "Startup Fund Program").
In undertaking this analysis, I referred to the "Six Steps to Heaven" evaluation framework (Figure 1) (Note 1) developed by Professor David Storey, an expert advisor to the Organisation for Economic Co-operation and Development (OECD) on policy evaluation (The six steps remain a model approach for evaluating public policies for SMEs at the OECD).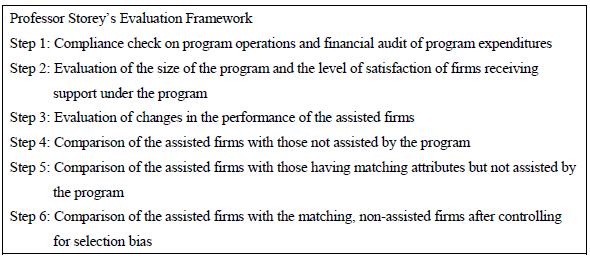 Back then, Harvard University Professor Josh Lerner's research on the U.S. government's Small Business Innovation Research (SBIR) program (Note 2) was attracting much attention, and he used Step 5, i.e., the second most sophisticated evaluation approach in this analysis. Thus, I made it my goal to conduct my analysis at a comparable level of sophistication. This means that I had to collect data on firms assisted by the Startup Fund Program, create a control group consisting of firms having matching attributes (size, industry, etc.) but not assisted by the program, and examine how sales, the number of employees, etc. of the assisted firms changed under the program compared with those of the control group.
However, before too long, I encountered a big problem. Collecting data on control group firms was not easy. Firms engaging in startups—which are laden with growth potential and by nature fraught with uncertainties (Note 3)—vary significantly in the pace of their growth. Those assisted by the Startup Fund Program were at varying stages of development, and it was difficult to find their matching firms.
Eventually, I turned to Teikoku Databank's Corporate Profile Database (COSMOS2) (Note 4) and, with much difficulty, identified 233 firms having attributes similar to those of 161 assisted firms but not assisted by the program. A comparison of those two groups found that those in the latter group had increased their sales and the number of employees. Also, by performing a multiple linear regression analysis, I was able to confirm that the productivity of assisted firms had increased significantly. Thus, I managed to complete my thesis, but I had to devote a significant portion of the time spent on this research to scrambling for data.