An index which gives insights into the prospects of the region in which one resides has been proposed. Known as the Inclusive Wealth Index, it is a simple index showing in monetary units how the well-being and happiness of future generations can be secured. The Inclusive Wealth Index is the outcome of the United Nations (UN)' wealth measurement project. It adds together produced capital, education capital, health capital, and natural capital, and is adjusted by total factor productivity (TFP), which reflects damage caused by climate change, capital gains stemming from rising crude oil prices, and technological advancement. The approach of the index has already been introduced in "New Economic Index 'Inclusive Wealth': Placing Importance on the value of education, health and nature," May 9, 2017, Nihon Keizai Shimbun.
The UN Inclusive Wealth Report 2017, which I presented as a representative, shows that this wealth is different from the level of happiness which is often used in discussions. The vertical axis of the graph shows the past average levels of happiness of individuals. The higher the country is positioned, the greater is the population who answered that they were happy. The horizontal axis shows the per capita inclusive wealth growth rate. The correlation is fairly loose, and it does not show a strong relationship. The report details the importance of calculating the accumulated inclusive wealth for the evaluation of the sustainability of a region.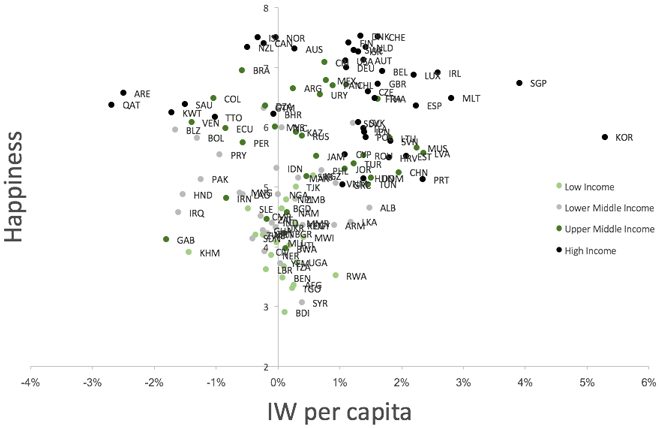 Here, I will introduce the results of my latest book, showing what became apparent when examining the issues of sustainability in regions of Japan. First, it was shown that from 2000 onward, the sustainable growth rate has been rising but not in a small number of regions, including Aichi prefecture.
Generally, the decline in sustainability in core cities, which have concentrated populations, is not often discussed, yet it is those places in which sustainability is in decline. In certain cases, the fact that some rural areas are sustainable can be an opportunity to reconsider discussions on regional revitalization. At a more detailed local level, sustainability is being maintained in regions such as Tokyo, which have extreme concentrations of population due to labor mobility. In western Tokyo and some remote islands, the reduction seen is recognized as a realistic result.
Also, the ordinance-designated cities, which are convergences of core cities, have experienced declining sustainability since 2000. In many cases, the loss of human capital, which shows educational and health values, is a main factor in the decline of sustainability.