First travel surplus in 53 years
Japan registered a travel surplus of about 1.1 trillion yen in 2015, marking the first black ink in 53 years (Note 1). The balance of payments in tourism refers to the difference between the amount of expenditures by inbound tourists in a country (receipts) and that of its own residents on travel abroad (payments), excluding travel expenses. The fact that Japan logged a travel surplus suggests its growing competitiveness as an exporter of tourism. According to the Japan National Tourism Organization (JNTO), the number of inbound tourists increased by 47.1% to 19.7 million in 2015, outnumbering outbound tourists for the first time in 45 years (Note 2). Meanwhile, the Japan Tourism Agency (JTA)'s survey found that foreign tourists spent a record 3.4 trillion yen on shopping, accommodation, meals, and so forth, up roughly 70% from 2014.
What explains Japan's booming tourist industry in recent years? The Japanese government launched its Visit Japan Campaign in 2003, which has led to a steady increase in the number of foreign visitors. But to explain the rapid increase in inbound tourists in recent years, we need to focus on developments since 2013, namely, changes in the overall economy and initiatives undertaken by the government and the private sector. A sudden depreciation of the yen in 2013 boosted expectations for a rise in the number of inbound tourists. This coincided with the government's move to relax visa rules for visitors from Southeast Asian countries and China. Other measures designed to improve the tourism infrastructure include allocating greater portions of airport capacity to international flights, increasing domestic flight routes served by low-cost carriers, and simplifying the passport inspection process for those travelling on cruise ships, which are increasingly visiting Japanese ports. Furthermore, against the backdrop of remarkable economic development, more households in Southeast Asia and China are advancing into the middle and affluent classes, and their rising income translates into greater tourism demand. In response, the Japanese government in 2014 expanded the scope of duty-free items to all general goods including consumables, prompting a rapid increase in the number of duty-free shops not only in the Tokyo metropolitan area but also in other regions across the country. These steps have improved convenience for travelers and helped them save time and money.
The same period of time also saw the United Nations Educational, Scientific and Cultural Organization (UNESCO) designation of Mount Fuji as a World Cultural Heritage site and washoku, Japan's traditional dietary culture, as an Intangible Cultural Heritage, and the selection of Tokyo as the host of the 2020 Summer Olympic Games—all providing opportunities to publicize Japan as a tourist destination. In a nutshell, Japan's tourism promotion is delivering its intended effects helped by deregulation and government and private-sector initiatives to create a pro-tourism environment, and various external factors such as macroeconomic conditions in favor of tourism.
Dependence on Asian economies
According to the JNTO, one of every four inbound tourists in 2015 was from China, while those from East Asia accounted for 72% of all arrivals and the figure goes up to 83% when including those from Southeast Asia and India, indicating Japan's heavy dependence on Asian economies for tourism. Meanwhile, the JTA's survey found that Chinese tourists are the largest spenders with an average per person expenditure of 280,000 yen, compared to approximately 180,000 yen per person for all inbound tourists as a whole. Indeed, shopping is the primary purpose of Chinese tourists and accounts for about 60% of their total expenditures. Their "explosive shopping spree," as popularly referred to because of the sheer volume of purchases, has been giving a big boost to otherwise sluggish domestic demand in Japan. While more than 90% of visitors from the United States and Europe are independent travelers, 40% of those from China and Taiwan come on group tours and their destinations are concentrated in areas along the so-called "Golden Route" including Tokyo, Hakone, Mount Fuji, Nagoya, Kyoto, and Osaka. As such, some people may think that other regions have little to gain from the growing flows of inbound tourists. However, excluding those from China and Taiwan, inbound tourists are mostly independent travelers. And the issuance of multi-entry visas to Chinese tourists has led to a rise in the number of repeat visitors, and many will likely return as independent travelers with a greater variety of travel itineraries. According to TripAdvisor Japan's research findings on inbound travel trends released in June 2016 (Note 4), Ishikawa, Ibaraki, and Toyama topped the list of Japanese prefectures ranked by the growth rate in the number of visits by overseas TripAdvisor users to its pages by destination, and all of the top 10 prefectures are outside the areas along the Golden Route. A rise in the numbers of repeat visitors and independent travelers will result in a greater variety in the reasons for traveling to Japan, including different places to visit and activities to engage in during their stay. Their travel behavior undoubtedly will have a significant impact on the inbound tourism environment as well as on economic indices.
One notable recent trend among foreign tourists is a growing interest in daily life in Japan, as shown in their increasing visits to local businesses and leisure establishments. Japan should therefore ensure that it does not become viewed as just another convenient cosmopolitan country. Many of the things foreign visitors find attractive are associated with the culture and customs unique to Japan, natural landscapes, and interactions with local people. What is needed are multilingual signs and warnings on matters that could negatively impact foreign tourists' experience. This includes multilingual menus to aid those with food allergies or religious objections and multilingual directions on how to properly use a public bath. In so doing, the development of wearable technology or smartphone apps capable of translating scanned characters could help minimize the use of paper posters, reduce the number of staff members needed to attend to foreign visitors, and prevent accidents caused by insufficient information. Such devices, combined with advanced information and communications technology (ICT) and Internet of Things (IoT) technology, could provide valuable information on the needs of travelers by collecting their location information as well as the objects scanned by their devices. Tourism is a service industry and cannot flourish without attention to tourists' needs.
The JTA's survey found that personal blogs were the most useful source of pre-trip information, selected by 27.2% of the respondents in a multiple answer questions, followed by travel agencies' websites and guidebooks selected by 18.1% and 17.6% respectively. Meanwhile, smartphones and PCs topped the list of useful information sources while traveling, chosen by 56.4% and 22.1% of the respondents respectively.
All of the above observations point to the importance of proactively providing multilingual information and making free WiFi services available in more areas to facilitate information collection and communication while traveling, if Japan is to increase its chance to be selected as a travel destination. This endeavor should not be confined to the central and local governments. Businesses and individuals should be part of it, and even foreign tourists have the potential to stimulate demand for Japanese tourism by spreading information to share their experience in Japan.
Potentially significant ripple effects on a broad range of industries
Earlier in 2016, the government announced its new aim to increase the number of inbound tourists to 40 million people per year and their related consumption to eight trillion yen by 2020, doubling the initial goals of 20 million people and four trillion yen. This suggests that Japan's inbound tourism boom has had a greater-than-expected impact. It is fair to say that Japan's promotion of inbound tourism has so far delivered its intended effects, helped in part by efforts by the government and the private sector to improve the overall hospitality and other favorable external factors. Going forward, both the government and businesses need to continue to act proactively to make the tourism sector resilient against uncontrollable external fluctuations. When we divide people's traveling experience into two stages, namely, the pre-trip stage and the on-trip stage, the ongoing tourism promotion efforts are targeted at the pre-trip stage, increasing Japan's chance to be selected as a destination and improving convenience for traveling to Japan. Going forward, deregulation and other initiatives targeted at the on-trip stage are needed to better support travelers and improve the soft quality of their experience. For instance, Japan's overall hotel capacity is not enough, local tour packages are limited in number and variety, and there is significant shortage in certified interpreters. Since it is impossible to address all of the shortcomings at once, we must define the priority order among them. For that, it is crucial to understand what aspects of Japan are attracting foreign tourists and what needs they have.
Since tourism encompasses a broad range of industries including transportation, accommodation, and hospitality, capturing external demand will have unmeasurable ripple effects across industries and regions in Japan. I hope that the ongoing inbound tourism boom will serve as a golden opportunity to solve various problems plaguing Japan. We should take advantage of this momentum to attract not only sightseeing tourists but also potential business partners and students from overseas. If we can successfully turn the inbound tourism boom into a springboard for expanding much-needed domestic demand, acquiring excellent talents, and promoting the growth of new industries, a different scenario for the future of Japan would begin to emerge on the horizon.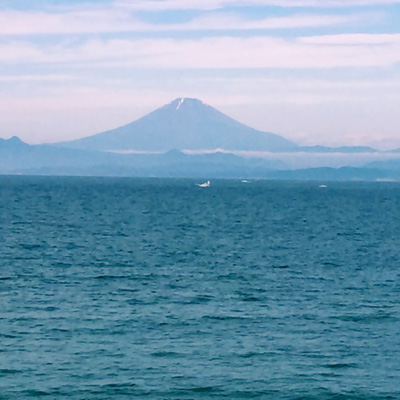 Mount Fuji seen from the coast of Hayama, Kanagawa prefecture on a rare sunny day during the rainy season (Photo by Yoko Konishi)
July 11, 2016