Current State of Environment Policy in China

MENG Jianjun
Visiting Fellow, RIETI
Atmospheric Pollution Prevention and Control Law amended first time in 15 years
In a bid to address the severe smog problem caused by fine particulate matter (PM2.5), the National People's Congress (NPC), the legislature of China, passed amendments to the Atmospheric Pollution Prevention and Control Law on August 29, 2015. The legislative move, which revised the law for the first time in 15 years since April 29, 2000, came amidst growing calls for cleaner air. Since early 2013, Beijing citizens have been demanding that the government release PM2.5 figures, provoking nationwide attention to the government's response to environmental problems. Against this backdrop, the authorities came up with the strictest-ever environmental control measures including various information disclosure and regulatory requirements.
The 2013 public outcry in Beijing for more information about air quality led to the inclusion of PM2.5 in China's revised national ambient air quality standards (NAAQS), as a component of the air quality index (AQI) for monitoring in Beijing and other major cities. Furthermore, the Ministry of Environment Protection also promised to start monitoring PM2.5 across the country by 2016. However, the government fell short of providing effective measures to combat the increasingly serious air pollution.
The revised law explicitly provides for the supervisory roles and responsibilities of local governments in managing regional air quality and will impose stricter penalties on offending businesses. Effective from January 1, 2016, the maximum amount of fines imposed on a company responsible for a material pollution incident will be raised from the current 500,000 yuan (approximately $78,500) to three- or five-times the damage caused by the pollution as determined by the supervising local government based on the severity of contamination.
In a bid to reduce emissions of air pollutants such as PM2.5, the revised law has set forth quality standards for gasoline and other fossil fuels, requiring oil refineries to ensure that their products meet the quality standards. As such, the revisions have been made as a result of the authorities bowing to public opinion calling for solutions to the environmental pollution.
Growing environmental awareness in China
Currently, roughly 40% of China's total population of 1.37 billion is estimated to live in areas heavily polluted with PM2.5. As depicted by the documentary film "Under the Dome," released online on February 28, 2015, many large cities in China are covered by the dome of smog. The film racked up 200 million views in China within just two days of its release, striking a chord with many audiences.
In an annual questionnaire survey on global environmental issues conducted by the Asahi Glass Foundation, Chinese respondents consistently cited "pollution/contamination," a problem happening in their own backyard, rather than "climate change" or "biodiversity," as their greatest environmental concern in the past three years (see Figure). The latest survey results released in September 2015 showed that "climate change" topped the global list of environmental concerns, cited by 25% of all respondents from around the world, followed by "biodiversity" and "water resources," both at 11%. A comparison of responses by nationality reveals a distinct difference between China, where "pollution/contamination" is by far the largest concern cited by 29%, and most of the world including Japan and the United States, where "climate change" was cited as the greatest concern cited by 32% and 33% respectively.
Driven by a growing sense of crisis over the pollution they encounter on a daily basis, people's awareness of environmental issues has increased significantly in recent years, and they are now casting a stern eye on the government. Indeed, pollution has been consistently high on the agenda for the NPC, and many Chinese people feel that the government has not done enough to address the problem.
Figure: Changes in Chinese People's Awareness of Environmental Issues (2013, 2014, 2015)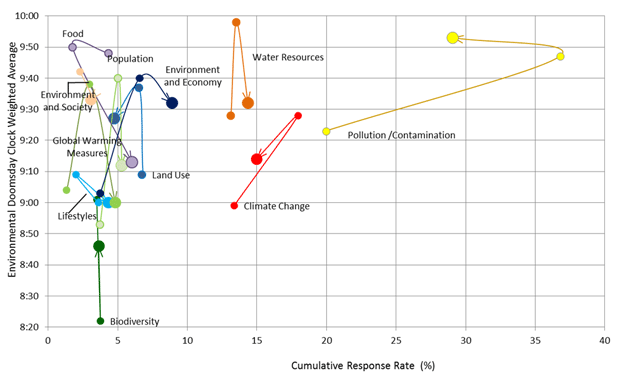 [Click to enlarge]
Source: Asahi Glass Foundation, Results of the 24th Annual "Questionnaire on Environmental Problems and the Survival of Humankind," published in September 2015.
Curbing coal consumption as the first step in tackling air pollution
China is the world's largest coal producer and consumer. According to data from the China Statistical Yearbook 2014, China's total coal output and consumption in 2012 stood at 3,645 million tons and 3,526.471 million tons respectively, while coal imports from overseas totaled 288.411 million tons. China accounts for 46% and 49% of the world's coal output and consumption. Coal is the source of 80% of electricity generated in China, and used in massive amount to produce cement, steel, and flat glass. Such heavy consumption of coal is directly linked to grave environmental problems exemplified by the PM2.5 problem, causing increasingly serious air pollution.
In a move to address the situation, the government embarked on a policy to curb coal-based energy consumption, promoting the introduction of various other energy sources for electricity generation, including nuclear, hydro, wind, and solar. As a result, China's coal output and consumption peaked in 2013. According to the latest figures released from the National Development and Reform Commission (NDRC), coal output in the first half of 2015 dropped 5.8% year on year to 1,789 million tons, following a 1.8% year-on-year decline in 2014. The revised Atmospheric Pollution Prevention and Control Law will introduce quality requirements for coal with an aim to reduce air pollution. Ahead of this, the government implemented some interim measures to control coal quality in urban areas, effective from January 2015, including a ban on the use, import, and sale of low-quality coal with an ash content of 16% or above and a sulfur content of 1% or above. It is estimated that coal combustion accounts for approximately 80% of China's carbon dioxide (CO2) emissions. Air pollution control measures, particularly those designed to reduce coal-based energy consumption, will contribute greatly to curbing greenhouse emissions.
Ambitious new target for tackling global warming aimed at enhancing cooperation with the United States and Europe
On November 12, 2014 in Beijing, Chinese President Xi Jingping and U.S. President Barack Obama made a joint announcement on their respective greenhouse gas (GHG) emission reduction targets. This was seen as an expression of their commitment to cooperate for the establishment of a new international framework toward the 21st session of the Conference of the Parties (COP21) to the United Nations Framework Convention on Climate Change (UNFCCC) to be held in Paris in December 2015.
On June 29, 2015, while on his visit to the European Union (EU) headquarters in Brussels, Chinese Premier Li Keqiang and his EU counterparts issued a joint statement, pledging to work together to reach an "ambitious and legally binding agreement" on GHG emission reduction targets at COP21. On the next day in France, Li for the first time unveiled China's detailed plan to reduce GHG emissions toward 2030. Later in the day, the Chinese government submitted to the UNFCCC Secretariat the plan "Enhanced Actions on Climate Change: China's Intended Nationally Determined Contribution."
The plan calls for the following action objectives to be achieved by 2030: having CO2 emissions peak by around 2030 and making best efforts to achieve that end at an earlier timing; reducing CO2 emissions per unit of gross domestic product (GDP) by 60% to 65% from the 2005 level; increasing the share of non-fossil energy in primary energy consumption to 20% by 2030; and increasing the forest stock volume by around 4.5 billion cubic meters from the 2005 level. In order to achieve these objectives, China will enhance its efforts through specific measures on both national and regional levels. For instance, CO2 emissions from newly built coal-fired power plants will be lowered to 300 grams of coal equivalent per kilowatt-hour.
By proposing these ambitious emission reduction goals and thereby facilitating cooperation with the United States and EU member countries, China aims to take a leading position in the forthcoming COP21 negotiations.
Setting new targets in the 13th Five-Year Plan to gear up for international cooperation
By submitting its 2030 GHG emissions reduction targets, China can demonstrate clearly to the world not only its determination to act in accordance with its promises to the international community but also its intention to shift its policy orientation from focusing on growth and consumption to promoting sustainable and clean development.
In November 2009, China for the first time set its target to reduce GHG emissions by 40% to 45% by 2020 compared with the 2005 level. In 2011, it became a binding target and was included as such in the 12th Five-Year Plan for the period 2011-2015. In comparison, the target proposed this time around translates into an average annual reduction of 3.6% to 4.1% in CO2 emissions per unit of GDP between 2005 and 2030. The pace of reduction is faster than that of the United States (2.3%) and EU member countries (2.5% to 3%). Target emission levels under the 13th Five-Year Plan, which is to be announced by the end of 2015, will be determined in line with the new reduction target.
In order to achieve its goal of having CO2 emissions peak by 2030, China needs to implement further energy conservation measures, increase the use of new or renewable energy sources, and improve energy efficiency toward achieving its goal of having CO2 emissions peak by 2030. Current estimates show that this will require 41 trillion yuan (approximately $6.44 trillion) of investment, and Beijing is exploring ways to reduce costs through international cooperation. At present, cooperation is underway with the United States, which has also begun to shift away from coal, in the area of energy and environmental technologies. In the latest round of the U.S.-China Strategic and Economic Dialogue (S&ED) held in late June 2015 in Washington D.C., the two countries agreed to implement joint university-industry projects in such area as the development of environmentally-friendly coal technologies.
September 29, 2015
Article(s) by this author