Concerns are often raised about increasing spatial segregation by education level in societies. This column uses a study in the Netherlands to show that as preferences for locally provided public goods with a high fixed cost, such as train stations, differ widely between educational groups, spatial sorting by education and an increase in local density can actually raise the social benefits from investments in such infrastructure. However, since the highly educated benefit disproportionally, this leads to serious political economy problems.
There is a strong pattern of spatial sorting of various levels of education. In a study of 1,500 regions in 100 countries, Gennaioli et al. (2013) show that within all countries, the highly educated tend to cluster in particular regions. Interregional differences in GDP per capita per year increase in the mean level of education and are far above any reasonable estimate of the return to human capital. Glaeser and Saiz (2003) have argued that higher educated are crucial for urban revival. Figure 1 documents a similar pattern for the Netherlands.The left panel shows the spatial segregation between high and low educated workers. Roughly speaking, highly educated workers live (and work) in cities, while the low-educated live in the countryside. In cities in the western part of the country, there are neighbourhoods where up to 70% of the workers are highly educated, while in regions along the northern border with Germany, this is less than 15%. The strong spatial segregation has led many people to worry about society falling in different education classes that hardly interact (see, for example, the most recent book by Florida 2017). This worry has received more attention since the rise of populism.
These differences in mean educational attainment are closely mirrored by the local land rents (see the right panel of Figure 1). Land prices vary by a factor 300 or more, from 3,800 euro/m2 in Amsterdam Canal Zone (high share highly educated) to some 10 euro/m2 along the northeastern border with Germany (low share highly educated). See De Groot et al. (2015) for a broad overview of land rents and their determinants in the Netherlands. Local public goods are an important factor in explaining this wide variety in land rents.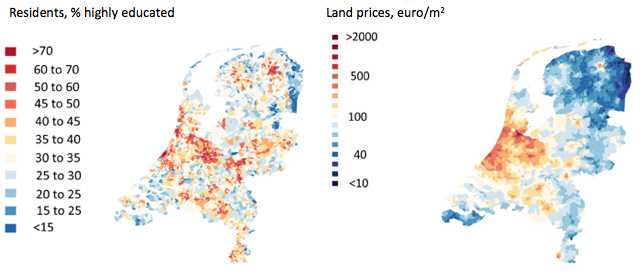 A recent study by Teulings et al. (2018) uses microdata to quantify the differences in the willingness to pay for particular locations between the high and low educated (omitting the medium education level) (Figure 2). It shows willingness to pay for the job availability (based on the locally available transport infrastructure to commute to these jobs) and urban amenities such as parks and historic scenery at the location. The highly educated (right panel) are very sensitive to the quality of a location. Their willingness to pay for downtown Amsterdam is twice as high as that of lower educated, while their willingness to pay for locations near the German border is six times smaller than that of the low-educated. The low-educated, on the other hand, are much more sensitive to the level of land prices when choosing their home location. Teulings et al. estimate their sensitivity to land prices to be twice as large as for the highly educated, suggesting the land is a normal good on consumption. Albouy et al. (2016) reported a similar result for the US.