Economic downturns can be both a cause and an effect of uncertainty. This column argues that uncertainty has international spillovers that can be mitigated via credible international trade agreements such as NAFTA, which provided US firms with valuable insurance against the widespread threat of a global trade war during the 2008 crisis. However, the credibility and insurance value of these agreements is being trumped by events such as Brexit, the renegotiation of NAFTA, and US threats of a trade war, which mark the start of a 'trade cold war.'
There is ample evidence that protectionism responds to economic and political shocks (Bown and Crowley 2013). Moreover, tariff threats increase trade policy uncertainty and thus reduce trade (Crowley et al. 2016). Reductions in trade policy uncertainty through WTO commitments encourage firms to invest to enter new markets and expand exports (Handley 2014), which can lower prices and increase consumer welfare, as we find for the US after China's WTO accession (Handley and Limão 2017a). Entry into credible preferential trade agreements can also further strengthen policy commitments, reducing trade policy uncertainty and increasing exports, as we find in Handley and Limão (2015) for Portugal's accession to the EU.
Threats to start trade wars and to renegotiate or ignore international commitments reduce the beneficial effects of trade agreements. Two events in 2016 increased trade policy uncertainty substantially: the British vote to leave the EU in June, and Donald Trump's nomination as the GOP candidate in July. One index of the Trump trade policy uncertainty is shown in Figure 1—the share of newspaper articles about international trade or trade policy that also mention "uncertain" or "uncertainty." This index increased when the campaign was announced, upon his nomination, and upon his subsequent election—when he took office, trade policy uncertainty reached its highest level in a decade (Note 1). In Handley and Limao (2017b), we note various potential actions of the incoming administration that were sources of trade policy uncertainty. Several of these have now occurred, including the US withdrawal from TPP, and renegotiations of its preferential trade agreements (PTAs). In March 2018, President Trump announced he planned to impose tariffs of 25% on steel and 10% on aluminium on all countries, and added that "trade wars are good... and easy to win" after other countries threatened retaliation (New York Times 2018) (Note 2). Notably, three of the four largest steel import source countries are US PTA partners, namely, Canada, South Korea, and Mexico. The exemptions for Canada and Mexico announced on 9 March are welcome. But they are conditional on unspecified concessions on NAFTA renegotiation and only temporary—two factors that could prolong a period of uncertainty and undermine the value and stability that NAFTA and other PTAs provide for US firms, especially if this tactic is normalised.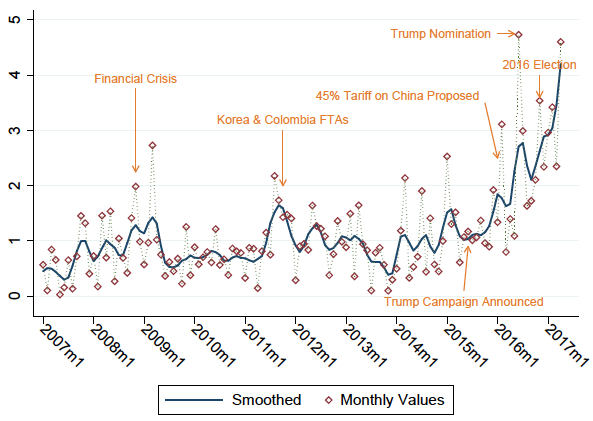 The possibility of a trade war initially translated into tangible stock market declines. But even if the US steps back from the brink, the new trade cold war— defined by the higher probability of breaking up agreements and entering a 'hot' trade war—is already undermining the credibility of the world trade system (Note 3). In this column, we focus on how US exporting firms (and thus their suppliers and workers) are hurt by uncertainty, especially during an economic crisis (Carballo et al. 2018). We find evidence that the interaction of economic and policy uncertainty exacerbated the reduction of trade in the 2008 Global Crisis (Note 4). This was mitigated in part by US PTAs that provided insurance against adverse policy shocks when demand volatility increased.