Donald Trump's victory in the U.S. presidential election is building up high expectations for his economic policies. President-elect Trump pledged to reduce the federal corporate tax rate from the current 35% to 15% and make massive infrastructure investments worth $1 trillion over 10 years. He also mentioned lowering the top rate of the progressive income tax rates. The implementation of these policies would substantially expand the economy of the world's largest economic superpower. That would naturally have a positive impact on the world economy through the expansion of international trading activities.
However, we cannot be entirely optimistic. Trump's policies of trade protectionism and immigration control might temporarily protect domestic employment, but would reduce the supply of goods and labor. It is conceivable that the domestic labor market will be partially tighter, and the resulting wage increase will suppress corporate performance. Employment improvement has already applied an upward pressure on wages in the United States. If Trump enforces his pledge of deporting the two million illegal immigrants with criminal records out of the total of 10 million illegal immigrants, and assuming that they include one million in the workforce, the tight labor market situation will likely push up the wage growth rate by about 2% from the current 2.9% year-on-year (December 2016).
It is true that people in other developed nations are becoming more intolerant of the continued inflow of goods and immigrants from emerging and developing economies. In fact, global trade has increased by 11.2 times (source: International Monetary Fund (IMF)) from 1980 to 2015, when the world gross domestic product (GDP) rose by 6.7 times (source: World Bank). Exports from emerging and developing economies have grown by a staggering 46 times (source: IMF). Yet, the value of exports has declined over the last two years due to a drop in the prices of crude oil and other resources. According to data for up to 2013, when the prices of crude oil and other resources hovered high, export values grew by as much as 12.6 times worldwide and 52.8 times among emerging and developing economies since 1980. This indicates that exports from emerging and developing economies to developed economies grew to such extent.
The impact of increased exports from emerging and developing economies to developed nations can be also seen from the changes in world industrial output. From 2000 to 2015, world industrial output increased by 1.5 times, while that of emerging economies rose by 2.3 times. Above all, growth in industrial output in emerging Asian economies including China, which has become the world's factory, reached 4.1 times (Figure 1).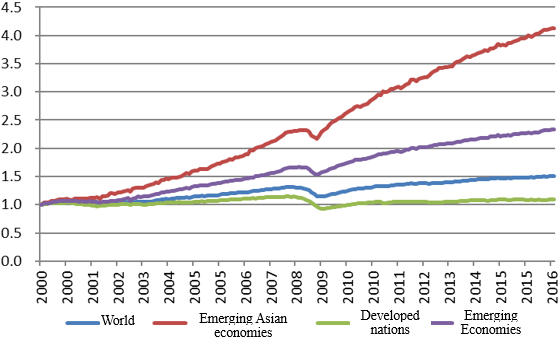 Industrial output in developed nations, on the other hand, has remained largely steady, growing by just 1.1 times. It grew by 1.1 times in the United States and the Eurozone while remained even in Japan. Even consumers in industrialized nations may benefit from gaining access to cheaper industrial products from emerging economies, but they would not be completely satisfied if the imports hamper growth in domestic industrial output or employment and wages in the manufacturing sector. Just like after the collapse of Lehman Brothers, only public dissatisfaction would rise in developed nations if their economy and employment are not strong.