China in Transition
Chinese Economic Recovery under Way
- Concerns about an asset bubble and inflation on the rise -

Chi Hung KWAN
Consulting Fellow, RIETI
Policies adopted by the Chinese government to expand domestic demand in the wake of the Lehman Brothers collapse in September 2008 have proven effective, and the Chinese economy is recovering ahead of the economies of developed nations. On the other hand, ballooning liquidity resulting from monetary easing has given rise to concerns that an asset price bubble may be emerging and inflation may rise.
Economic recovery led by domestic demand
Although China still faces weak external demand, robust domestic demand is driving an economic recovery. The growth rate of 7.9% on a year-on-year basis in the second quarter of this year is well above the 6.1% rate of the first quarter. In particular, year-on-year growth in industrial production (for companies exceeding a given size only, on a value-added basis) was 9.1% in the second quarter, substantially exceeding 5.1% in the first quarter, and accelerating month by month from 7.3% in April to 8.9% in May, and 10.7% in June.
With respect to external demand, exports are tumbling, reflecting the global economic downturn. Exports declined 21.8% year on year in the first half, while imports fell 25.4% during the same period. However, the decline in June of exports (21.4%) and imports (13.2%), both on a year-on-year basis, represents an improvement of approximately five and 12 percentage points, respectively, compared with the May figures, which suggests a turnaround might be under way.
Meanwhile, led by consumption and investment, domestic demand has remained firm.
Looking at consumption, total retail sales of consumer goods increased 15.0% year on year in the first half, and real growth adjusted for price changes accelerated to 16.6%. In particular, housing (rising 31.7% year on year) and auto sales (increasing 17.7%) were strong and have been driving the rise in overall consumption.
On the investment front, total investment in fixed assets in urban areas (in nominal terms) surged 33.6% year on year in the first half (total investment in fixed assets nationwide rose 33.5%), following the execution of a stimulus package of more than 4 trillion yuan with a focus on public investment that was announced in November 2008. Of this, investment in infrastructure increased 57.4% year on year, with investment in railways showing the highest growth of 126.5% year on year. Growth in central China (38.1%) and western China (42.1%), where the stimulus package has had a significant impact, exceeded that in eastern China (26.7%) by a large margin.
Reflecting this, of economic growth in the first half (7.1%), the contribution of net exports was -2.9%, while the contributions of consumption and investment (capital formation) were high at 3.8% and 6.2%, respectively ( figure 1 ). Although the contribution of investment to gross domestic product (GDP) growth should be much higher, given the growth of total investment in fixed assets (close to the concept of fixed capital formation on a GDP basis) and the ratio of investment to GDP (41.1%, the actual result in 2008), it was limited by the decline in inventories investment. In fact, growth in inventories has been decelerating significantly in major industries since November 2008, and this trend continued until May 2009 ( figure 2 ).
Figure 1: Contrasting external demand and domestic demand
- Changes in contribution of major demand components to GDP growth (real) -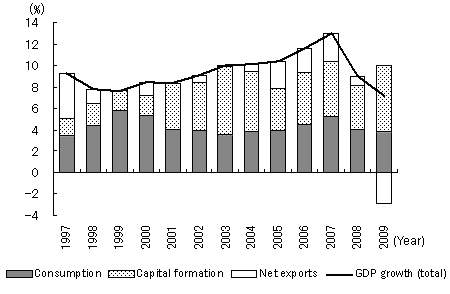 (Note) For 2009, the first half only. Capital formation includes an increase in inventories (inventory investment).
(Source) Prepared based on the China Statistics Summary 2009 and the press conference on national economic performance in the first half year of 2009 by the National Bureau of Statistics of China (July 16, 2009)
Figure 2: Progressing Inventory Adjustment
- Changes in inventory level in major industries -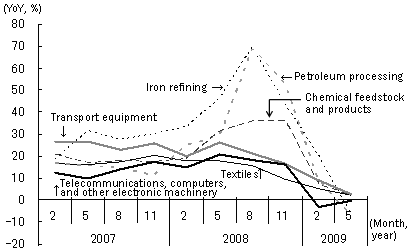 (Source) Prepared based on data of the National Bureau of Statistics of China
The Chinese economy will continue to recover, as external demand will start to pick up and inventory adjustment will soon be over. Moreover, consumption and public investment will remain firm. With the growth rate in the second half expected to surpass 9%, the annual target of 8%, set by the government for 2009, is likely to be achieved.
Asset prices rising ahead of consumer prices
To overcome the global financial crisis, the Chinese government was quick to introduce expansionary fiscal policies and drastic monetary easing, with rate cuts, a lowering of reserve requirements, and the elimination of the quantitative ceiling on bank loans, shortly after the collapse of Lehman Brothers in September 2008. Reflecting these measures, growth in money supply (M2) and loans in renminbi have both been accelerating, reaching 28.5% and 34.4%, respectively, on a year-on-year basis in June 2009. This growth outstrips that seen in the period from 2003 to 2007, when the Chinese economy was overheating with double-digit growth.
Ballooning liquidity, together with the economic recovery, is boosting asset prices. In the stock market, the Shanghai Composite Index, which temporarily fell to around 1,700 in early November 2008, had risen to the top 3,300 as of July 23, 2009. The real estate market has also rebounded from its adjustment phase. Housing sale prices in 70 large and midsize cities fell below the previous month's level for seven consecutive months beginning in August 2008, but have been on an upward trend since March 2009. In June, housing prices rose 0.8% on a month-on-month basis (10.0% on an annualized basis) ( figure 3 ).
Figure 3: Sharply recovering real estate market
- Changes in housing prices in 70 large and midsize cities -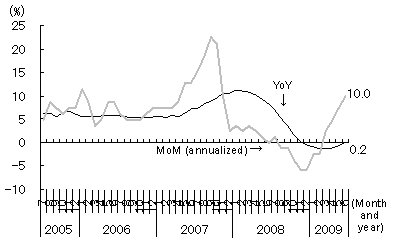 (Source) Prepared based on data from the National Bureau of Statistics of China
Meanwhile, the Consumer Price Index (CPI) has been in negative territory since February 2009, and was -1.7% in June. Considering that the Producer Price Index also fell 7.8% year on year in June, there are as yet no signs of inflation. In China, however, inflation (year-on-year) tends to lag three quarters behind growth (year-on-year), so inflation is expected to pick up in the first quarter of 2010, since growth began to improve in the second quarter of 2009 ( figure 4 ).
Figure 4: Correlation between GDP growth and inflation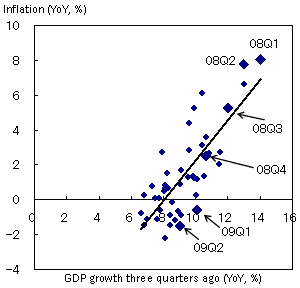 (Note) Results of estimate

(Source) Prepared and estimated based on data from the National Bureau of Statistics of China
The emergence of an asset bubble and a steep rise in inflation must be prevented to maintain stable growth. The Chinese authorities should revise their "ultra" easy monetary policy, and begin to look for an exit strategy.
Article(s) by this author