China in Transition
China Seeking Early Economic Recovery

Chi Hung KWAN
Consulting Fellow, RIETI
The Chinese economy has slowed rapidly in step with the worldwide economic downturn triggered by the U.S. financial crisis. China's gross domestic product (GDP) was 6.8% higher in the fourth quarter of 2008 from the same period one year earlier, but that rate of increase was sharply lower than its peak 13.8% year-over-year increase logged in the second quarter of 2007. To deal with the downturn, the Chinese government has developed countercyclical policies focused on expanding domestic demand and set an 8% GDP growth target for 2009. At the National People's Congress (NPC) that began on March 5, Chinese Prime Minister Wen Jiabao expressed confidence in his government's 8% growth forecast while warning that 2009 could be the most challenging year in the new century for the Chinese economy. The 8% growth projection was not derived from wishful thinking; it is based on Chinese economic fundamentals and pump-priming measures that have been initiated by the Chinese government.
Maintaining growth is at the top of the list of priorities
In an environment of falling external demand, maintaining growth has become the top priority among China's macroeconomic policies.
First, China has taken steps since September 2008 to loosen its monetary policy. On five separate occasions the government has lowered the standard interest rate on one-year loans for a total decrease of 2.16 percentage points to 5.31%. The Chinese government has also abolished total financing volume controls. The fall in China's inflation rate from its peak of 8.7% in February 2008 to minus 1.6% in February 2009 has increased the impetus for loosening monetary policy. Japan, the United States and other major economies have already dropped policy interest rates to near the 0% minimum and have little room to maneuver rates any lower. China, in contrast, faces no such restriction.
Second, the Chinese currency had been strengthening since China switched to a managed floating system in July 2005, but it leveled off in July 2008 and has remained stable around 6.8 yuan per dollar ever since. With demand falling sharply in overseas markets, exports have received some support from the stabilized yuan and a value-added tax refund on exports that was increased in three successive stages.
Third, in November 2008, the Chinese government announced an economic stimulus package of four trillion yuan to boost domestic demand, which was centered on infrastructure investment over a two-year period. The central government will increase its issuance of government bonds in 2009 to 750 billion yuan, up 570 billion yuan from the previous fiscal year, to fund a portion of the stimulus. At the same time, the State Council will permit local governments to issue bonds worth 200 billion yuan in total. The Ministry of Finance will issue the bonds on behalf of the local governments, but the Council chose to place the funds raised through this step under provincial budget controls, which means that the central government will effectively be lifting its ban on bond issues by local governments. The combined financial deficit created by the stimulus measures for the central and local governments is estimated at 950 billion yuan, or roughly 3% of China's GDP.
Fourth, the Chinese government made a series of announcements in January-February 2009 of its plans to promote the country's ten leading industries, namely (1) steel, (2) automobiles, (3) textiles, (4) facility manufacturing, (5) petrochemicals, (6) light industry, (7) electronic information, (8) shipbuilding, (9) nonferrous metals and (10) logistics ( table 1 ). These plans are designed to alleviate the effects that the global financial crisis may have on Chinese industries by reducing corporate costs and boosting profits on a short-term basis and to advance technologies and implement structural reforms over the long term.
Table 1: Plans for Promoting the 10 Leading Industries
(announced January-February 2009)

| | |
| --- | --- |
| Steel | Promote export of high value-added products and consolidate smaller companies with industry leaders Baoshan Steel, Wuhan Steel and Angang Steel. |
| Automobiles | Lower the vehicle sales tax rate from 10% to 5% for passenger cars with engine displacements of 1,600cc or less. Reduce the number of large companies from 14 to 10. Provide 10 billion yuan in technological innovation assistance. Increase the share of original Chinese brand-name cars in the domestic market to 40% in the future. |
| Textiles | Raise the tax refund rate on increased export value from 14% to 15%. Maintain present employment levels. |
| Facility manufacturing | Support M&A among core companies. Develop large companies with international trading and financing capabilities that can perform entire processes. |
| Petrochemicals | Support large projects in a prioritized manner. Increase the industry's value added to 1.75 trillion yuan by 2011. |
| Light industry | Promote technological innovations in priority industries, including paper manufacturing, home electronics and plastics. Expand the list of goods that qualify for subsidies to spread the use of home electronics throughout rural communities. Improve food safety. |
| Electronic information | Upgrade integrated circuits, develop the third-generation mobile communications industry, expand the use of digital TVs, and develop next-generation Internet software and information services. |
| Shipbuilding | Expand the scope of funds supplied by financial institutions in connection with the export of ships. Extend the period of ongoing domestic sales support measures for ocean-going vessels to 2012. |
| Nonferrous metals | Adjust the rates of export and import duties, promote absorption, and consolidate existing companies into three to five corporate groups in the future. |
| Logistics | Support agriculture, agricultural community logistics, and the logistics of large production goods and everyday consumer goods. |
(Source) Prepared by the author based on promotional plans for each industry approved by the Standing Committee of the State Council
Fifth and finally, the Chinese government is promoting consumption together with the expansion of public works investment as the cornerstones of its countercyclical measures. In his report on central government activities delivered at the NPC, Prime Minister Wen Jiabao cited both new areas of consumption and expanded consumption in rural communities as priority issues. The new areas of consumption include automobiles, tourism and sports-related activities. China has demonstrated great urgency in expanding consumption in rural areas by establishing new distribution networks in these areas. The government has also granted farmers subsidies amounting to 13% of the cost for purchasing a wide range of home electronics, including TVs and refrigerators.
The four trillion yuan package to stimulate domestic demand has been revised and partially modified in accordance with the government's emphasis on people's livelihood. In particular, 1.8 trillion yuan was originally earmarked for the construction of key infrastructure, such as railways, roads, airports, water-related facilities, and the modernization of urban electricity networks. But this amount has since been pared back to 1.5 trillion yuan to allow for the 40 trillion yuan initially budgeted for social development projects, such as medical services, hygiene, education and culture affairs, to be increased to 150 billion yuan.
The slowdown eases
The countercyclical policies implemented by the Chinese government are beginning to produce results. Key macroeconomic indicators reflect the continuing downward trend in external demand, but domestic demand remained relatively strong and provided support for the overall economy from January to February ( figure 1 ). In addition, the long Chinese New Year holiday period moved from February in 2008 to January in 2009. To eliminate any bias caused by this factor, the discussion in the following section primarily uses aggregate figures for January and February.
Figure 1: Changes in Key Macroeconomic Indicators for China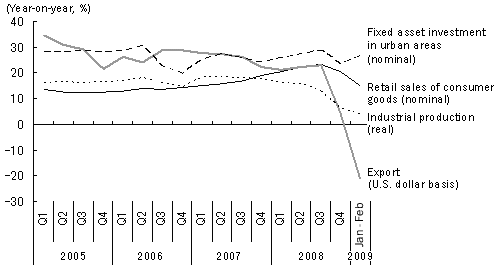 (Source) Prepared based on CEIC data
External demand fell in both November and December 2008, and in January and February 2009 exports plunged 21.1% while imports plummeted 34.2% year-over-year on a U.S. dollar basis. The decline in imports was greater than the drop in exports because of substantially lower prices for crude oil and other commodity imports. Chinese exports are expected to remain sluggish for some time, as the United States and other developed markets show few signs of economic recovery.
In contrast, internal demand in China, which consists of consumption and investment, sustained a relatively high rate of growth during the same period. Consumption benefited from a 15.2% year-over-year nominal increase in retail sales of consumer goods during January-February 2009. The 17.0%, retail sales growth rate in rural areas was measurably higher than the 14.4% increase in urban areas ( figure 2 ). When the negative inflation rate is taken into consideration, the real growth rate of retail sales was even higher than the nominal rate during January-February 2009. Retail sales growth for the two months was somewhat lower than the fourth quarter of 2008, but it still exceeded the average growth rate from 2003-2007 when China was enjoying double-digit economic growth.
The number of automobiles sold in the first two months of 2009 increased 2.7% over a year ago to recover from an 8.2% drop in the fourth quarter of 2008. Automobile sales volume growth was particularly robust in the month of February, rising 24.7% over one year to 827,600 units. It was the first time in four months that sales volume exceeded the previous year's level ( figure 3 ). Monthly sales topped 800,000 units in February for the first time since June 2008, and also exceeded the U.S. sales volume for the second consecutive month, making China the world's largest auto market during the first two months of the year. Led by Chinese brands, vehicles with maximum displacement of 1,600cc sold particularly well, reflecting the reduction in sales taxes on smaller vehicles.
Figure 2: Changes in Retail Sales of Consumer Goods in Urban Areas and Rural Areas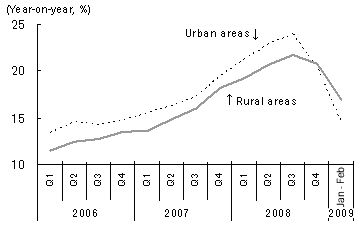 (Note) Rural areas include counties and lower administrative units.
(Source) Prepared based on CEIC data
Figure 3:Changes in the Number of Automobiles Sold per Month
- Budding Signs of Recovery -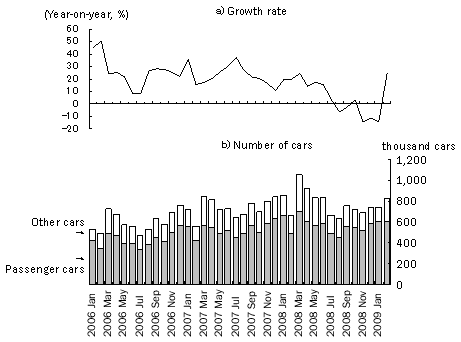 (Source) Prepared based on CEIC data
Private consumption in China accounts for around 35% of GDP, half share as in the United States. At this very low level, the room for this share to rise should be large. Expanding income disparities have been viewed as a factor restricting consumption in China. In fact, the ratio of private consumption to GDP tends to fall as income disparities between urban and rural areas widen ( figure 4 ). To address this problem and create a more harmonious society, the Hu Jintao administration, which took office in 2002, has worked to lower or eliminate taxes on farmers and improve infrastructure and public services in rural areas. These policies are finally beginning to produce results. In 2008, private consumption growth surpassed GDP growth for the first time since 2000, thanks to brakes applied to the widening disparities between rural and urban areas. The ratio of private consumption to GDP began to rise in step with private consumption growth. This trend appears to be continuing in 2009, judging from the January?February retail sales figures.
Figure 4: Income Disparities That Can Restrict Private Consumption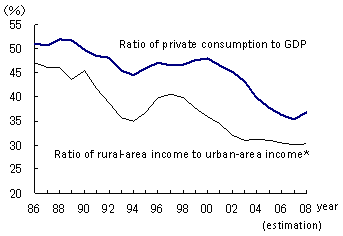 (Note) *Figures for urban areas are per-capita disposable income. Figures for rural areas are per-capita net income.
(Source) Prepared based on China Statistical Abstract 2008
Investment, another pillar of China's domestic demand, has also remained healthy. Fixed asset investment in urban areas was up 26.5% during the first two months of 2009 from a year earlier, slightly above the 26.1% annual rate of increase for all of 2008. The increase in investment is even greater on a real basis when the falling inflation rate is taken into account. Investment in fixed rail and transportation assets in China expanded 21.0%, reflecting the launch of four trillion yuan in stimulus initiatives.
Meanwhile, on the production front China's industrial output in the first two months of 2009 was 3.8% higher on a real, value-added basis compared to one year earlier, but this was lower than the 5.7% increase for December 2008 and the 6.4% increase for the fourth quarter of 2008. Estimates based on January-February figures point to a strong possibility that GDP growth in the first quarter of 2009 fell below the 6.8% achieved in the fourth quarter of 2008. However, 2008 was a leap year in which February had one extra day. By adjusting for this discrepancy the real industrial growth rate for the first two months of 2009 was actually 5.2% (as estimated by the National Bureau of Statistics of China). We should, if anything, take the view that the slowdown is easing.
Leading indicators that suggest economic recovery
Some signs signaling a turnaround of the economy are beginning to appear in China. To begin with, the Purchasing Managers' Index (PMI), which reflects business conditions in the manufacturing sector, began to recover after bottoming out at 38.8% in November 2008. At 52.4% in March 2009, the PMI topped 50% which is the level that indicates economic activity begins to expand ( figure 5 ). Among PMI components, the output index and the new orders index have showed a particularly strong improvement ( box ).
Figure 5: PMI and Its Components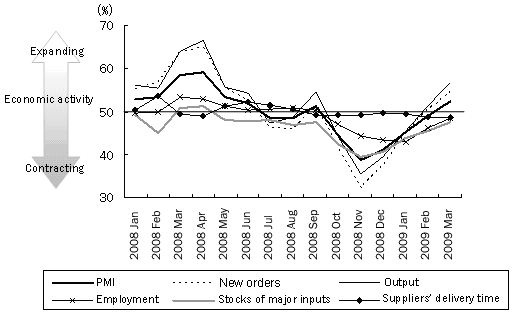 (Note) Inverse suppliers' delivery time is used (figures obtained after deducting original coefficient from 100%).
(Source) Prepared based on CEIC data
Share prices have also turned upward. At the beginning of February 2009 the SSE Composite Index returned to its level immediately prior to the Lehman Shock in September 2008. Share prices in major overseas markets, in contrast, have continued to decline ( figure 6 ).
In addition, increases in the money supply (M2) and bank lending have both accelerated ( figure 7 ). In February, M2 and yuan-denominated bank lending showed high year-on-year increases of 20.5% and 24.2%, respectively.
PMI, share prices and M2 are all leading indicators of economic activity. Given their performance, chances appear high for the Chinese economy to bottom out in the first quarter of 2009 and start moving toward a full-scale recovery in the second half of the year ( figure 8 ).
Figure 6: Return of the SSE Composite Index to Its Level before the Lehman Shock
- Decoupling from the Japanese and U.S. Markets -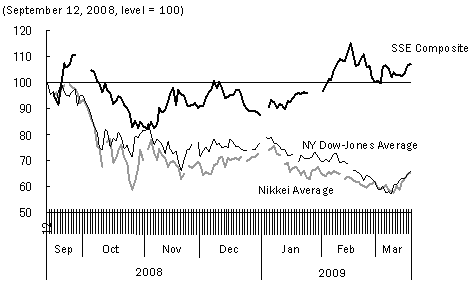 (Source) Prepared based on Bloomberg data
Figure 7: Accelerating Increases in M2 and Yuan-Denominated Lending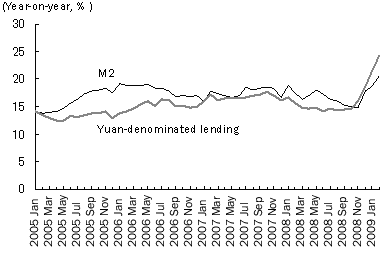 (Source) Prepared based on Bloomberg data
Figure 8: PMI as a Leading Indicator of Industrial Production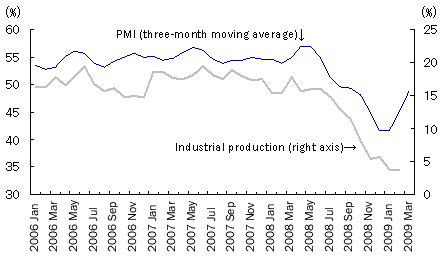 (Note) Industrial production is measured in real terms on an added-value basis.
(Source) Prepared based on CEIC data
Box: What is PMI?
China's Purchasing Managers' Index (PMI) is released by the China Federation of Logistics and Purchasing (CFLP) and modeled after the ISM Manufacturing Report on Business prepared by the U.S. Institute for Supply Management. Specifically, PMI is a weighted average of five other indices: the new orders index, the output index, the employment index, the suppliers' delivery time index and the stocks of major inputs index, based on the following equation.
Purchasing Managers' Index (PMI) =
New orders index × 0.30 + output index × 0.25 + employment index × 0.20
+ suppliers' delivery time index (inverse) × 0.15 + stocks of major inputs index × 0.10
In contrast to the other indices, the inverse of the supplier delivery time index is used because this index is inversely correlated with economic conditions. Each component index is a type of diffusion index obtained by adding the ratio of companies choosing "increase" from the previous month and half of the ratio of companies citing "no change" from the previous month. This calculation method produces a PMI value between 0% and 100%. The higher the PMI value, the stronger the economic momentum. A PMI value of 50% serves as a turning point for economic expansion and contraction. PMI figures released by the CFLP are seasonally adjusted.
Article(s) by this author