China in Transition
Agricultural Sector as a Safety Valve for Employment

Chi Hung KWAN
Consulting Fellow, RIETI
No sharp increase in unemployment even with growth rate below 8%
The Chinese government is prepared to employ all possible policy measures to achieve its 8% growth rate target for the current year, in spite of the ongoing economic slowdown. The government has been dwelling on this target because of the fear that a massive number of people will lose their jobs and destabilize society if the growth rate falls short of 8%.
However, no notable incidents of public unrest took place a decade ago when China's growth rate plunged below 8% in 1998 and 1999 under the effects of the Asian currency crisis. China avoided problems ten years ago because migrant workers who had lost their jobs in urban areas survived by returning to the countryside and resuming farming. The same situation applies today.
In fact, no correlation has been observed between the growth rate of overall employment in China and the country's economic growth rate; while the increase in the population of non-agricultural employees since 1991 has been closely linked to the economic growth rate ( figure 1 ). As these statistics indicate, China's agricultural sector not only acts as an employment safety net for migrant workers who fall outside the scope of unemployment insurance, but it also functions as an automatic employment stabilizer for the entire Chinese economy. Consequently, the topic of the labor force shifting between industries becomes important when considering the relationship between China's economic growth and its employment level.
Figure 1: Economic growth rate and employment increase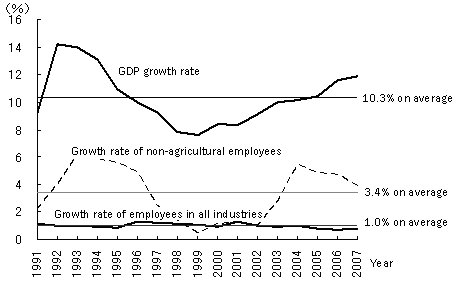 (Source) Various editions of China Statistical Yearbook
As economic development has advanced in China, both the labor force and the center of industries has shifted from the primary industry (agriculture) to the secondary industry (manufacturing) and then to the tertiary industry (service). The number of employees in China's non-agricultural sectors, which consist of secondary and tertiary industries, grew at an average annual rate of 3.4% between 1991 and 2007. Meanwhile, the average annual growth rate of total employment held steady at 1.0% over the same period because of a decrease in employees in the primary industry. In fact, the number of agricultural employees fell from 389.1 million to 314.4 million, while the number of non-agricultural employees rose from 258.4 million to 455.5 million over the 1990-2007 period ( table 1 and figure 2 ). In 2007 alone, the number of non-agricultural employees rose by 17.1 million while the number of agricultural employees fell by 11.2 million.
Table 1: Changes in employment structure by industry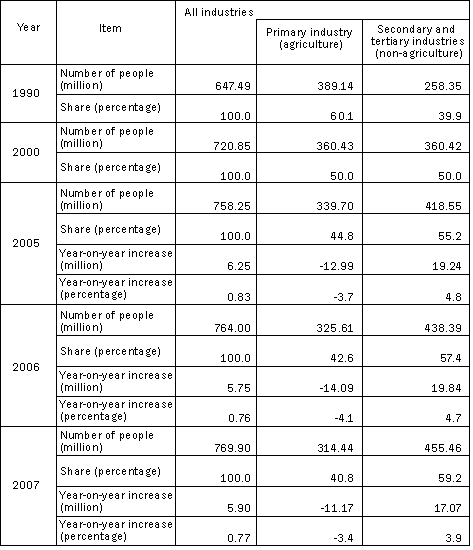 (Source) Various editions of China Statistical Yearbook
Figure 2: Employment shift from agricultural sector to non-agricultural sectors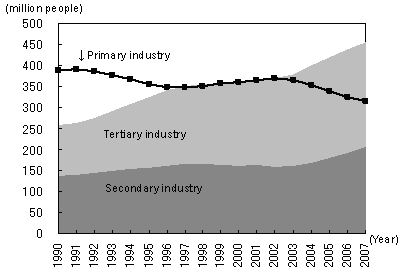 (Source) Various editions of China Statistical Yearbook
This drift of labor from the agricultural sector to non-agricultural sectors tends to accelerate in the economic up-phase and decelerate in the down-phase. Regression analysis on the relationship between non-agricultural employment and GDP growth rate (elasticity of such employment with respect to the growth rate) indicates that non-agricultural employment increases (or decreases) 0.74% when the growth rate rises (or falls) 1.0%. For example, in 2007 3.4 million people (455.5 million x 0.74%) would lose their jobs in non-agricultural sectors if the growth rate declined 1.0%.
Some migrant workers have already returned to rural areas in response to the economic slowdown. Nevertheless, China can still achieve non-agricultural employment growth above the 1.1% annual rate that it recorded during the 1998-2002 recession so long as its GDP growth rate reaches 7.2% in 2009. However, given the rise in labor productivity, China's non-agricultural employment will decline 4.24% per year should GDP stop growing, and GDP growth rate must be at least 5.7% to sustain employment at the previous year's level.( note )
From labor surplus to labor shortage
Under normal circumstances, the employment level in non-agricultural sectors depends not only on labor demand factors such as economic growth, but also on labor supply factors. However, regression analysis shows that the working-age population or the labor force is not statistically significant in explaining the number of employees in non-agricultural sectors. This result reflects the fact that the number of non-agricultural employees has not been restricted by supply side factors, but is determined primarily by factors on the demand side because rural areas has maintained a huge surplus workforce.
However, as widely discussed amongst Chinese economists in recent years, dramatic changes may be in store for China's labor market as the country approaches the stage of full employment in its process of economic development (the so-called "Lewis turning point "). On one hand, the working-age population growth rate is declining rapidly in step with the total population growth rate, reflecting nearly three decades of China's one-child policy ( figure 3 ). On the other hand, massive movement of labor from rural areas to urban areas has already taken place.
Indeed, according to Cai Fang, director of the Institute of Population and Labor Economics at the Chinese Academy of Social Sciences, the number of potential migrant workers centered on young people in rural areas has declined to only 40 million people, far less than the more commonly quoted figure of 150 million ("Report on Chinese Population and Labor Issues No. 9," Social Sciences Academic Press, China, 2008). In fact, as figure 1 shows, non-agricultural employment growth slowed in 2005-2007 despite accelerating GDP growth. This result points to a tightening supply and demand relationship for labor. In this environment, pressures on the government to maintain high job creation growth will begin to ease.
So far, job creation has been the top priority of the Chinese government. Policymakers find the extremely low employment growth rate relative to the nation's economic growth rate problematic, and have labeled the phenomenon "growth without employment." Normally, greater production with a smaller workforce means a rise in labor productivity, which is not necessarily a negative development. The high growth achieved by China in recent years is a precise result of broad economic productivity improvements attributable to the shift of production factors, including labor force, from the low-productivity agricultural sector to non-agricultural sectors where productivity is much higher.
As labor supply begins to restrain growth, instead of working to create more jobs China must raise labor productivity even faster to sustain its high economic growth rate. This approach is consistent with the government's effort to convert China's growth model from one based on input expansion to one based on productivity growth.
Figure 3: Growth of total population and working-age population in China
(Source) United Nations, World Population Prospects: The 2006 Revision
Footnote(s)

The estimation here is based on the result of the following regression analysis.


Period used for estimation: 1991-2007

Related article

"China Shifts from Labor Surplus to Labor Shortage," China in Transition, September 11, 2007.
Article(s) by this author