China in Transition
Opinions Divided over the Outlook for Inflation

Chi Hung KWAN
Consulting Fellow, RIETI
China's headline consumer price index (CPI) for November 2007 rose 6.9% year on year, its highest level in 11 years. While both optimism and caution are being voiced over the future course of inflation, the Chinese government is now leaning toward the latter, showing a greater readiness to tighten monetary policy.
Optimists see inflation as a passing phenomenon
For a number of reasons, optimists see the ongoing inflation as a temporary phenomenon, not primed to accelerate in the coming months.
First, the major driving factor behind the inflation is a rise in food prices. The inflation rate excluding food prices remains low (figure 1). Food prices are easily affected by weather and volatile by nature, and it is unlikely that the rise will persist. In fact, monetary authorities of developed countries typically focus on the core CPI, which disregards volatile food and energy prices, rather than on the all-inclusive headline CPI, in managing monetary policy.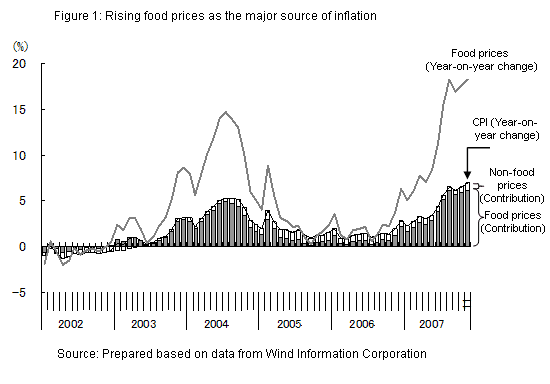 Second, the pace of renminbi appreciation is accelerating and this is expected to restrain rising import prices. China is highly dependent on imports for oil and other raw materials. Therefore, a rise in international commodity prices in U.S. dollar terms can, to some extent, be offset by the rise in the value of the renminbi.
Third, from a business cycle perspective, China's overheating economy is now heading for a soft landing. In particular, overseas demand for Chinese products, hence, exports from China will likely slow amid deceleration of the world economy.
Lastly, certain sectors of the economy are now facing excessive production capacity and the level of product supply still remains above the demand. Thus, it will be difficult for producers to pass on the rise in input prices (wage and raw-material costs) to output prices.
Cautious observers raise concerns about accelerating inflation
On the other hand, a number of reasons underlie why the more cautious take seriously the risk that the increasing food prices may develop into full-scale inflation.
First, soaring food prices are more attributable to rapidly decreasing arable land accompanying the urbanization and industrialization of the Chinese economy, rather than to weather-related factors. In the international market, corn-based ethanol has been drawing attention as an alternative energy source as oil prices continue to soar, prompting changes in farmland use which in turn results in a further increase in food prices. This trend will likely continue over the medium to long term.
Second, inflation and rising wages may create a vicious cycle. China is still a developing country with a very high Engels coefficient. The weight of food in the CPI stands at 33.6% in China, substantially higher than the 13.9% in the United States, 19.6% in Euroland, and 24.5% in Japan. Thus, in China, an increase in food prices immediately translates into a decrease in real income and may lead to social unrest. The only way to prevent this is to tolerate a rise in nominal wages. But this pushes up production costs and further spurs inflation.
Third, higher prices of oil and other resources, at the upstream of the supply chain, will eventually, though with a certain lag time, trickle down to consumer goods in the lower stream. In fact, this trend is already evident in the producer price index (PPI, figure 2). Furthermore, as part of market-oriented reform aimed at properly reflecting costs in factor prices, the government plans to gradually raise water and electricity rates.
Lastly, inflation is always a monetary phenomenon. The Chinese central bank's interventions in the foreign exchange market by buying U.S. dollars and selling renminbi to control the pace of renminbi appreciation have been sharply increasing money supply and strengthening inflationary pressure. This situation will not change unless the central bank stops intervening in the market, that is, without a shift to a free floating exchange rate system, tantamount to accepting a significant rise of the renminbi.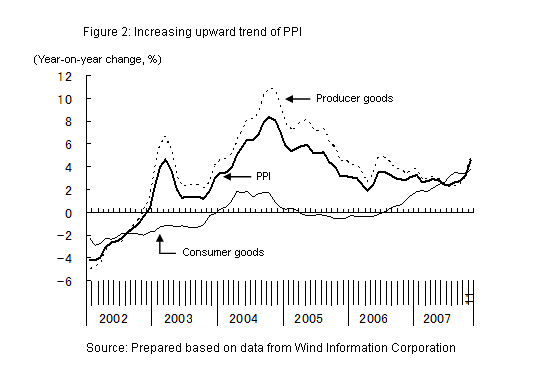 Shifting monetary policy from "prudent" to "tight"
Initially, the Chinese authorities remained optimistic about the inflation outlook, pledging to maintain the consumer price increase in 2007 at 3% or below (see Premier Wen Jiabao's government work report delivered on March 5, 2007 at the 5th session of the 10th National People's Congress). However, in view of subsequently accelerating inflation and the looming possibility the situation will drag on, the Chinese central bank is growing more cautious. In its monetary policy report for the third quarter released on November 8, the People's Bank of China (PBOC) emphasized that, 1) rising food prices may lead to increasing overall prices; 2) upward pressure on energy prices has yet to be resolved; and 3) rising wage costs amid the tightening labor market are spurring inflation.
In response to this, the Central Economic Working Conference (CEWC), held December 3-5, 2007 to set forth basic economic policies for 2008, maintained that the primary task of macroeconomic control is to prevent the economy from shifting from rapid growth to overheating and to prevent the current price rise led by foodstuff from developing into evident inflation. The CEWC called for increasing the role of monetary policy as a macro-control measure. More specifically, China has decided to "strictly control the size of loans and frequency of credit extension, so as to better regulate domestic demand and balance of international payments, and maintain financial stability and security," which represents a shift from a "prudent" monetary policy, an approach China has taken for the last 10 years, to a "tight" monetary policy.
Article(s) by this author