China in Transition
Tenth Anniversary of Hong Kong's Return to China - Riding out the tough times and readying for a new leap

Chi Hung KWAN
Consulting Fellow, RIETI
Getting off to an unfortunate start
This year marks the 10th anniversary of Hong Kong's return to China on July 1, 1997. In retrospect, it was by no means an easy start. The very next day after Hong Kong's return to China, the Asian financial crisis erupted, triggered by the devaluation of the Thai baht. Subsequently, Hong Kong's economy deteriorated rapidly and prices continued to fall. A wave of deflation reached across different sectors of the economy with prices falling not only in goods and services but also in assets such as real estate and stocks. In particular, sharp falls in housing prices left a large number of households debt-burdened with liabilities exceeding assets, which put a damper on household consumption. Amid the declining fiscal revenues, the Hong Kong government continued to expand fiscal expenditures in a bid to stave off deflation, resulting in a huge fiscal deficit. Riding on the worldwide information technology (IT) boom, Hong Kong's economy rebounded sharply in 2000. The trend, however, did not last long as the economy slowed down with the bursting of the IT bubble. Then in 2003 came the spread of severe acute respiratory syndrome (SARS), which resulted in further deepening of the recession.
While many Asian currencies had dropped sharply over the course of the 1997-98 financial crisis, the Hong Kong dollar had remained pegged to the U.S. dollar at the official exchange rate of HK$7.8 to US$1. This lowered Hong Kong's competitiveness as an international business center, making its currency, prices, wage rates, and rents more expensive than in other parts of Asia. With currency devaluation ruled out as a policy option, Hong Kong had to count on further falls in wage rates and prices - i.e., further deflation - to improve its competitiveness as well as to revive the economy. Furthermore, under the linked exchange rate system, Hong Kong interest rates had to follow those of the United States, leaving little room for Hong Kong to stimulate the economy through monetary policy, namely, by cutting interest rates.
CEPA as an impetus for recovery
Fortunately, the conclusion of the Closer Economic Partnership Arrangement (CEPA) between mainland China and Hong Kong in June 2003 served as a turning point for recovery from the sluggish economy that followed Hong Kong's return to China (figure). Hong Kong's economy has been growing at a rapid pace - 8.6% in 2004, 7.3% in 2005, and 6.8% in 2006 - while the unemployment rate has fallen to 4.3% compared to its high of 8.5% in the second quarter of 2003 (all figures are seasonally adjusted).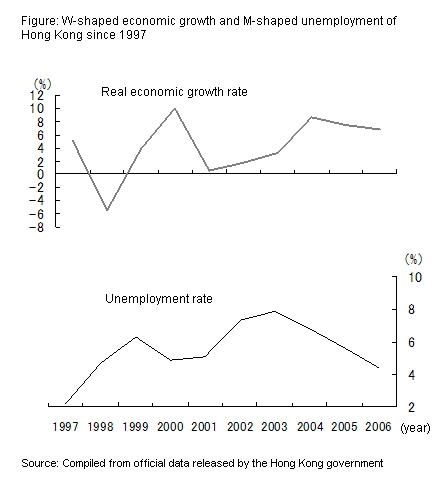 CEPA covers not only liberalization of trade in goods and services but also facilitation of trade and investment. With the signing of CEPA, the import of all goods, except certain prohibited items, from Hong Kong to mainland China became entitled to zero-tariff treatment. This has been contributing to the formation of new competitive industries by linking Hong Kong's competitive advantages in financing, information, business startups, and technology transfer more strongly with mainland China's advantage in scientific technology and its abundant human capital. Another pillar of CEPA is that mainland China opened its service sector market - financial services, retail, logistics, telecommunications, etc. - to Hong Kong companies ahead of the timetable committed to at the time of accession to the WTO. Most significantly, CEPA has enabled mainland Chinese banks to relocate certain operations - handling of international securities and bonds as well as foreign exchange trading centers - to Hong Kong, where they are encouraged to expand their business through mergers and acquisitions (M&As). While facilitating business and capital flows from mainland China to Hong Kong under CEPA, Hong Kong's service-sector companies are being encouraged to advance into the mainland market.
In addition, CEPA stipulates as follows:
"In order to further promote the development of the tourism industry of Hong Kong, the Mainland will allow residents in Guangdong Province to visit Hong Kong individually. This measure will be implemented on a trial basis first in Dongguan, Zhongshan and Jiangmen and it will be extended to the entire Guangdong Province no later than 1 July 2004."
With this as a start, the scope of applicable areas has since gradually expanded to include 49 cities in addition to Guangdong Province.
From "going out" to "come on in"
Until recently, Hong Kong promoted its integration into the Chinese economy in the form of encouraging Hong Kong companies to "go out" into mainland China. Indeed, Hong Kong has now become the largest investor in mainland China, exceeding the U.S., European countries, and Japan. Yet on the other side of the same coin, Hong Kong's manufacturing sector has been substantially reduced in scale, accounting for only 3.5% of Hong Kong's GDP as of 2005. Though it is quite a rational choice for profit-seeking companies to relocate production bases to China, concerns have been raised about the subsequent hollowing out of the Hong Kong economy. Fortunately, with CEPA serving as a catalyst, goods, people, and capital began to flow into Hong Kong.
First, in the flow of goods, Hong Kong is a vital relay point linking the China to the rest of the world. Re-exports (transit trade) - primarily those related to mainland China - accounted for 94.5% of Hong Kong's total exports, worth US$315.5 billion in 2006. China now provides 46.4% of Hong Kong's trade (imports and exports) and is its largest trading partner.
Meanwhile, in terms of the flow of people, the number of visitors to Hong Kong increased from 13.06 million in 2000 to 25.25 million in 2006. The rise in visitors from mainland China was especially sharp, reflecting substantially eased visa restrictions. Mainland Chinese visitors jumped from 3.79 million in 2000 to 13.6 million or 53.9% of the total visitors to Hong Kong in 2006.
Furthermore, in terms of the flow of capital, Hong Kong is serving as a primary offshore financial center for mainland Chinese companies. As of the end of 2006, a total of 231 mainland Chinese ("H-share" and "red chip") companies are listed on the Hong Kong stock exchange (HKEx). The market capitalization of these companies' stocks amounted to US$811.7 billion, roughly half the market capitalization of all stocks listed on the market. Meanwhile, the cumulative total of funds raised by these mainland Chinese enterprises was US$179.4 billion. In recent years, there have been a series of large-scale initial public offerings (IPOs), including those by China Construction Bank, the Bank of China, and the Industrial and Commercial Bank of China. On the other hand, the cumulative total of direct investment from mainland China to Hong Kong reached US$163.1 billion as of the end of 2005, accounting for nearly 30% of total foreign direct investment in Hong Kong. For mainland Chinese companies, establishing a base in Hong Kong secures a foothold to move into the international market.
By shifting from a "going out" strategy to a "come on in" strategy, Hong Kong is now evolving from just a "gateway" to China into a "business platform" serving China. Indeed, the 11th Five-Year Plan for National Economy and Social Development, launched in 2006, calls for securing Hong Kong's status as a center for international finance, trade, and (sea and air) freight services by supporting a range of service sectors in Hong Kong including financial services, logistics, tourism, and telecommunications.
"Sinicization of Hong Kong" versus "Hong-Kongization of China"
The decade following Hong Kong's return to China has witnessed not only the "Sinicization of Hong Kong" but also the "Hong Kongization of China." The idea of maintaining "one country, two systems" for 50 years after 1997 was put forth by the late Chinese leader Deng Xiaoping. Regarding the 50-year period, during which China is to make no change to Hong Kong's capitalist system, Deng explained: "We say '50 years' not on the impulse of a moment but in due consideration of China's reality and development requirements" (December 19, 1984). Based on this remark, it seems China was assuming that it would take 50 years before differences between Hong Kong and mainland China - both in terms of the system and development stages - converge. However, the Hong Kongization of China has been proceeding at a much faster pace than expected; both the market economy and private ownership systems are fast taking hold in mainland China with the level of people's incomes rising rapidly. Indeed, the Hong Kongization of China will assure the prosperity and stability of Hong Kong, and a smooth transition to the "one country, one system" regime slated for 2047.
Article(s) by this author