China in Transition
Persistent Anti-Japanese Sentiments Heighten the Risks for Investment in China - Striving for a virtuous cycle between economic and political Sino-Japanese ties

Chi Hung KWAN
Consulting Fellow, RIETI
Following the widespread protests last year by Chinese students angered by an obscene skit performed by a group of Japanese exchange students at Xian's Xibei University, in early August the anti-Japanese actions of some Chinese spectators at the Asian Cup soccer tournament hosted by China spun out of control. Such repetition of these worrisome incidents has not only dampened ties between Japan and China, which are already strained due to Prime Minister Junichiro Koizumi's visits to Yasukuni Shrine, but has also led Japanese firms to once again realize the risks that come with expanding their businesses in China.
Against the backdrop of anti-Japanese sentiment, there have been a string of problems involving the Chinese operations of Japanese companies. In 2001, Japan Airlines was sued for allegedly "discriminating" against Chinese passengers, and in December 2003 Toyota Motor Corp. was sharply criticized for its Land Cruiser and Prado ads, which were said to have "offended" the Chinese. As these examples show, when conducting business in China, Japanese companies must shoulder the "original sin" of Japan's invasion of China while competing not only with Chinese firms but also their Western rivals.
First, on the personnel front, because major Japanese firms maintain a lifetime employment policy in Japan, they may be criticized for "discriminating against Chinese" if they fire workers in China. Because of this, when expanding into China, Japanese companies do not actively seek to acquire existing state-owned enterprises, which would first require a restructuring of employees. Furthermore, Japanese firms are unpopular to begin with because they have been slow to localize their personnel and wages are usually based on egalitarianism, but with the addition of anti-Japanese sentiment, it will probably become even more difficult for them to attract the best talents. In fact, in this year's results of a questionnaire survey of the most popular companies to work for in China undertaken by ChinaHR.com, not only are Japanese firms ranked lower than their Western counterparts, their rankings have all dropped compared to last year ( table ).
Meanwhile, Japanese firms are also in a tight spot when it comes to business activities. For example, public opinions in China have shown strong opposition of Japanese companies participating in China's high-speed train system to be built between Beijing and Shanghai. The Chinese also tend to take a stricter stance toward Japanese firms than Western companies when it comes to product liability issues. In 2000, Toshiba Corp. was bashed by Chinese consumers over its handling of a defect in its laptop computers, and the incident where Mitsubishi Motors Corp. was slapped with a temporary import ban due to its slow response to a defect in its Pajero is still fresh in our memories.
The current relationship between Japan and China is in a state of imbalance that has been described as "politically cold, economically hot." It is true that, as Karl Marx has said, the economic base will in the end change the superstructure that includes politics; if economic ties between the two countries deepen, their political relationship will also improve (the virtuous cycle scenario). In the short-term, however, it is more likely that the frigid political relationship will throw a wet blanket on economic ties (the vicious cycle scenario). In fact, there are bilateral frictions over the exploration and development of natural gas fields in the East China Sea, and also over the route for a proposed oil pipeline from Russia. In addition to issues concerning cooperation between the two governments, if Japanese firms decide that the risks in doing business in China are high amid the rise in anti-Japanese sentiment and that sufficient profits to offset these risks cannot be gained, they will probably refrain from entering the Chinese market. Individual firms can do little to turn the vicious cycle into a virtuous cycle, and the wisdom of the leaders of the two countries is now being put to the test.
Table: Popular companies to work for in China (2004)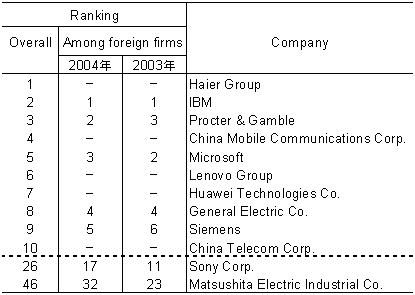 (Note)Toyota Motor Corp. ranked 31st among foreign firms in the 2003 survey but failed tomake the list in 2004.
(Source)Questionnaire survey by major Chinese human resources Web site ChinaHR.com
http://www.chinahr.com/promotion/investigate2004/
(Chinese only)
Article(s) by this author