China in Transition
Size of China's Market is Just One-fourth That of North America
- The impact of an economic slowdown on Japan will be small

Chi Hung KWAN
Consulting Fellow, RIETI
As can be seen from how often the phrase "China boom" appears in newspapers and magazines, there is a strong perception in Japan that China is playing a key role in its current economic recovery. On the other hand, there are also concerns that the Chinese economy is about to enter an adjustment phase as a result of policies to restrain investment with a negative impact on the Japanese economy. Economic trends in China, together with monetary policy in the United States, are viewed as major factors that sway the Japanese economy. However, the China factor should not be exaggerated, because at the present stage, China is simply a "production base" for exports for Japanese companies and a far cry from being a market for final products on a par with that of the U.S.
Japanese firms basically have two options when trying to access overseas markets: they can either "export from their headquarters" or "produce and sell locally." The Ministry of Finance's Trade Statistics and the Ministry of Economy, Trade and Industry's Quarterly Survey of Overseas Subsidiaries provide data for the former and the latter, respectively. Here we will combine the two and compare the size of the Chinese market and the North American market, whose core is the U.S., from the viewpoint of Japanese companies. Due to statistical limitations, the figures for China include those for Hong Kong ( table ).
On the trade front, exports to China in 2003 totaled $57.2 billion, and $87 billion when Hong Kong is included, accounting for 18.5% of Japan's total exports. In contrast, exports to North America came to $122.8 billion (of which the U.S. accounted for $115.4 billion), making up 26.1% of Japan's total exports. China (even when excluding Hong Kong) is now the second-largest importer of Japanese goods after the U.S., and what is more, the gap between the two is shrinking.
However, because a substantial part of Japan's exports to China is comprised of intermediate goods such as parts that will be processed and again exported overseas, the export figure tend to exaggerate local "final" demand. Based on the assumption that some 40% of China's imports is processing trade also applies to imports from Japan, local sales are estimated at $52.2 billion.
Meanwhile, in terms of value of local production by Japanese companies in 2003, North America amounted to $187.8 billion (43% of total overseas production) while China including Hong Kong accounted for just $43.5 billion (10% of total overseas production). Of this amount, local sales in North America came to $172.4 billion while the comparable figure for China was $18.4 billion - clearly a huge gap. This reflects the fact that in addition to the difference in the scale of local production, the share of local sales in local production in North America was 91.8%, much larger than China's 42.3%. When we look at the composition of local production by item, we can see that in North America, automobiles produced for the local market comprise more than 50% of the total, while in China it is electrical equipment for exports that form the core of local production. As this shows, for Japanese firms that produce overseas, the U.S. is indeed a market for final demand, whereas China remains more of a production base for export rather than a market. So far, neither local production nor local sales in China by Japanese companies match even the ASEAN4 (Indonesia, Malaysia, the Philippines and Thailand) in terms of scale.
From the viewpoint of Japanese firms, the market scales of China and the U.S. can be shown by "total sales," which is the sum of exports from Japan and local production, and "total local sales," which is the sum of exports from Japan for local sales and local production for local sales. Based on this, total sales in the North American market came to $310.6 billion (34.2% of total overseas markets) whereas in China including Hong Kong the figure amounted to $130.5 billion. In terms of total local sales, with the gap widening to about 4 to 1 (the former reached $295.2 billion while the latter was only $70.6 billion).
As this shows, even though it is true that Japan's exports to China are growing, much of it is in intermediate goods related to processing trade and so will not be affected by economic trends in China itself. Furthermore, as for Japanese firms' local production and local sales, because the scale of the Chinese market is much smaller than that of the U.S., even if the Chinese economy enters an adjustment phase from now on, it will only have a slight impact on Japan.
Table: China versus N. America as a market for Japan (2003)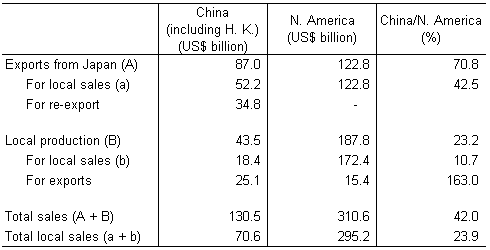 (Source)Japanese trade statistics (ministry of finance) and quarterly survey of overseas subsidiaries (ministry of economy, trade and industry).
Article(s) by this author