China in Transition
Pearl River Delta to Remain the Engine of the "Workshop of the World" - Factors favoring industrial upgrading firmly in place

Chi Hung KWAN
Consulting Fellow, RIETI
China's open-door policy began with the four special economic zones set up in 1980. Among them, Shenzhen, which is adjacent to Hong Kong, attracted most attention as an investment site for foreign firms. Since then, foreign investment has moved north beyond the boundaries of the economic zone in search of cheaper labor and less rigid regulations. As a result, the Pearl River Delta has emerged as a major economic zone that helps turn China into the "workshop of the world." Led by foreign firms, the advancement of export-oriented labor-intensive industries has brought high economic growth to the Pearl River Delta. However, in response to the emergence of the Yangtze River Delta, centering upon Shanghai, as a competitor in attracting foreign investment, the Pearl River Delta has sought to upgrade its industry. Conditions favorable toward this end, such as industrial agglomeration, the nurturing of domestic companies, infrastructure improvement, and an expanded local market, have begun to fall into place.
First, in addition to cheap labor and land, industrial agglomeration, has become a major source of the Pearl River Delta's international competitiveness. The industrial cluster of information technology-related firms in the area centering upon Dongguan, in particular, is one of the largest in the world. In addition, the development of the automobile industry as a result of the entry of Japanese automakers is worth noting. Following in the footsteps of Honda Motor Co.'s purchase of a factory formerly operated by France's Peugeot, which decided to withdraw in 1998, Nissan Motor Co. and Toyota Motor Corp. are also moving forward with plans to build factories in Guangzhou. In line with this, many Japanese auto parts manufacturers have also set up operations in China, and an automotive industry cluster is taking shape in the area around Guangzhou.
Furthermore, while increased investment by foreign firms has been the driving force behind the Pearl River Delta's development, private Chinese firms have started to become a new force. Most of them are in (or have experienced) cooperative ties with foreign companies such as original equipment manufacturer (OEM) relationships or joint ventures, and through such experiences have gained technology and management know-how. BBK, a manufacturer of DVD players, has secured a large share in international markets with its own brand, while Galanz, which experienced rapid growth through its OEM arrangements with foreign firms, is seeing a rise in domestic sales under its own brand. In addition, we are beginning to see a rise in high-tech firms such as Huawei of Shenzhen, a telecommunications instruments manufacturer, which are amassing skilled engineers from around the country and have the ability to develop new technology on their own.
Furthermore, improvement in infrastructure such as expressway networks and power plants is steadily progressing. This industrial advancement is bringing abundant tax revenue to various levels of government and providing funds for investments in infrastructure. In addition to this, both domestic and foreign companies have faith in the continued high growth of the region and are actively participating in improving infrastructure. Notable among these is the project spearheaded by Hong Kong's business community to build a huge 30-kilometer bridge linking Hong Kong with Zhuhai and Macao ( map ). Once this bridge is completed, the time it takes to travel between the western and eastern sides of the Pearl River Delta will be greatly shortened, thereby providing a new frontier for investment by foreign firms, which has so far been concentrated on the eastern side.
Lastly, thanks to the progress in industrialization and the rise in income accompanying it, the region has become increasingly attractive as a market in itself. Japanese automakers are targeting Southern China, centering upon the Pearl River Delta, as their main market, although they also have plans to export some of their cars made in Guangzhou. Motorization will not only lead to the building of more roads and bridges but also boost demand for related business opportunities, such as car loans and auto maintenance services. In addition to automobiles, high growth can also be expected in areas related to housing, tourism, distribution and environment protection.
Thus in the Pearl River Delta, advantages such as industrial agglomeration, growth of domestic firms, improved infrastructure, and expansion of the domestic market are the causes as well as the results of industrial growth. Given the virtuous circle in which the two elements promote each other, the region's status as China's leading industrial base remains unshakable.
Map : The great Hong Kong-Zhuhai-Macao bridge plan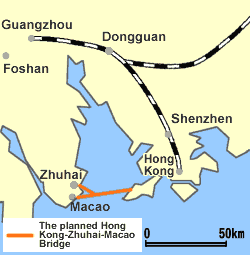 Article(s) by this author