China in Transition
China's Top 500 firms: The gap with the world remains wide

Chi Hung KWAN
Consulting Fellow, RIETI
Every year, the U.S. magazine Fortune releases its list of the world's top 500 firms. For the first time ever, what may be called the Chinese version of this list was released by the China Enterprise Confederation and the China Enterprise Directors Association in A Report on the Development of Chinese Enterprises . The combined revenue of the top 500 Chinese firms amounts to more than 60 percent of China's gross domestic product, and they now form the core of the nation's economy. However, there is still a wide gap between the top 500 firms in China and their global counterparts, and there are a number of serious problems plaguing them.
First, although the top 500 Chinese companies are growing fast, they are still small compared to the top 500 firms of the world and their labor productivity remains very low. The average assets and average revenue of the top Chinese 500 in fiscal 2002 were a scant 6.5 percent and 5.3 percent, respectively, of those of the global 500. On a per employee basis, revenue, profits and assets at the Chinese companies were only 13 percent, 29.6 percent and 15.9 percent of the corresponding figures for world's top 500 firms.( table 1 )
Second, there is a huge gap in the companies' ability to create profits and innovate. The average profits of the top 500 Chinese firms in fiscal 2002 was only 12.1 percent that of the global 500. Furthermore, due to the lack of a system of incentives to encourage technological innovation, Chinese firms invest relatively little in this field. Although a great number of the top 500 companies in the world pump the equivalent of more than 10 percent of their business profits into research and development, the corresponding figure for the Chinese 500 is only 3.8 percent. As a result, technological innovations at Chinese firms are very limited and they lack core technology, therefore making it difficult for them to further develop products or increase the value added to their products.
Third, there is a great gap in the extent to which they are internationalized. Most major corporations in China have penetrated overseas markets by exporting, and only a handful have set up production bases overseas through direct investment and secured global distribution channels for their products. In other words, there are very few companies that have organizational structures and management strategies befitting of transnational corporations.
Finally, state-owned enterprises constitute 60 percent of the Chinese 500, and account for more than 80 percent of their total revenue, profit, assets and workforce.( table 2 ) The top 11 Chinese firms (State Power Corporation of China, China Petrochemical Corporation, China National Petroleum Corporation, Industrial and Commercial Bank of China, Bank of China, China Mobile Communications Corporation, China National Chemicals Import & Export Corporation, China Telecommunications Corporation, China National Cereals, Oils and Foodstuffs Import & Export Corporation, China Construction Bank and the Agricultural Bank of China) are also counted among the global top 500, but they are all state-owned firms operating in highly monopolized sectors that are protected through government regulations. Furthermore, among them are the four major banks saddled with massive non-performing loans, raising doubts about their actual strength. In fact, state-owned enterprises are huge, but the productivity of their capital and workforce lags far behind those of other forms of ownership. In contrast, most of the companies that are not state-owned and have shown rapid growth in recent years not yet reached the top of this list.
Many fast growing Chinese firms, such as Haier, are striving to break into the global top 500. Nevertheless, many obstacles still remain in order to achieve this goal. While it goes without saying that the establishment of corporate governance is a must, the monopolies enjoyed by the state-owned enterprises must be broken up and non-state-owned firms need to be provided with an environment in which they can compete on equal footing.
Table 1 : Comparison between the Chinese and Global 500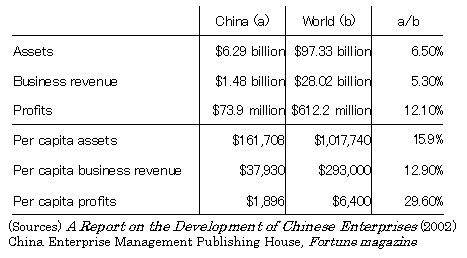 Table 2 : Breakdown of ownership forms within the Chinese Top 500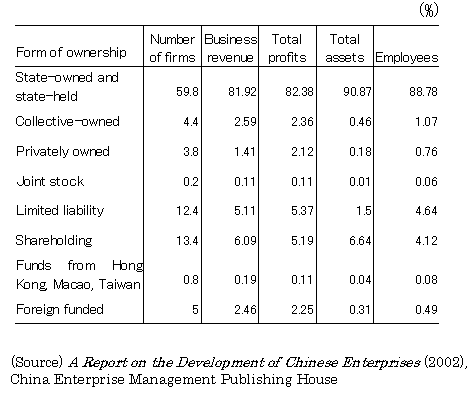 Article(s) by this author