2013 Revision of the AMU/AMU-wide Basket Currency Weights
February 2014
Currency weights in the Asian Monetary Unit (AMU) and AMU-wide currency baskets were revised effective October 1, 2013. The characteristics of this revision include a slight increase in the weights of the currencies of rapidly growing CMLV countries (Cambodia, Myanmar, Laos, and Vietnam) in addition to the Chinese yuan and the Indian rupee. The weights of the Australian dollar and the New Zealand dollar also increased in the AMU-wide. The weight of the Japanese yen has been declining with its share at 21.98% in the AMU and 18.18% in the AMU-wide respectively, reflecting its slow growth measured both in trade volume and the gross domestic product (GDP) measured at purchasing power parity (PPP) compared with other countries in the AMU and the AMU-wide. Both of the new basket weights are effective retroactive to October 1, 2013.
AMU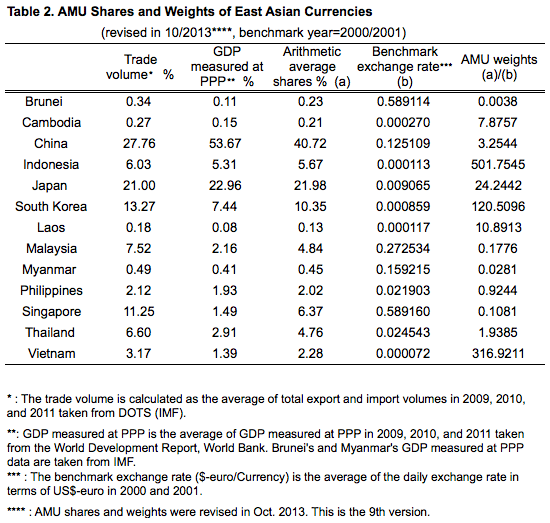 AMU-wide
In order to review the appropriateness of the benchmark periods used for calculating the values of the AMU and AMU-wide, trade figures for 2010 have been newly included in Table 1 - AMU and Table 1 - AMU-wide shown below. For the purpose of this project, "benchmark period" is defined as the following: total trade balance of member countries, total trade balance of the member countries (excluding Japan) with Japan, and total trade balance of member countries with the rest of world should be relatively close to zero.
With the data for 2010 included, the period that fits into the above definition is 2001 for the AMU and 1999 for the AMU-wide. Thus, the benchmark periods for both currency baskets remain unchanged.
Trade Balance of AMU countries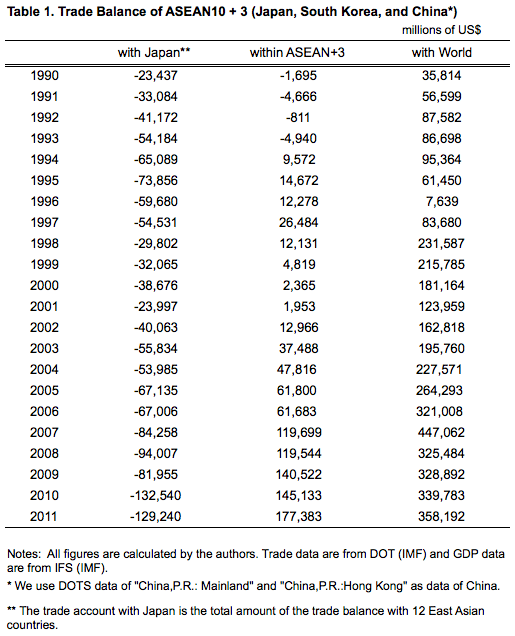 Trade Balance of AMU-wide countries