RIETI News
RIETI President and Chief Research Officer FUJITA Masahisa Selected as a Member of the Japan Academy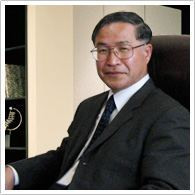 Fujita Masahisa, President and Chief Research Officer of the Research Institute of Economy, Trade and Industry (RIETI), was selected as a new member of the Japan Academy at its 1,044th General Meeting held on December 13, 2010. Explaining reasons for selecting President Fujita, the Japan Academy—an organization that accords special recognition to researchers with the most eminent records of academic and scientific achievement—commented as follows: "Building on an outstanding academic career in the areas of conventional urban and regional economics, Dr. Fujita has achieved highly remarkable research accomplishments—together with those of Dr. Paul Krugman of the United States—in the field of spatial economics, an area that significantly developed in the 1990s. Spatial economics, which includes urban and regional economics under its umbrella, involves the analysis of diverse forms of agglomerations and division of work, such as the patterns of domestic and international industrial location and population concentration, the international division of work, and the cross-border mobility of human capital by applying an integrated economic theory. Through his pioneering works co-authored with Dr. Krugman, including a world renowned book 'The Spatial Economy: Cities, Regions, and International Trade,' as well as those co-authored with other researchers, Dr. Fujita has made essential contributions to the development of spatial economics."
Event Information
For a complete list of past and upcoming event information.
Fellow titles and links in the text are as of the date of publication.
For questions or comments regarding RIETI Report, please contact the editor.
*If the "Send by mailer" button does not work, please copy the address into your email "send to" field and connect the prefix and the suffix of the address with an "@", sending it normally.
RIETI Report is published bi-weekly.