This Non Technical Summary does not constitute part of the above-captioned Discussion Paper but has been prepared for the purpose of providing a bold outline of the paper, based on findings from the analysis for the paper and focusing primarily on their implications for policy. For details of the analysis, read the captioned Discussion Paper. Views expressed in this Non Technical Summary are solely those of the individual author(s), and do not necessarily represent the views of the Research Institute of Economy, Trade and Industry (RIETI).
Macroeconomy and Low Birthrate/Aging Population (FY2016-FY2019)
East Asian Production Networks, Trade, Exchange Rates, and Global Imbalances
Exchange rate changes, protectionism, and other factors impact export prices and cause dislocation. For instance, between 1985 and 1995 and again between 2007 and 2010 the Japanese yen soared and decimated exports. Similarly, before the Asia Crisis overvalued exchange rates reduced price competitiveness and led to current account deficits in Indonesia, Malaysia, the Philippines, South Korea, and Thailand that equaled 4-5 percent of GDP between 1995 and 1997. How can countries insulate themselves from these effects? One way may be to progress technologically. More sophisticated products may exhibit lower demand elasticities. This is because more advanced goods may be valued more by buyers, making them less sensitive to price fluctuations in their buying decisions. If so, this means that producers of technologically advanced products have greater market power.
To measure product sophistication we use the OECD's classifications. The OECD determines technology levels based on the ratio of R&D spending to value-added. They assign goods into four categories: high technology (HT), medium high technology (MHT), medium low technology (MLT), or low technology (LT).
For each good we choose the leading exporting countries and examine their exports to major importing countries. We employ standard export functions, with exports depending on the real exchange rate and foreign income.
Figure 1 presents the results. It indicates that exports of lower-technology products such as apparel, footwear, and furniture decline much more when the exchange rate appreciates than exports of higher-technology products such as chemicals, pharmaceuticals, and medical equipment.
We also examine the relationship between the sophistication of a country's overall export basket and its sensitivity to exchange rates. We focus on the largest exporters of manufactured goods. We measure export sophistication using the indexes of Kwan (2002), Lall, Weiss, and Zhang (2006), and Hausmann, Hwang, and Rodrik (2007). These indexes assume that products exported by richer countries are more technologically sophisticated. The reason for this is that wealthy countries have higher labor costs. To compete in world markets, they thus need to employ more sophisticated technological processes (see Lall et al., 2006).
As Figure 2 shows, we find that exports from countries at the technological frontier such as Switzerland are not exposed to exchange rate appreciations whereas exports from less advanced countries such as China are very sensitive to appreciations.
Japan and Switzerland both have safe haven currencies (see, e.g., Botman, de Carvalho Filho, and Lam, 2013, and Goldberg and Krogstrup, 2018). When global risk aversion increases, their currencies tend to appreciate. For instance, between the fourth quarter of 2007 and the third quarter of 2011, when the Global Financial Crisis and the Eurozone Crisis were generating uncertainty, the Bank for International Settlements broad real effective exchange rate measures increased 22 percent for the Japanese yen and 26 percent for the Swiss franc. While these appreciations devastated the Japanese economy, investment and consumption in Switzerland continued to grow apace and the trade surplus remained large. One reason for this differential response is that 50 percent of Switzerland's exports between 2007 and 2016 were high-technology goods, while only 21 percent of Japanese exports were high-technology goods. Switzerland's leading export category over this period was pharmaceuticals, whereas Japan's leading category was motor vehicles. The results in this paper indicate that pharmaceutical exports are insensitive to exchange rates while motor vehicle exports are highly exposed. These findings suggest that Japanese exports would be more stable if its export basket contained more high-technology goods.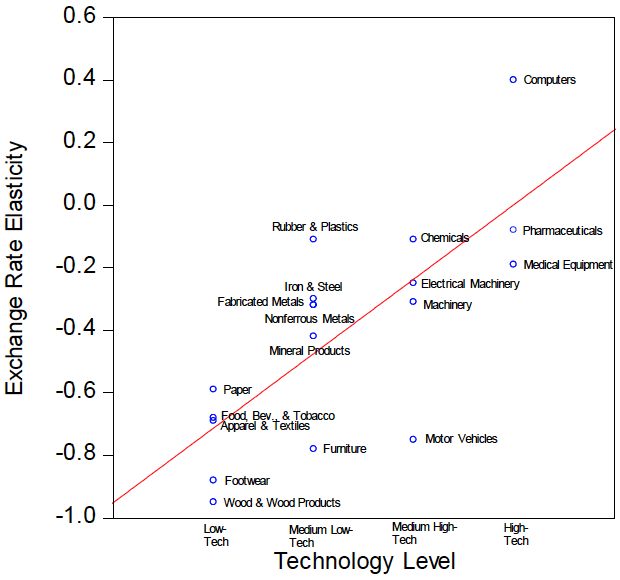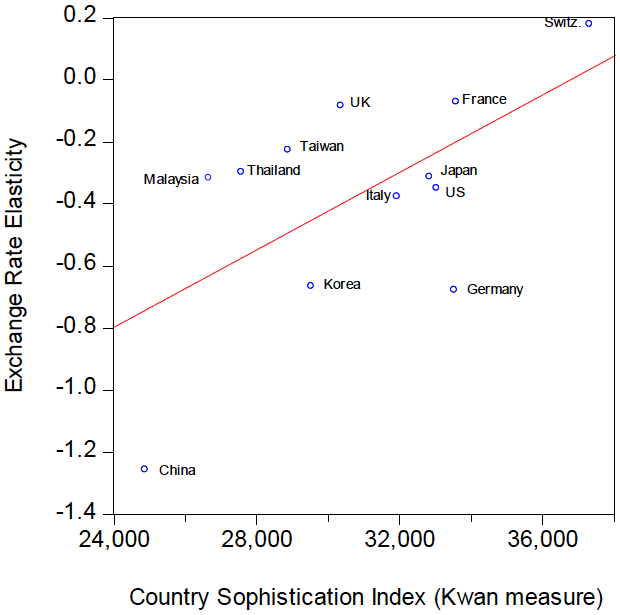 Reference(s)

Hausmann, R., Hwang, J., & Rodrik, D. (2007). What you export matters. Journal of Economic Growth, 12(1), 1-25.
Kwan, C.H. (2002). The rise of China and Asia's flying geese pattern of economic development: An empirical analysis based on US import statistics. RIETI Discussion Paper 02-E-009, Research Institute of Economy, Trade and Industry.
Lall, S., Weiss, J., & Zhang, J. (2006). The "sophistication" of exports: A new trade measure. World Development 21(2), 153-172.