| | |
| --- | --- |
| Date | July 30, 2019 |
| Speaker | Alan V. DEARDORFF (John W. Sweetland Professor of International Economics and Professor Public Policy, University of Michigan) |
| Commentator | KAMATA Isao (Professor, Research Center of International Economy and Industry, University of Niigata Prefecture) |
| Moderator | JINJI Naoto (Faculty Fellow, RIETI / Professor, Graduate School of Economics, Kyoto University) |
| Materials | |
| Announcement | President Trump has used import tariffs and other economic weapons to pressure many of its trading partners to bend to his wishes. These started with tariffs on steel and aluminum from most of the world, tariffs on many goods from China, threatened tariffs on automobiles, and threatened tariffs on all exports from Mexico. This presentation will review these actions, the extent to which they have succeeded in getting other countries to change behaviors, and at what cost. |
Summary
TRUMP's trade strategy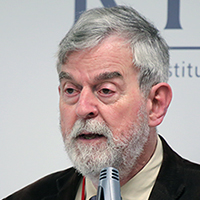 The U.S. has a very large trade deficit overall and bilaterally with a number of countries. President TRUMP objects to these trade deficits because he thinks the U.S. is being taken advantage of. He does not recognize the fact that the world allows the U.S. to spend more than they take in. As a result, he seems to think that being very aggressive in international trade policy using tariffs and threatening other countries is going to reduce the U.S. deficit.
In addition to objecting to trade deficits, TRUMP blames the loss of manufacturing jobs in the U.S. on trade, is eager to identify and get rid of any unfavorable trade barriers with other countries, and considers the trade practices of China bad and unfair. To deal with these, TRUMP's strategy has been to threaten countries with tariffs until they change their behavior. If they do not change, he puts tariffs in place with the intention of hurting the other countries and getting them to negotiate.
TRUMP's trade actions
In his first year of office, in 2017, TRUMP did not take very much action in the area of trade, but just two days after his inauguration in January, he did pull out of the Trans-Pacific Partnership (TPP). In March, he issued two executive orders relating to trade. In April, he instituted tariffs on Canadian softwood lumber, but that was originally initiated by President OBAMA. TRUMP had been criticizing the North American Free Trade Agreement (NAFTA) since before it even existed and said he was going to pull out of it as President. In the end, he did not pull out, but he did start renegotiations with NAFTA in May. He also started the process to amend the United States-Korea Free Trade Agreement (KORUS) in October.
In his second year of office, in 2018, right away TRUMP put up two safeguard tariffs on solar panels and washing machines. In March, he announced tariffs of 25% on steel and 10% on aluminum which he based on national security. He said that he was going to put the tariffs in place for all countries but later postponed or exempted some. They are still in place today affecting many countries including the U.S. I think that was the first sign that TRUMP was going to go all out on the levying of tariffs for his own purposes. It could also be interpreted as the start of a new era of trade policy where tariffs are used to damage others to get what you want.
Thereafter, we start to see an increase of these sorts of offensive tariffs being implemented, especially against China. In April, the U.S. Federal Communications Commission (FCC) put a block on exports from the Chinese telecommunications companies, Huawei and ZTE. Soon after, the so-called trade war started. A series of tariffs were imposed on Chinese exports to the U.S. starting in July totaling $34 billion and $16 billion of goods, with the last and biggest round of tariffs on $200 billion in goods in September. China placed nearly equivalent tariffs on the U.S. almost immediately after the first 2 cases and for the third round retaliated to the degree that they could.
In September of the same year, the amended KORUS was signed leading to a slight increase in trade barriers. The United States-Mexico-Canada Trade Agreement (USMCA) was also agreed that month, one of the notable points of which was a requirement that a minimum percentage of content be produced by workers paid $16 an hour or more, effectively reducing trade within North America.
At the end of the year, in December, at a G20 meeting, President TRUMP and President XI met and agreed to a truce. The two countries were going to initiate talks and the U.S. promised to not raise tariffs during that time.
In his third year of office, in 2019, not much else happened between the U.S. and China until May, when TRUMP raised all 10% tariffs to 25%. As a result, the talks ended, leading to retaliations by China, effectively putting an end to the truce, and further accelerating the trade war. A few days later, the U.S. banned Huawei, among others, from exporting equipment to the U.S. under the context of national security. The Chinese government could possibly spy or tamper with systems in the U.S. through its connection with Huawei, and so the ban does perhaps have some credibility.
Outside of the China relationship, in May, TRUMP both announced and delayed his decision to levy tariffs on automobiles. The United States Trade Representative (USTR) now has until November 13 to renegotiate deals with EU, Japan etc. In a more surprising move, TRUMP announced on May 30 that he was going to put tariffs on everything that Mexico sells to the U.S. It was to start on June 10 and to increase by 5% every month if Mexico did not reduce its migration to the U.S. This is another example of TRUMP's strategy to threaten and use tariffs to get a country to do what he wants.
In the end, three days before the tariffs on Mexico were to start, TRUMP called it off and is said to have a signed agreement with Mexico claiming they would take action to reduce migration. In reality, it is not so much Mexicans migrating to the U.S., but Central Americans going through Mexico to the U.S seeking asylum from dangerous conditions in their home countries. Migration did actually reduce, so according to his own objectives, TRUMP's strategy worked.
In another surprising move by TRUMP, on June 5, he removed India from the U.S. Generalized System of Preferences (GSP), a trade preference program. He argued that India was not giving equitable and reasonable access to its markets. In response, India raised their tariffs on the U.S.
Going back to China, a second truce was agreed upon at the G20 meeting in Osaka at the end of June. They said they would restart the talks and the U.S. again promised to not raise tariffs. He also said he would lift some of the restrictions on Huawei. In return, President XI promised to buy more food and agricultural products from the U.S.
As of July 23, 2019, where do we stand after all of the trade actions of the TRUMP administration? The solar panel and washing machine tariffs still stand and are scheduled to end within 3-4- years. The steel and aluminum tariffs also still stand with most countries including Japan and those in the EU, but not with Canada, Mexico, and South Korea. The U.S.-China trade war is still very much ongoing with the many tariffs still in place, but the trade war is currently in its second truce. NAFTA is still in place and USMCA is awaiting ratification. Nothing has happened with automobiles yet, but we may see some big tariffs on automobiles from Europe, Japan, and South Korea in the future. Finally, there is also the trade war going on with the U.S. and India, although not to the extent and scale of the U.S.-China trade war.
Effects of the trade war: what we learn from research studies
There have been two recent studies examining the effects of the tariffs of 2018. One is "The Impact of the 2018 Trade War on U.S. Prices and Welfare" by AMITI, REDDING, and WEINSTEIN. The other is "The Return to Protectionism" by FAJGELBAUM, GOLDBERG, KENNEDY, and KHANDELWAL. Both were conveniently summarized in "U.S. Consumers Have Borne the Brunt of the Current Trade War" by FOY, which was published in May.
One of the two papers mentioned organized the 2018 tariffs into six different rounds. They looked at the data on various economic variables over time, relative to the starting date for those tariffs. What they saw was that U.S. prices rose considerably after the tariffs, which is expected. On the other hand, while foreign export prices are generally expected to go down after tariffs are imposed on imports by a big country, they did not, which basically means that the entire incidence of the tariffs was shouldered by U.S. purchasers. In addition to the rise of import prices, import quantities fell.
The Economist analyzed and showed the impact that the retaliatory tariffs imposed by the EU and China had on different parts of the U.S. The EU retaliatory tariffs mostly affected the Midwestern U.S. as well as the East and West Coasts-not the huge farming areas of the Western U.S. The Chinese retaliatory tariffs on the other hand, did the opposite. They significantly impacted the huge farming areas of the U.S., in particular areas of soybean production. This is interesting because while China previously relied on the U.S. for much of their soybeans, they were willing to forgo those imports in order to retaliate against the U.S.
Effects of the trade war: what we learn from news
For more than 10 years, I have been collecting news headlines, and I have placed links to news articles on my website for reference. Here I show two figures: one for trade news in red and one for other international economic news in blue. For most of the time I have maintained these records, the blue has vastly outnumbered the red. But you can see that since TRUMP has been elected, the number of trade stories has increased immensely. In addition to that comparison, I organized the news stories headlines chronologically and into categories, with losses in amount of trade represented in red, gains in green or uncertain in blue.
For many products, the headlines are red, indicating losses or groups in the U.S., including products such as cheese, computer chips, and even ketchup, which would be expected with the tariffs. Some of the examples are interesting and so I extracted them for further comment. For example, the EU placed a tariff on bourbon whiskey, perhaps because the majority leader of the Senate, Mitch MCCONNELL, is from Kentucky, where most bourbon is made. Other interesting products hit by tariffs include the final episode of HBO's "Game of Thrones" which was blocked by China, as well as bibles, which are largely printed in China. The main point is the vast majority of them are in red indicating an overall loss for countries.
Many companies were affected by tariffs. While many automobile companies were hit hard by tariffs, the Japanese company Honda was able to maintain profits through its sales of motorcycles to poor countries. Some companies like Cisco reacted by moving their manufacturing out of countries with high tariffs to other countries with lower tariffs. Some companies like LG and Samsung set up factories in the U.S. to avoid tariffs altogether.
In discussing different places, there was an article about a city in Canada called Windsor. It is on the border with the U.S. next to Detroit, the center of the U.S. auto industry, so the town is all about trade with the U.S. and is thus greatly affected by any changes in tariffs. The trade war has far-reaching effects. -The Amazon Rainforest was affected when deforestation was ramped up to produce soybeans. Essentially the whole world is expected to be affected by tariffs and trade wars in one way or another, from rural farmers to big companies. According to an article by CNBC on June 2, 2019, "Morgan Stanley sees global recession 'in three quarters' if Trump escalates trade war."
China-U.S. trade talks
Moving to the China-U.S. trade talks, the first talks began in May, 2018 in response to TRUMP's threat of tariffs. They eventually fell through and led to the series of tariffs that year. Later that year at a G20 meeting in December, they agreed to have a truce. The talks began a second time but fell through again. Both leaders met again at the G20 meeting in Osaka in June of 2019, and again TRUMP promised to not raise tariffs. The third round of talks is expected to begin on July 30 at a meeting scheduled in Shanghai.
What might a China-U.S. trade deal include? According to an article by the Financial Times earlier this year, the U.S. is pursuing more purchases of its exports by China in order to reduce the U.S. trade deficit, the liberalization of market access for goods and services, and a reform of China's industrial policy, especially of "forced transfers" of intellectual property (IP). On the Chinese side, China wants the removal of current U.S. tariffs and also the removal of restrictions on Huawei. These are all possible outcomes if a trade deal goes through.
The current hang-up in the trade talks is the issue of the Chinese company Huawei. Huawei is the world's largest telecommunication equipment provider. It sells more phones than Apple and is the world leader in 5G technology. Although popular in much of the world, its products have long been avoided in the U.S. for security concerns. The U.S. claims Huawei might be spying for the Chinese government, and TRUMP subsequently blacklisted all Huawei products.
Commentator KAMATA Isao
Regarding today's topic, my interest and concerns are in the issue of policy (un)certainty and (lack of) transparency. I understand that one of the greatest virtues of the multilateral trading system under the World Trade Organization (WTO) and General Agreement on Tariffs and Trade (GATT) is policy transparency. However, the U.S. administration's current approach to trade issues may be bringing a lot of policy uncertainty to the world trading system. For instance, it seems that the targets of its blame or tariff-raising are being somewhat arbitrarily selected. The uncertainty in the trading system could be even larger due to the possibility of retaliation from those targeted country.
Today's world trade is not simply bilateral or plurilateral. The global value chains are heavily interconnected. I am concerned about the possibility of multinationals being hesitant to make new or additional investments due to this excessive uncertainty, as it should be posing challenges in planning their business activities such as location choices. This hesitancy on the part of multinational businesses could potentially and seriously slow down the world economy further.
I understand that some of the current studies show estimates on the negative impact to the world economy, but I am worried that those could be only lower bounds. Do you have any comments from the perspective of such policy (un)certainty or (lack of) transparency?
Alan V. DEARDORFF
You make a very good point. Certainly I agree that that lack of transparency and uncertainty are both serious problems for the world trading system. We did not know these policies were going to happen until they were announced by TRUMP, and I think they were surprises in every case. It has just been astonishing. It is true that businesses really do need that certainty in order to make their plans. Given the uncertainty, they are going to be hesitant to do things. It is widely expected that those issues are going to slow down the world economy.
Those studies that I referred to had estimates of what this would do to the world economy. What is interesting is that it could be a lower bound. These economic studies are going to find something and it is almost certainly going to be negative, but I think you are right, it is going to be a lower bound. One of the reasons I think that is true is that the models never include everything, and they especially do not include the effects of uncertainty. We know it is important but we do not know how to measure uncertainty or factor it into the decision-making of our economic models.
I spent a part of my career with my colleagues, Bob STERN and Drusilla BROWN, building big models of the world economy and using them to estimate the effects of things like NAFTA and the Uruguay Round. I think we were doing it about as well as anybody could with the tools we had, but it still was not very good. The U.S. was lowering trade barriers, but in the end trade expanded by far, far more than our model predicted, and I think it was because of the supply chains which our model did not allow for. We got it wrong and we strongly underestimated the effects that tariff reductions were going to have.
I think the corollary to that is that our current models are going to be similarly bad at predicting the opposite adverse effect that increases in tariffs are going to have on the world economy. I think the adverse effect is going to be much worse because our models cannot capture it all. What I have seen of the newer models is that despite being better models, they are not better in these ways. They do a fancier job of modeling, but I do not think they are getting at supply chains and investment decisions. I do not think they know better than we did how to model those things, so I think it is bound to be a problem. Anyway, great point.
Q&A
Q1: You mentioned IP is one of the objectives that TRUMP has. When you mentioned IP, did you have anything other than Huawei in mind?
Alan V. DEARDORFF:
To my knowledge, the IP issue was not about Huawei at all. The issue there was mostly that it was perceived by the U.S. that there was a lot of IP theft going on by people in China. Whether that was with the cooperation of the government or not, I do not know.
The thing that was clearly happening and was acknowledged by the Chinese as a part of their policy was that if a company wanted to invest in China, they had to take a joint venture with a Chinese company. In doing so, their IP became the property of the Chinese company. This was basically the forced transfer of technology from American and European multinationals. China acknowledged they were doing that, and they made some promises about doing less of it. That was the big issue involving IP.
The threats I have heard about Huawei have not been about stealing IP, but about using their own IP. By the way, their technology is acknowledged to be ahead of ours. Huawei is the world leader in 5G technology, so if anybody was going to take anybody's technology, we would take theirs. We are much more concerned about whether the Chinese companies or the Chinese government could get access to secrets and so forth through this technology.
Q2: I have one question regarding using blanket exclusions with the excuse of national security. In the 1980s, the U.S. hinted at the possibility of introducing Section 232 on machine tools, but it was not enforced. Now everything is based on national security. However, it is not defined by the WTO, so countries could introduce anything for national security reasons. I am wondering if there is any discussion about the danger of using national security as the reason for taking measures.
Alan V. DEARDORFF:
I do think Section 232 was an unfortunate piece of U.S. trade law. I understand why it had to exist, but I think it needed to spell out what national security was and the circumstances we are justified in using it. As far as I know, the WTO has a provision that says you can do things for national security, but it does not spell it out either. I think Congress needs to revise Section 232 to define much more clearly what national security is. Will it happen? Probably not. I cannot imagine any politician willingly doing something that would allow them to be accused of weakening national security.
Q3: I would like to pose a question about a completely different issue--Brexit. Everybody disapproves of Brexit but according to some theories, free trade might not be good. What do you think?
Alan V. DEARDORFF:
Brexit is about the UK removing itself from the Customs Union of the EU. You are right that some trade theories identify both pluses and minuses to customs union and free trade agreements. If belonging to the EU caused more trade diversion than trade creation, then leaving the EU would benefit them. Bob STERN and I did work that allowed for both of those effects and we never found a case of a free trade agreement being harmful, with the exception of a trade agreement between Tunisia and the EU. Generally speaking, I do not think trade diversion has been a big enough problem to cause the UK to leave the EU. However, Brexit is about much more than just trade.
Q4: I work with the U.S. embassy here in Tokyo. I am interested in your news article analysis. From the U.S. embassy perspective, we are very interested in how the trade war friction is affecting Japan.
Alan V. DEARDORFF:
The headlines are kind of mixed. One of the things that we generally expect is that a trade war between the U.S. and China should have some beneficial effects on neighbors. If U.S. companies move production from China to neighboring countries, those countries stand to benefit. However, they are most likely going to be low-wage countries, so probably not Japan.
Japan can still benefit in other ways. There are some things that the U.S. will buy from Japan instead of China, and vice versa. One of the headlines that I did not have a chance to highlight was about exactly that. Japanese security companies are finding that they have a much better market for security systems in the U.S. because of the trade war. So there are some beneficiaries in Japan.
You are right that the value chains cross all these borders all over the place. A lot of these borders are being messed up by the trade war and that is going to be harmful for a lot of companies. In addition, nobody knows how things will turn out. When there is uncertainty, some people win and some people lose. Overall, a lot of things are going to happen that will matter for Japan. Some of them are going to be positive, but I think a lot will be negative.
Q5: Did you mention that the tariff exclusive price, the border price before tariffs, did not go down in response to TRUMP's tariffs? So tariff incidence was 100% passed on to American consumers?
Alan V. DEARDORFF:
I believe the authors of the studies I showed were very surprised that the export prices did not go down. If you think about the economics of the terms of trade effect and the idea that a large country can benefit by using tariffs, the extent should depend on how large it is, but in what sense? I think no country is really big enough for terms of trade effects to really matter.
*This summary was compiled by RIETI Editorial staff.