Date
October 10, 2018
Speaker
John D HALAMKA (International Healthcare Innovation Professor at Harvard Medical School, Chief Information Officer of the Beth Israel Deaconess Health System and a Practicing Emergency Physician)
Moderator
NISHIKAWA Kazumi (Director, Healthcare Industries Division, Commerce and Service Industry Policy Group,Commerce and Information Policy Bureau, METI)
Materials
Announcement

As Healthcare Reimbursement moves from fee for service (pay for quantity) to value-based (pay for quality), the IT tools for patients and providers will need to change. Cloud, mobile apps, artificial intelligence, internet of things, and telecare will become increasingly important.
We invited Dr. John D. Halamka, the top runner of US healthcare IT, Chief Information Officer at Beth Israel Deaconess Medical Center, CIO and Dean for technology at Harvard Medical School, and introduce the theme "What's Next for Healthcare IT?"
Summary
What are some requirements for healthcare ICT?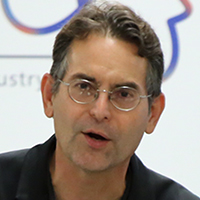 There are many countries, not only Japan, facing an aging society. Elderly people need new tools as they age. The aging societies are going to need caregivers that may or may not be members of the family, that support people as they age. There may be technologies in the home which could help people instead of in-home caregivers or living in a nursing home. In most countries, families do not have the tools they need to coordinate care. For example, in China, there are no general practitioners. The people decide what kind of care they need. Then, they visit the specialist that they think could help their condition. They are misdirected to a doctor and hospital that are not appropriate for their condition, because they do not have the electronic tools that help them get the appropriate care.
In Obamacare, there were hundreds of support people outlining the goals for digital health. So, it was decided to impose all of those goals at the same time on every doctor. As a result, doctors had a very short amount of time to see a patient, make decisions, and enter data from that visit into a computer. This is not an effective method of healthcare, and doctors in the U.S. are not happy with their digital tools because they spend more time with their computers, not with the patients or their families. The point is as countries change regulation, too much of a burden should not be imposed on doctors and healthcare professionals.
In many countries, there may be advanced systems within hospitals, however, they lack ICT abilities. Also, every country has the problem of variation in quality. Our base requirements are safety, quality, total medical expense, and data gathering for many purposes.
How are countries solving this problem?
China
In China, every hospital has a different ICT system. Countries like China are in need of a country-wide single national data set that everyone can agree is good enough to meet the aforementioned requirements. Government can measure quality; industry can innovate with machine learning; academia can study variations in quality, etc. Over the next year in China, the idea of a common data set will be tested in Shanghai for 1 million patients. An interesting thing about China is they have no privacy laws related to data.
New Zealand
New Zealand has solved the problem by creating a system with only one electronic health record for their population of 5 million people.
Europe: UK and Nordic countries
In Europe, the UK has advanced ICT in doctors' offices, but poor ICT in hospitals. Many hospitals are still using paper records. So, effort has been spent to work on hospital automation. The issue is the doctors do not have engineering skills to successfully work with the automation. Scotland's plan was to build a common database. The Nordic countries have unique policy because the medical care is provided by the government, and the citizens believe it is their role as patients in society to share their data because society is keeping them healthy. They accept sharing data to improve quality and/or research.
India
India has created four government services that help with innovation. The first is a national identity management platform. India has established one digital identity, biometric based, that can be used to track healthcare and other social system data. India has also created a national consent platform which can be used for healthcare and data sharing on Facebook or another platform. In addition, India has created a national pay infrastructure. Finally, India created a cloud-hosted mechanism to store data. Health records could be put into the cloud which would be available for doctors to review. Sets of policies like these make it much easier for industry to innovate because the government has already solved the most difficult issues.
Israel
In Israel, there is a huge amount of innovation. The largest medical center in Israel has created a health innovation center. The first two floors are startup companies and the third floor is for sponsors of those startups. The sponsors fund the startups, but they also get a first look at the startups' technologies and innovations. The fourth floor is for talented IT professionals. Startups can buy these professionals' time, almost like renting office space or a vehicle. The fifth floor is a laboratory for demonstrating technology to customers. The sixth floor is administrative. The ideas is that more innovation can occur in this facility because all the necessary elements are conveniently on site.
Africa
Africa has a different set of challenges than the rest of the world. In Africa, technological development has been impeded due to very slow internet speeds and internet speeds, unreliable power infrastructure and inability to share data are major obstacles to progress. GSM cell phones and SMS are used in order to share data; very simple technologies are used to send information to patients.
U.S.
Every society has a different set of problem and cultural challenges which have to be addressed in the context of the requirements of the society. It is very important that there are societal goals that countries try to achieve. The four societal goals for the U.S. should be as follows. The first goal is to alleviate opioid abuse; technology is going to track every prescription of every painkiller for every patient throughout the entire country. Another goal is to create better ways for doctors to communicate with each other. As patients go from doctor to doctor, the data should follow them and their care should be coordinated between doctors and facilities. This would improve quality and reduce cost. The next goal would be for patients to receive data themselves. The last goal is public health; making sure we have the right databases in the government and industry monitoring population and public health.
The U.S. replaced an Obama era program with the Promoting Interoperability Program which has fewer measures and objectives. Hospitals will be evaluated by a point system based on their performance. If they fall below the necessary level to "pass," then they lose 3% of their pay. So, it acts as a motivator to complete these projects. The objectives include e-prescribing, health information exchange which requires supporting electronic referral loops by sending and/or receiving health information, providing patients electronic access to their health information, and public health and clinical data exchange which involves choosing from a selection of types of reporting. Providing patients electronic access to their health information provides the largest amount of points in the program.
Emerging trends
There is increasing movement towards cloud-based medical records and cloud services. The U.S. now has about five major electronic health record vendors which provide some kind of cloud service. Each country has different laws around data, healthcare, and the cloud, but the policies in the U.S. completely allow the use of the cloud for healthcare. So, much infrastructure is moving to the cloud, for example the Amazon cloud, because it is cheaper than a small company hosting it themselves, and Amazon has an army of employees working behind the technology which is better than the human resources of a small company.
Many societies are embracing mobile and the internet of things. In an aging society, these are the kinds of things care givers could utilize in order to monitor their care receivers.
Google, Amazon, and Microsoft have shown that there are great applications for machine learning. However, caution must be taken because machine learning is not going to replace your doctor. Machine learning is going to help a doctor treat patients better, not replace them. For example, in the U.S., there is a cloud service available to dentists who can use it to detect cavities in x-rays of patients' teeth. So, the dentists still give care, but they use a new tool to better deliver that care.
Telemedicine and telecare could become the future, by providing care to people in their homes and on their phones. In a society like Japan with mountainous and rural areas, and elderly people and fewer people being born, there are not enough doctors. So the idea of telemedicine and telecare will be increasingly important.
In the U.S., there is a blockchain frenzy. Blockchain technology could be utilized to build trust to show that data has not been changed and that the data is complete and accurate. This was shown when, in South Africa where there is no trust in the government due to corruption, blockchain technology was used that shows the users that the government has not changed their data.
How will healthcare across the world be delivered differently in aging societies?
An example is a woman with a thyroid issue that uses an app to help her communicate the signs and symptoms to her primary care doctor. They suspected a thyroid problem, and then ordered a blood test--all without a visit to the doctor's office. The blood test showed that in fact there was a thyroid problem.
Another example is a person with hypertension who uses an IoT blood pressure cuff in their home to send data to their doctor. From there, the patient could complete a diagnosis and be prescribed accurate medication.
In addition to those examples, big data analytics could be used to create a treatment plan personalized to each person.
Patient and provider mobile apps, and wearables and Internet of Things
With apps, patients can be told about their daily self-care plans. They can be reminded to get exercise, take medication, eat the recommended diet, etc. Health care devices such as scales, blood pressure cuffs, etc., are quite affordable, and there are no longer barriers to avoiding hospitalization by providing a patient with such devices.
Machine learning projects
The things that are working quite well are figuring out how long we need to schedule the operating room procedure, how long you should stay in the hospital, figuring out who needs an ICU bed, figuring out who will go to their appointment or not--all based on data from millions of patients. Beneficial future machine learning projects include predicting the probability that a patient will be re-admitted within 30 days, reducing the amount of re-admitted patients, minimizing the overall length of stay at a hospital by studying the interactions between different departments, and applying methods in the area of personalized medicine for particular diseases.
A challenge for Japan would be if, through policy, you are able to aggregate the data on 125 million people, you could lead the world in machine learning because it is only as good as the data you train your algorithms with. Japan, being an advanced society with good technology, with the right policies, absolutely could lead the world.
Q&A
Q1: Has the American government become reluctant to give new approvals for AI?
John D HALAMKA
The person who wrote all of the current FDA regulations is a friend of mine. He thinks that the FDA is concerned about risk. They want to minimize risk of AI systems. In my examples, AI can figure out that a person needs X amount of hours in the operating room, but if it is wrong, who cares, we will just keep the person in the operating room longer. On the other hand, if an AI system is being used to make a diagnosis and it is wrong, the patient could die. What is very important at this stage of technology is that AI helps a doctor with decision making but does not make a change in therapy or treatment. It should advise a human and the human can decide to believe it or not. That is where the FDA has drawn the line. Currently coming out of the FDA, if it is just general technologies that help with decision support and the human makes the ultimate decision, then it is okay. However, if, for example, an ICU ventilator is changed by an AI system, that is very high risk. That is where the FDA is not ready to approve such a thing. Consider the Apple Watch, it is not approved; it is cleared, but not approved. In the formal Apple Watch FDA statement, the Apple Watch should be used along with other technologies only as a data point which a human can decide if it is useful or not.
Q2: How do you see the relationship changing between hospitals and businesses? Do you think the current data privacy rules and anti-kickback rules along with HIPAA are ready for this changing relationship?
John D HALAMKA
In the U.S. and possibly across the world, there are innovation centers. Many innovation centers fail because they are run outside of the hospital. Hospitals need is to understand the problems to be solved and provide the data that is necessary for machine learning or other techniques. I run a center at Harvard which is a hospital-based innovation center using hospital data to solve hospital problems. I bring industry, from Google and Amazon, inside the hospital. About HIPAA, I have made them hospital employees. They are Google and Amazon employees, but they work for me inside the hospital, so I train them on HIPAA, and they have to abide by hospital policies. They are treated like one of us instead of an outsider and that has got around this problem. It is vital that hospitals lead the way.
Q3: Who is going to pay for the services you mentioned today? What is the business model? Can patients and families get inexpensive services?
John D HALAMKA
In the U.S., the patient will never pay for anything. Since 1945, the insurance system in the U.S. has been funded through the employer. Americans believe that insurance should pay for medical bills, not themselves. Sometimes the entrepreneur claims that the patient will pay for services. So, how does this get funded? The reimbursement method is value-based purchasing. Under this scheme, it is much cheaper to provide inexpensive pieces of equipment, such as a bathroom scale, in order to keep people out of expensive hospitalizations. In effect, it is realigning incentives. Hospitals would have never bought equipment for patients, but today they are. Hospitals are doing so because they get an allowance for people per year. If they do not spend that allowance on expensive hospital treatments for the people, then they can keep the money. So, hospitals are taking preventative measures to keep people healthy, which are cheaper than hospitalizations, and they can keep the remainder of the allowances.
Q4: If patients are forced to get electronic prescriptions in Japan, some would not like it since they do not want any history because they want more medicine, and they would have to pay additional points. How does that system work in the U.S.A.?
John D HALAMKA
In 1984, everything was handwritten on paper and there was no data tracking. We changed regulation to require it. We had no choice. For example, today, if you walk into a pharmacy with a piece of paper, they will not give you the medication. The only way to improve quality, safety, and reduce cost was to require the use of electronic prescribing.
Q5: Patients do not have any choices?
John D HALAMKA
They do not. For example, could a patient drive to Canada and buy a medication from a pharmacy in Canada? Possibly. In the U.S., unless doctors use electronic prescriptions, there will be penalties and their reimbursement will go down. We are not offering two kinds of care; paper and electronic.
*This summary was compiled by RIETI Editorial staff.