| | |
| --- | --- |
| Date | October 3, 2017 |
| Speaker | Wolfgang TIEFENSEE (Thuringian Minister of Economy, Science and the Digital Society) |
| Speaker | Hans Carl VON WERTHERN (Ambassador of the Federal Republic of Germany to Japan) |
| Moderator | MINAMI Ryo (Director, Europe Division, Trade Policy Bureau, METI) |
| Language(s) | Japanese/German (with simultaneous interpretation) |
Summary
Analysis of the German General Elections 2017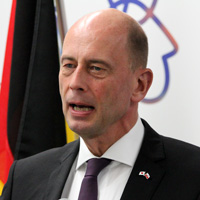 TIEFENSEE
The German general elections took place on September 24, 2017 against the backdrop of remarkable economic performance and bright future prospects.
Although Germany is the strongest economy in Europe, voters considered the future of their country in the light of their respective circumstances, such as job security, personal safety, economic growth, improvement of education, energy policy, or trends and developments arising outside but affecting Europe. A series of European countries fell into a fiscal crisis from 2008 through 2009. More recently, President Donald Trump came into power in the United States, while the United Kingdom voted for Brexit. All of those factors as well as the continuing discord and conflict in Syria affected the elections.
As it turned out, the three grand coalition parties—i.e., the Christian Democratic Union (CDU), the Christian Social Union (CSU), and the Social Democratic Party (SPD)—suffered a significant loss of ground, while the liberal Free Democratic Party (FDP) made a comeback to the Bundestag, and the Greens and the Left increased their number of seats slightly. Emerging as the biggest gainer was the Alternative for Germany (AfD), a right-wing populist party.
Toward the Jamaica coalition
I am a member of the SPD. On the eve of the elections, the SPD decided not to continue the grand coalition. There are at least two reasons for this.
First, the grand coalition was facing strong criticism from voters. We believe with pride that we have done a good job for the public. For instance, we introduced minimum wages, lowered the pension age to 63 for long-time workers, and expanded family allowances. We pushed forward the Energiewende, a policy calling for an energy transition to renewables, reinforced economic policy measures successfully managed the economy, implemented various measures in the area of long-term care services for the elderly, and worked toward eliminating pension gaps between the former East and West. Our achievements failed to win recognition.
The other reason is the rise of the AfD, which secured some 13% of the vote. If we continue with the grand coalition, the AfD would become the largest opposition party, a status that comes with a series of special rights including the first rebuttal to government in plenary debates and the chairpersonship in the budgetary committee. As a responsible political party serving our nation, we decided to discontinue the grand coalition to prevent this from happening by becoming the largest opposition party in the Bundestag.
While 87% of voters voted for democratic parties, Germany followed suit with some other European countries—including France, Italy, and the Netherlands—where right-wing populist parties have emerged and are gaining ground, albeit gradually. Why did the AfD manage to win so many votes from those who had abstained in the previous elections? Why did so many votes shifted away from CDU and SPD to AfD? There are many questions. However, in any case, the Afd emerged as the third largest party by securing 13% of the vote and, for the first time, winning seats in the Bundestag.
We must face up to this reality. In order to ensure the sound management of the government and enable our country to move forward, forming a new, coalition composed of the CDU/CSU, the FDP, and the Greens is one possible option. This is referred to as the "Jamaica coalition," as the colors representing them—i.e., black, yellow, and green—are the colors of the Jamaican flag.
Although it remains to be seen whether the Jamaica coalition will be realized, there will be no change in the friendly relations between our two countries. We have nurtured amicable relations with Japan, which has been and will remain a very important partner in pursuing our foreign policy goals as well as in terms of external economic relations. Even when there is a change of government in Germany or in Japan, I believe that this good tradition will be continued by the new government and the friendly relationship between our two countries will remain unchanged.
Rise of Populism and the Relations between Japan and Germany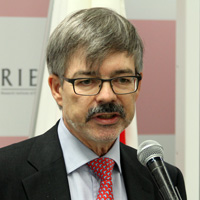 VON WERTHERN
I have two important messages concerning the general elections. One is that 87% of German voters voted for democratic parties. All of them are pro-integration of Europe, promoting the European Union (EU) as a single market open to the world. It is true that the AfD made it into the Bundestag. Against this backdrop, and because of this turn of events, Germany is now coming under the scrutiny of the international community. Nevertheless, the very fact that 87% of German voters chose democratic parties that are democratic and open to the world enables us to put the phenomenon into a relative context.
The other message is that Germany and Japan must reinforce efforts to safeguard peace, safety, democracy, and the rule of law in order to address the growing sense of anxiety as subjectively perceived by people today—an era in which populism and isolationism are on the rise. For that, our two countries must assume more responsibilities and cooperate more closely with each other. Germany and Japan are reliable partners to each other. Indeed, our two countries became partners as meant to be.
Q&A
Q1: If the Greens and the FDP join the ruling coalition, what changes do you expect to see in the automotive industry from the viewpoint of environmental protection?
TIEFENSEE
Government formation is a very complex process. As things now stand, the SPD will not participate in a new coalition. Thus, there are only two options left, i.e., either the Jamaica coalition or another round of elections. As no one hopes to have another round of elections, the three major groups—CDU/CSU, FDP, and Greens—must come together. However, a closer look shows that CDU and CSU are separate parties, and the CSU is the smallest among the four.
The four parties differ significantly in policies. The Greens is aiming to achieve an energy shift in the automotive industry—i.e., a ban on the sale of cars with internal combustion engines—by 2030, but Chancellor Angela Merkel has opposed the idea. While the CSU has been calling for capping the number of refugees accepted into Germany at 200,000 per year, the three other parties are against setting any limit. The four parties also differ in their stances on taxation and European integration.
However, unlike the United Kingdom where the members of parliament (MPs) are elected by single-seat constituencies, Germany has an electoral system that is hybrid but primarily based on proportional representation, making it inevitable to form a coalition as it is virtually impossible for any single party to secure an outright majority on its own. In other words, small parties have a relatively strong say. A state election is upcoming in Lower Saxony, and CDU and CSU must come to a compromise before the election is over. This is a very difficult task as they are in direct confrontation over the issue of refugees. However, we expect that the involvement of FDP and Greens will help them find a compromise.
Q2: I understand that the Greens are keenly interested in the protection of personal information. What do you think will be the policy stance of a new government on data flows and the protection of personal information?
TIEFENSEE
The EU and the United States have long been in talks over the Privacy Shield, a framework for transatlantic exchanges of personal data. However, people in Germany—particularly those in the former East Germany—are extremely sensitive about the handling of personal information. As digitization proceeds, many people are concerned about the possibility of their personal information being made available to the public. Thus, we need to strike a balance between the need to facilitate data flows and the need to protect privacy.
Q3: In order to help reduce anxiety among people in rural Germany, a factor behind the victory of the AfD, it is extremely important to generate jobs and promote innovation through exchanges between Japan and Germany at the grassroots and business-to-business levels. How can we combine macro- and micro-level initiatives to establish a firm basis for cooperation between our two countries?
TIEFENSEE
Although Germany is firmly committed to remaining as a country open to the world, it is an undeniable fact that 13% of voters voted for the right-wing populism party. However, those who elected the AfD are diverse in their beliefs and backgrounds, and even those who do not want to see the ongoing right-leaning tendencies going too far voted for the party. If we can take seriously and respond properly to their concerns, they will stop voting for the AfD.
My personal view is that every country has a certain percentage of people who consciously try to undermine those in other groups for the sake of safeguarding their own security. Even when the unemployment rate drops further and pensions provide greater security, or even if all of the schools have their buildings renovated, that is not enough to make those people think that they should open their minds to the world. Therefore, we must start from changing their ways of thinking. I believe that building a strong relationship of trust between politicians and voters will prevent the AfD from continuing to succeed.
Q4: I would like to ask about the government's policy for promoting electric vehicles (EVs). I understand that the choice of policy measures will vary depending on the composition of the new coalition. However, given the structure of the German automotive industry, which is quite different from those of the United Kingdom and France, there might be a natural choice for Germany. What do you think in this regard?
TIEFENSEE
The automotive industry is undergoing a major turning point. In order to reduce carbon dioxide (CO2) emissions, we must promote sector coupling, a cross-sectoral approach encompassing the heating and mobility sectors as well as the power sector. In this context, we need to incorporate this integrated approach into the automotive industry. For that, we must first take a neutral stance vis-à-vis various technologies, and then consider what type of driving systems is the best choice for the market.
Probably, in Europe, EVs will come to account for as much as 20% of automobiles on the road by 2025. This means that 80% of cars in Europe will be engine-powered. However, automotive makers and automotive parts and components suppliers must adapt and respond to newly emerging trends. A transition from engine-driven cars to EVs will dramatically reduce the number of parts and components required. In due time, what suppliers need to do toward the forthcoming transition will become self-evident.
In the process of this endeavor, digitization will play a very important role, and it is our role to support and facilitate the process. To begin with, we are promoting a concept called "Work 4.0" to help enable private-sector companies transform themselves. We intend to devote our efforts over the next 10 years to enhancing workers' abilities and prepare them for Industry 4.0.
Q5: How does Germany perceive the expansion of the Chinese economy?
VON WERTHERN
Chancellor Merkel has built a close relationship with the Chinese government and Germany chose to participate in the Asian Infrastructure Investment Bank (AIIB) to influence its rules from within.
China is facing a challenge of its own, one that does not exist here in Japan, namely, the lack of legal stability. In Japan, a set of market rules are properly in place, transparent, and satisfactory to most foreign companies operating here. However, such is not the case with the Chinese market. Thus, I believe that Germany and Japan should cooperate in both economic and political spheres in dealing with China. We need to urge China to recognize its responsibility in the global community and act responsibly.
Q6: As seen in the rise of an independence movement in Catalonia, the deepening of the EU integration seems to be at odds with emerging moves toward decentralization. As a leading member of the EU, how does Germany observe the ongoing situation?
TIEFENSEE
One big factor behind the global rise of movements seeking independence and ethnic self-assertion is economic power. In the case of Germany, we have 16 states constituting the federal republic. Although they vary in the size of their economies, adjustments are made to maintain a proper balance among the states under the federal system. While economically powerful states are capable of achieving strong growth, weak ones need to be propped up. The presence of such solidarity is a must. However, too much support for weak ones creates a situation that is bound to give rise to the AfD.
It is also necessary to promote corporate social responsibility (CSR). Prosperity in rich countries is made possible by manufacturing bases located in poorer countries. In other words, our wealth is supported by economic disparities between the rich and the poor. Politicians must work to address the existing gaps between rich and poor countries. We must not back off on our crusade. We must continue to make a persuasive appeal for the importance of solidarity.
VON WERTHERN
The differences that exist between Germany and Japan are what makes the collaboration between our two countries fruitful. In the wake of the Fukushima nuclear plant accident in 2011, Germany declared the closure of all nuclear power plants over time, whereas Japan responded differently, announcing a decision to continue to use nuclear power plants. In dealing with the problem of the shrinking population, Germany is turning to immigration policy while Japan is focusing on the introduction of robots.
As such, Japan and Germany are quite different in their approaches to solving similar problems. It is because of these differences that our dialogues are all the more interesting and fruitful. If our two countries always come up with an identical solution to an identical problem, there would be no need for dialogue between us. Our dialogue—including exchanges at the grassroots level—are interesting because of the differences between our two countries.
Moderator
In the latest general elections, many voters that had previously voted for the ruling parties drifted either to the right or to the left, probably because they were weary of the fact that disparities increased despite the strong performance of the economy. As globalization and informatization proceed apace, disparities will become more prone to arise. Will Germany be able to properly address the problem of disparities?
TIEFENSEE
The economic conditions of Germany is one factor that contributed to the outcome of the general elections. However, I suppose that there may be a degree of bias on the part of voters. Even though the economy was in good shape or the unemployment rate was low, several billions euros held at the EU were funneled into the central bank in the wake of the European debt crisis. Meanwhile, when the refugee crisis hit Europe in 2015, Germany accepted hundreds of thousands of migrants. Against such backdrop, some people thought that the German government should help its people more if it could afford to help migrants from other countries. They are the kind of people who think only about themselves, seeking to grow their wealth and never wanting to give to others. That is why they chose non-ruling parties despite the robust economy.
There are people with special skills and those without. In the absence of measures, disparities are bound to increase because Industry 4.0 operates to eliminate jobs for unskilled workers and the tendency becomes more prominent in the coming years. We must reform the education system and enable them to acquire special skills.
For instance, I think it is necessary to teach skills for digitization at all levels, from kindergarten to university. In the Free State of Thuringia, 60% of kindergartens offer programs designed to enhance math and science skills. Primary schools also provide education designed to make children better prepared for digitization. Businesses must follow suit. For instance, they might want to introduce a system enabling employees to have a one-day leave to learn skills for their own interest. This is meant to enhance the capacity of their employees. Rather than simply getting machines working, employees need to understand how digitization works.
People in the older generation such as myself tend to regard digitization as a tool to achieve something. However, for younger generations, digitization is something that exists out there as a basis for everything. In other words, their approach to digitization is completely different from ours. For those currently 40 years old, things are going to get tougher if they fail to adapt to digitization. They need to develop professional competence and acquire qualifications.
It is also important to improve productivity. In doing so, we need to focus on interfaces. Today's smartphones offer a tremendous variety of functions, and yet, even small children with no technical knowledge can use them without any difficulty. That is, it is necessary to introduce technologies that can simplify user interfaces and thereby enable people—even those without technical knowledge—to program without difficulty.
Q7: In Germany, you have the Institute of Labor Economics (IZA), a world-renowned think tank. To what extent do government labor and/or economic policies reflect views and proposals put forward by research organizations such as the IZA or economists in general?
TIEFENSEE
I think it has a significant impact on government policies. Interestingly, each organization has and strongly insists on its own philosophy and ideas. Against this backdrop, we need to maintain a balanced perspective. While researchers' findings offer extremely important implications, we need to look at trends from a global perspective. I think collaboration among researchers is quite important, and they should together provide policy inputs to help shape government policy decisions. On our part, we will ensure that we make policy decisions based on evidence.
Q8: The CDU/CSU suffered a severe setback in the general elections. How will this fact affect their future policy decisions? Will this lead to enhanced cooperation with other EU countries?
TIEFENSEE
The identity of Germany as part of an integrated Europe and its relationship with Europe will not change if and when the Jamaica coalition takes the helm. Rather, what is exciting is how CDU and CSU will change directions. At this time, the ministers-president of only two states are calling for a shift to the right, but most CDU members would not buy the idea. The more interesting question is how the CDU and the CSU—rather than the CDU and the Greens—will compromise with each other.
We will have to wait four to six weeks before we know which direction we are headed. French President Emmanuel Macron is calling for deeper EU integration. The inclusion of the FDP as a coalition member spells discord between the two countries, as Christian Lindner, the head of the party, has said that the EU integration should proceed at two varying speeds. This may not be a welcome development for Macron. However, Germany's pro-EU stance should essentially remain unchanged under the Jamaica coalition including the Greens and the FDP.
Q9: Far-right remarks were disallowed in Germany in the past. Has Germany become tolerant of far rightists?
TIEFENSEE
There is no novel tolerance for right-wingers in Germany. The German criminal code, Strafgesetzbuch, sets a clear red line in this regard. What we have been seeing is the explosion of people's anger. Resentment that has been repressed and contained in their mind is welling up. Philosopher Peter Sloterdijk, who has been a mentor for Marc Jongen of the AfD, says that people should express their anger. True to what Sloterdijk said, Jongen is giving concrete shape to people's anger at the social welfare system and politics in general.
French philosopher Stéphane Hessel advocated a similar idea, arguing that people need to become outraged. It is against the backdrop of such social, philosophical, and ideological trends that the angry voices of people calling Merkel out have arisen. However, there is a line that they cannot cross, as the criminal code prohibits such act. The Federal Office for the Protection of the Constitution (BfV) is also keeping an eye out for any anti-constitutional activities. Crossing the red line would result in court action.
*This summary was compiled by RIETI Editorial staff.