| | |
| --- | --- |
| Date | November 20, 2012 |
| Speaker | Tom ALBANESE(Chief Executive, Rio Tinto) |
| Commentator | SAKAE Toshiharu(Executive Officer, Nippon Steel & Sumitomo Metal Corporation) |
| Moderator | YASUNAGA Yuko(Director, Mineral and Natural Resources Division, Natural Resources and Fuel Department, Agency for Natural Resources and Energy, METI) |
Summary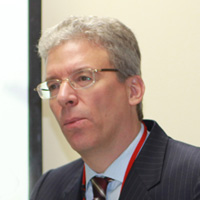 Tom ALBANESE
Today's presentation will focus on themes in relation to the global economy, supply side challenges, Rio Tinto and Japan, and long-term partnerships. The global economy section of the presentation will provide a particular look at how Rio Tinto views China and the rest of Asia in terms of growth and commodity demand. Following this, supply side challenges for the resource sector will be covered. Next, in the Rio Tinto and Japan section, we will discuss the 50-year partnership between the company and the country. Finally, issues in relation to how companies such as Rio Tinto can build long-term partnerships to develop resources in challenging locations will be presented.
In terms of the global economy and implications for those working in the resources sector, the short-term macroeconomic outlook remains volatile. The pattern of market volatility we have been experiencing since the global financial crisis continues. Virtually all economic statistics across the globe indicate that we are undergoing a period of painful slowdown, particularly in Europe. Deleveraging and austerity measures introduced by the Organisation for Economic Co-operation and Development (OECD) following the global financial crisis of 2008 continue to have a negative effect on commodity demand from western economies and from trade-dependent countries in Asia. This in turn has led to heightened volatility across our markets. As an example, in China, the removal of stimulus since 2012 has further dampened demand.
The world's major economies have been responding to the issue of dampened demand with new stimulus announcements. These have helped partially in reducing market volatility, though not enough to induce real changes in demand. A series of pro-growth policies have been introduced in China since April 2012 and are expected to flow through to infrastructure investment progressively over the next several quarters into 2013. The recent deceleration of growth in the Chinese economy is showing signs of bottoming out, and importantly, there are indications of a turnaround in the housing market due to a pick up in new home sales and prices over the last few months. Based on such findings, Rio Tinto is confident that there are signs of stabilization in the Chinese economy, although the full impact of recent stimulus announcements is not expected until leadership changes are complete. With this in mind, Rio Tinto has lowered China's GDP estimates this year to slightly below 8%, which is still an impressive number given the current global market conditions. The current cyclical weakness and market volatility will likely remain in early 2013, and it is expected that it will take several months for recent stimulus measures to translate into a real recovery in GDP growth and subsequent physical demand for the commodities which Rio Tinto produces.
The current state of the economy has resulted in commodity prices being in a state of flux. Iron ore prices have partially recovered after a period of rapid price fluctuation in the third quarter and are expected to remain volatile in the near future. Although commodity prices on average are lower than previous, operating costs remain high. Within this short-term volatile environment, most companies are now looking at how to manage costs and capital even more efficiently than before. This increase in efficiency will position Rio Tinto well in the next upswing of the commodity cycle, enabling capitalization on the positive long-term demand picture. Global demand, financial resources, and other commodities are approaching an unprecedented level as the world's population rapidly grows to an estimated nine billion people by 2050.Emerging market populations are growing, urbanizing, and industrializing, while OECD populations will continue to consume more, resulting in increased resource consumption overall.
At present, approximately one billion of the current world population could be classified as affluent. This affluent group mostly resides in Europe, North America, and OECD economies. However, there has recently been a rise in fast-growing pockets of affluent populations in China, India, Brazil, and other emerging economies. The high and relatively secure income of the affluent class has resulted in them traditionally being the main drivers of the global economy. However, the approximately 1.5 billion people belonging to the emerging middle classes are expected to be leading the change for growth, urbanization, and industrialization in the coming years. They will move through increasingly natural resource-intensive phases of development. A good example of this can be demonstrated by what has been observed in steel consumption in China. Roughly 50% of China's population is currently urbanized, and this is expected to rise to 70% by 2030. This new urban development will continue to favor high-rise living due to the scarcity of land and the large number of people who require housing. Not all provinces will be as highly steel-intensive as those around Beijing, Guangdong, and Shanghai, but they will still be highly metals-intensive. Further demand will come from the upgrading of lower quality urban housing, which will likely be replaced by skyscrapers due to their prime locations.
Another important factor worth mentioning is the total amount of steel per capita that has been consumed over the past two decades in China. Despite impressive rates of growth, China's overall steel consumption per head remains significantly below that of developed nations when looking at a 20-year period of high metal intensity. Although it is not being suggested that China's cumulative steel stock will match that of the highly export-driven economy of South Korea, it may start to approach levels matching that of Japan in the future.
It continues to be seen in both China and other emerging economies that urbanization is driving demand for steel and all other associated products and resources. World demand will continue to grow in aggregate, though it is expected to moderate as Chinese demand begins to plateau as a share of global markets. This plateau is expected to be reached around 2030. Strong growth in steel production from the mid-2020s is also expected in India, Southeast Asia, the Middle East, and other emerging economies. Such outlook for long-term demand remains positive for companies in the mining and metals sector.
The strategic importance of Rio Tinto's long-term relationship with Japan is significant. Not only does Japan represent the world's third-largest economy, but also it is the world's second largest consumer of iron ore, which makes it Rio Tinto's second-largest customer. Rio Tinto generated $10.6 billion in revenue in 2011 in Japan, 16% of total global revenue. Japan is a key market particularly for iron ore, coal, aluminum, copper, and minerals. This revenue stream is two-way, as approximately half of Rio Tinto's global mining machinery and equipment is procured from Japanese companies. Japanese ships are also purchased, and Japanese shipping lines are chartered and used for seaborne trade. In addition, there are several Japanese joint venture business partners in Rio Tinto's operations around the world.
One key issue for Japan is having access to a stable supply of resources, especially considering the emergence of the economies of India, Brazil, and China. Similarly, access to resources is also challenging for the mining industry, although for different reasons. The major supply limitation is finding the ore-bodies themselves. Beyond this, cost escalation and rising capital intensity have made many projects in the industry more expensive and caused delays. This is particularly noticeable in Australia, where there have been significant wage increases over the past few years. This has been compounded in the mining industry by a shortage of highly skilled labor, higher contracting costs, and constraints on access to financing due to the current economic climate. The rising threat of resource nationalism is also already causing a rise in the cost of capital for many large projects and their subsequent deferrals. Additional pressure such as increasing stakeholder pressure and environmental activism will further restrict capital allocation to the sector. All such factors may lead to a slower supply response than many had estimated. In order to begin to balance supply and demand, companies which develop natural resources must partner with a variety of stakeholders to gain access to and develop resources.
Adapting a responsible approach to mineral development ensures maintaining Rio Tinto's license to operate. Consequently, Rio Tinto's approach to sustainable growth enables continued investment in line with the group strategy of investing in large, long-life, low-cost competitive mines and businesses. Working with host governments and communities in mutually beneficial relationships is essential to ensure that governments' legitimate policy goals can be addressed while still encouraging investment and free trade. During the course of 2011, Rio Tinto supported over 2,700 socioeconomic programs covering a wide range of activities including health, education, business development, housing, environmental protection, and agricultural development.
Another area where partnerships are essential is in the field of technology and innovation. Not only finding but also extracting and processing natural resources is becoming increasingly challenging, and improvements in technology are revolutionizing large-scale mining operations, leading to not only efficiency gains but also improved safety and environmental performance. Rio Tinto's Mine of the FutureTM program is a leading example of how technology and innovation can provide us with solutions to industry challenges. This initiative's success comes from the fact that it is built on collaborative partnerships with academic institutes and companies from around the world, including Komatsu Limited, whose advanced truck technology including automated haulage is revolutionizing large-scale mining. Rio Tinto also runs a remote operations center in Perth, Australia which makes use of the latest technologies and signifies changes to come in the future on a global scale. In a few years, Rio Tinto is expected to be mining approximately 600,000 tons of steel per day, with half of the workload being processed by automated equipment run through an automated center. The development of such technology truly is an exciting prospect.
The world is evolving, and new and innovative technologies are being developed at a rapid rate. People are gradually expecting higher standards of living and hope for even higher standards for future generations. Such evolution and expectations are leading to a growing need for more metals-intensive businesses and a higher level of understanding and appreciation of the role of stakeholders and of environmental change. Technology will play a large part in the future, and Japan will surely have a strong influence based on the fact that it is a leader in advanced manufacturing practices and innovation.
In conclusion, Japan has been and continues to be a highly valued partner for Rio Tinto both as a customer and as a partner in technology and innovation, and in operations around the world. As the emerging world continues to develop and grow, the long-term demand for resources will continue to be robust both for emerging and developing markets. To meet this demand and deal with both short-term and long-term supply issues, it is imperative that businesses like Rio Tinto work in partnership both with resource-rich countries and with resource-dependent economies to ensure direct, sustaining, and mutual benefits.
Comments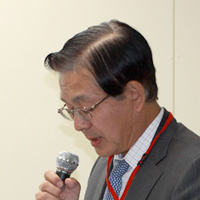 SAKAE Toshiharu
Since the turn of the century, we have seen the economies of China and other emerging countries grow rapidly. Along with such economic growth, the consumption of all kinds of natural resources such as steel and energy has quickly expanded. However, in recent years, Europe's financial crisis and slowdown in the growth of the Chinese economy have occurred, and it can be said that the natural resource bubble in which the prices of resources steadily rose is over. Nevertheless, the Chinese and Indian economies still continue to maintain a high rate of growth. It appears that the demand for steel and energy will continue to increase at a mild, yet steady rate. Inflation in the mining industry has been severe and incomparable to that of other industries. As a result, cost in the mining industry has drastically soared and still remains at a high level.
At present, there are several problems in terms of the procurement of raw materials. For the Japanese steel industry, this procurement is absolutely essential. The security of access to raw materials and stable prices is crucial in steady operations. The impact of rapid growth in the Chinese economy has had a significant effect on this procurement. It seems that geographical diversification and the development of technology are required in order to allow for a constant supply and stability in the prices of raw materials. It is vital that we have raw materials provided by suppliers regardless of the economic environment for the security of the supply. It may be beneficial to develop a portfolio of a flexible price-setting method, as pricing preferences vary between countries.
Tom ALBANESE
This reinforces the point that both the supplier and the customer have their own challenges to face. It is often the case that each party focuses exclusively on its own problems and not on those of others. However, the miners and steelmakers have enjoyed a relationship lasting for more than 50 years, and it is wise to look to the future in a positive light. With regard to the more pressing short-term matter of iron ore pricing, a more workable system has evolved in recent years. Rio Tinto fully respects the Japanese customers' desire to have quarterly pricing with some form of security. Chinese customers often desire short-term pricing when it suits their purposes, and as a consequence, Rio Tinto has moved to spot monthly and actual-type pricing. It will likely be increasingly noted that the procurement strategies for Chinese mills will be different to those of Japanese steelmakers. This will undoubtedly lead to both opportunities and challenges of various kinds. It could be argued that the benefit of quarterly pricing creates a win-win situation for Rio Tinto and Japanese customers, which Rio Tinto is willing to support. In terms of diversification, Rio Tinto is working toward developing other sources of high-grade raw material such as in Simandou in Guinea. Furthermore, innovation in technology has allowed techniques such as blending to allow for greater efficiency in the use of raw materials.
Questions and Answers
Q1: The project in Simandou in Guinea was mentioned. It seems that there are many difficulties associated with that project, and that rival companies have abandoned their own projects in the area. Is Rio Tinto still on track for its target of commencing iron ore production in Simandou in 2015? Second, India has recently cut exports of iron ore to China. What effect do you think this will have on the international market?
Tom ALBANESE
Rio Tinto is doing a lot of work in Simandou in terms of that on the ground with respect to resource evaluation, the beginnings of engineer activities, and developing local teams in Guinea in order to achieve the aim of starting production in 2015. Of course, this relies on all of the partners of the project working together to reach this goal.
With regard to India, it is important to look at not only its iron ore resources and rate of production but also its expected steelmaking capacity. It is likely that as Indian steelmaking capacity grows, it will increasingly take up its iron ore mining capacity, which will effectively be self-contained.
Q2: Do you think the new Chinese leadership is pro-growth and will provide stimulus to accelerate economic growth? Second, what are your thoughts on the possibility of a fiscal cliff in the United States? Finally, what are the most important factors for Rio Tinto in terms of where to place capital to maximize expansion?
Tom ALBANESE
There have been an important set of elections and leadership changes over the past few months. Political leadership has a very significant influence on driving economic performance. In China, changes in leadership happened as was largely anticipated, and it is expected that the new leadership will be able to help move the economy forward and deal with related challenges in an effective and forceful manner. The remarks noted from several speeches suggest an objective of 7.5% economic growth over the coming years. It could be expected that this would include some sort of stimulus over the course of 2013. From Rio Tinto's perspective, a level of stimulus as high as that of the end of 2009 is not expected as it appears that Chinese policy makers recognize that there were negative effects of such a high level of stimulation. Such negative effects included high levels of inflation and imbalances within the Chinese economy. It is also likely that more stimulus will be provided for improving below-ground infrastructure such as drainage and water projects. This will probably lead to an increase in demand for the types of materials which Rio Tinto produces.
With regard to a fiscal cliff in the United States, there is currently much media and political commentary on the consequences on not solving the problems of the fiscal deficit and allowing a fiscal cliff to occur. It is hoped that the fact that recognition of such problems is taking place will cause the U.S. leadership and Congress to make an effort to work together and find a solution involving a combination of fiscal restraint and finding additional sources of revenue. Without change, there is a chance that a fiscal cliff could occur.
Rio Tinto is currently investing the majority of its resources in Australia, followed by Canada and the United States. Rio Tinto is a global company which seeks the best quality of resources in the world, followed by determining the relative cost of development and the range of challenges to be addressed. Investment decisions are made based on a period of several decades by considering the balance between risk and potential long-term development both for Rio Tinto and the country in which it is investing.
Q3: In the energy world, there has been a huge revolution in the gas and oil sectors in relation to shale gas, and it is said that the United States is aiming for energy independence by 2020. Does this impact Rio Tinto's business in some sense? Do you see a huge potential economic recovery in the United States if it manages to achieve energy independence?
Tom ALBANESE
When necessity rises, both iron ore miners and steelmakers find a way to extend the resources through improving efficiency. There is potential for the United States to go from being an energy importer to an energy exporter based on recent advances in technology in relation to shale gas. A series of changes in the global landscape of energy over the past two years have probably been of more consequence than changes in the preceding 20 years, and it is very likely that shale gas will provide the U.S. industry and consumers with a lower cost of energy relative to other economies. The United States having this competitive advantage would no doubt spur other economies to find their own technical solutions.
Q4: In what way will future technology in Rio Tinto in relation to shale gas be environmentally friendly?
Tom ALBANESE
As technology continues to evolve, it will possibly become easier to cause less of a negative impact on the environment when searching for shale gas sources. The recycling of waste water will also be promoted in the future. Rio Tinto has been putting a lot of effort into lessening the environmental impact of its work, and it is the first and only mining company which is committed to net positive impact on biodiversity. Rio Tinto's aluminum smelting is the most carbon-friendly in the world, with over 85% of the total smelting capacity coming from carbon-free energy technology.
Q5: In response to the current volatile climate, Rio Tinto and its rivals have cut spending and closed mines. Have the worst of the conditions already passed, or is it expected to continue for some time? Second, are there concerns that the scaling back of current funding will negatively affect future developments from a multi-decade perspective?
Tom ALBANESE
It is likely that a volatile situation will remain so long as unresolved scenarios such as whether Greece will remain in the eurozone or not and if the potential U.S. fiscal cliff will occur. It is unlikely for such conditions to become stable within the next few years.
The mining industry tends to have long investment cycles driven by periods of secular demand. Investment cycles can last for 5-10 years and will generally lag behind the demand cycle. The growth of demand somewhere in the world such as China could see the mining industry short of supply. Such cycles are impossible to predict, and so instead it is important to focus on the highest quality businesses and low-cost operations which can ride out the best and worst of investment cycles.
Q6: What is your opinion on resource nationalism and the possible consequences of related policies? Second, minor metals are important for the high-tech industry of Japan, yet there is no competitive market. What is your view of development of the minor metal market?
Tom ALBANESE
It is important to hire locally and develop local teams. In Mongolia, Rio Tinto operates a large-scale skills training program similar in scale to that of the national education system. Working with local businesses to allow them to be part of the global supply chain must also be recognized as being of great importance.
Minor metals are strategically critical for certain customers, yet they don't constitute a great enough segment of the market to fit into Rio Tinto's portfolio.
Q7: Mining activities do not necessarily contribute to the development of resource-rich countries, and it is important to maintain a win-win situation for both exporting and importing countries. Rio Tinto has been supporting the Extractive Industries Transparency Initiative (EITA). What importance does EITA serve, and what other supportive activities does Rio Tinto carry out in resource-rich countries?
Tom ALBANESE
Rio Tinto feels that it is important to have complete transparency on payment for resources between countries for several reasons. It allows for an open engagement on tax policies between countries, and it reduces the risk of corruptive influence. Rio Tinto took this a step further by suggesting that companies should also disclose payments to governments, and has been doing so for the past two years. This allows for constructive discussion with finance ministries about what comparative tax rates are between different countries.
*This summary was compiled by RIETI Editorial staff.