| | |
| --- | --- |
| Date | October 15, 2012 |
| Speaker | Pradeep KASHYAP(Founder & CEO, MART) |
| Moderator | HATTORI Takashi(Consulting Fellow, RIETI/Director for Climate Change, METI) |
Summary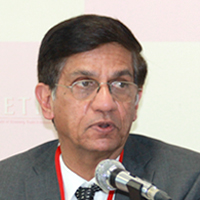 Pradeep KASHYAP
Today's presentation will cover several topics. First, opportunities for Japanese businesses in India will be introduced. Next, the Bottom of the Pyramid (BOP) will be discussed. Finally, a question and answer session will take place in order to answer any questions which the audience may have.
Japanese companies such as Toyota, Honda, and Suzuki first came to India in 1984 to sign joint-venture collaboration agreements with Indian companies. These collaborations for the most part were very successful. As an example, the Honda collaboration with Hero Motors in India produced more motorcycles last year than Honda did in Japan. A similar story is that of the Maruti Suzuki India Limited collaboration. Once again, Maruti-Suzuki produced many more vehicles in India last year than Suzuki did in Japan. This shows the great potential of the Indo-Japanese collaboration.
However, in the 1990s as the Japanese economy started slowing down, Japanese companies started to focus more on domestic issues and less on India. In the last 10-15 years, many Korean companies such as LG Corporation, Samsung, and Hyundai have moved into the Indian market and enjoyed success. Hyundai has become the second largest car manufacturer in India. If Japanese companies had continued to maintain their presence in India, it is likely that Hyundai would not have been able to have become such a big player in the Indian market.
India is a very complex country, whereas Japan is relatively homogeneous. There are 21 languages, presenting a significant challenge. Another issue is the culture. It is said that the culture changes every 10 kilometers. Officially, there are 56 socio-cultural regions. There are also large variations related to a multitude of parameters. Kerala has a literacy rate of 93% as opposed to Bihar with only 63%. Similarly, income varies greatly in different states. The income per capita in Goa is almost 10 times that of Bihar. With all of this in mind, India is a very difficult country in which to do business.
Furthermore, India could be seen as being broken down into three distinct Indias. India 1 comprises 50 large cities. India 2 comprises about 8,000 small towns. Finally, India 3 comprises around 640,000 small villages. The consumer behavior of India one is similar to that of New York, Tokyo, or London. However, Indias 2 and 3 have very different consumer behavior trends due to low income levels and low exposure. Looking at TV ownership, in India 1, it stands at around 50% as compared to only 12% in India 3. One point worth noting is that the share of the gross domestic product (GDP) is similar across all three regions. Therefore, companies should make an effort not to ignore any region by using different strategies in relation to each India.
As India is such a complex country, it may appear at first glance that it is not worth investing. This would be a mistake, as most of the developed markets such as that of the United States, Europe, and Japan have slowed down and now have almost no GDP growth. India's GDP has been growing at an average rate of 8% over the last 10 years and has a very large population. Furthermore, the average age is only 25 years old, which means that most Indians are at the beginning of the consumption curve. It is also estimated that consumer spending will rise by 360% in the next 10 years. Finally, India is emerging as a global innovation hub. On the basis of all that has just been mentioned, it would not be a good idea to ignore its enormous economic potential.
Leading from this, of the 1.2 billion people in India, 600 million earn less than $1 per day, 530 million people earn $1-$4 per day, and 70 million people earn over $4 per day. By 2020, the annual household income is expected to triple. The number of people earning $1-$4 per day is expected to increase to 800 million people. Therefore, the potential spending power in India is set to increase dramatically.
If Japanese companies want to establish themselves in India, the challenge is how to localize business. As the yen is a strong currency in comparison to the rupee, it is necessary to produce goods locally. A large part of the success of Maruti-Suzuki was due to how quickly the localization process was developed. By its fourth year in business, it had already achieved 90% localization. Japanese companies must also understand that the way a product is used can be very different in India. For example, in rural areas, electricity is only provided for 12 hours every day. Therefore, it isn't possible to watch television whenever one pleases. As a result, some Indian companies have to develop and attach a battery and charging circuit. Japanese television makers currently produce only standard products globally, and would miss out on a market in India. It is important to produce goods according to the needs of the consumer and the existing ecosystem in order to tap into the Indian market in many cases.
Two examples of success and failure stories of companies which tried to expand into the Indian market provide useful insight. McDonald's Corporation came to the country about 10 years ago and spent six years developing an independent and reliable supply chain prior to this move. Second, McDonald's understood that in India most Hindus don't eat beef, and most Muslims don't eat pork. Based on this, McDonald's removed all beef and pork products. It also set up different supply chains for vegetarian and non-vegetarian products, localized menus to suit Indian tastes, and based pricing relative to what is affordable. This combination of careful planning and adaptability has meant that McDonald's has been a great success story in India. Kellogg Company established itself in India in 1994, hoping to tap into the middle class market. First, Kellogg's failed to grasp that the majority of Indians don't eat cereal for breakfast. Kellogg's also failed to take into account that most Indians don't like to eat the same thing for breakfast every day. Third, Indians eat hot food including hot milk. Corn flakes in cold milk remain crisp, but when added to hot milk, they become soggy. Pricing was set at international rates, which meant its product was three times more expensive than local brands and therefore unaffordable. As it was not successful, Kellogg's attempted to launch different products, but didn't enjoy success with them. In conclusion, it is clear that the Indian market is complex, and companies must adapt in order to have success.
Now let us come to BoP — Bottom of the Pyramid. About half of the population of the world lives on less than $1 per day. This equates to $1.2 trillion per year, similar to India's GDP, and a significantly large market. Therefore, it seems important to make products with low cost and to price products relative to the local income. Delivery is also something which must be considered when attempting to break into the market. India has about 640,000 small villages, which present a logistical problem in terms of delivery. Unilever, which is the second largest consumer company in the world, previously had no business model for rural India. The reason for this was that the quantity of purchases from retailers tends to be low relative to the cost of delivery. Unilever separated the villages in rural India into categories depending on their population, and made the decision to distribute only to those villages with higher populations. However, it also carefully arranged distribution routes so that any smaller village located on the route could also be delivered to at no extra cost. This strategy has been successful, although the problem still remains as to how to distribute to the remaining very small villages and maintain profit at the same time.
Project Shakti is a Unilever project designed to find a solution to the problem of distributing products to small villages in rural India. The concept behind it is that local women from microfinance groups in small rural villages act as dealers for Unilever in selling products locally. The women buy stock from a nearby Unilever dealer, take it back to their village, and sell from house-to-house. The Indian government has set up microfinance groups in small villages to help to promote local business and reduce poverty, which provides good support and potential for economic growth. This business model allows women to earn potentially double their current daily income.
Project Shakti currently has 50,000 women entrepreneurs across India so far. This covers a total of 100,000 villages, which has resulted in 10 million new consumers and a 15% increase in sales for Unilever through this channel. This business model provides a win-win situation for all stakeholders, including local women in rural India, banks, governments, and companies. MART co-created Project Shakti and has also created several other win-win business models for other companies and for healthcare services.
The lessons learned in relation to BOP business models are that they must create a win-win situation for all stakeholders. Second, there must be approval from the top-level management of companies. Also, making use of the social infrastructure can bring about major benefit for companies without requiring investment. In the case of Project Shakti, local women took loans from banks to establish their businesses, yet Unilever still enjoyed a 15% increase in sales. Finally, a facilitating organization is necessary in order to bridge the gap between people living in rural India and foreign businesses.
The future potential economic growth of India looks positive. It is expected that India will become the fifth largest economy in the world, worth $10 trillion, by 2025. At present, it is focusing on developing the manufacturing sector, and it is predicted that this sector will come to represent 25% of GDP by 2022 as opposed to the current 16%, which should also result in a doubling of the employment rate. However, it is important that foreign companies entering the Indian market are seen to be those who will cooperate with the Indian government to promote goodwill. Foreign companies should support inclusive growth, connect with the local community, and develop efficient solutions in India in order to be successful.
The Coca-Cola Company is a good example of a company which undertakes positive projects in India. The most important ingredient in Coca-Cola is water, but India doesn't have an abundant supply of it. As a result, Coca-Cola has created many new systems including rainwater harvesting to minimize the amount of water taken from underground. Coca-Cola has improved its water usage efficiency in the country by 25% since 2005, and has installed 200 rainwater harvesting structures across 22 states. This has resulted in a win-win situation for both Coca-Cola and India.
Questions and Answers
Q1: You mentioned that it takes a lot of time to prepare a BOP business in India. Does this mean that a BOP business is difficult to penetrate in terms of structuring the supply chain?
Pradeep KASHYAP
India is a very big country. In order to create a business model, we have to work through one state at a time. It took us about four months to complete all aspects of setting up a BOP business like Project Shakti in one state, and our team only comprises about 20 people. In total, Project Shakti covers 12 states and 70% of the country. If more teams were available, it would be possible to complete a BOP business model much more quickly than we presently can, and the cost would be the same. The process itself is not particularly difficult, but it takes time simply due to the size of India.
Q2: Japan faces trouble in Asia and is looking for a new region where it can develop and expand its economy. India appears to provide a very promising future for Japanese businesses. It was mentioned that India can be thought of as a continent, rather than a country. I agree that Japanese businesses must consider the great variation in culture and language in order to have business success. There has been one successful Japanese company which has established a BOP business, which is Yakult. Other Japanese companies would benefit from following its successful business model, and also from MART. However, there are many concerns that it is too late to enter the Indian market. What are your opinions on this?
Pradeep KASHYAP
You have made some very important points. Japan was the first country in the world to miniaturize products and has done so on a wide range of products. That in itself is a good approach to a BOP business as it reduces the cost of products making them more affordable for people of lesser means. Japan enjoys a competitive advantage over most nations due to the ability to miniaturize, yet it is not taking advantage of this potential in India at present. Second, you mentioned that many people in Japan are saying that it is too late to enter the Indian market. Contrary to this, I believe that economic growth in India has only just begun, and will hopefully surpass the speed of growth in China. Finally, you mentioned your agreement that India could be thought of as a continent as opposed to a country. We believe that if a company can be successful in India, it can be successful anywhere in the world. The reason for this is that the variety of types of consumers in India is vast enough to cover the same type of variation found on a global scale.
Q3: What is your advice to companies which are concerned with the protection of intellectual property rights in India? What is your comment on the Maruti riots in India?
Pradeep KASHYAP
India is a very complex country. There are more Muslims in India than in Pakistan, and we also have many Hindus, Sikhs, Christians, and Buddhists. In such a multicultural country, disturbances and riots sometimes occur. You have to look at India over a period of time to get the full picture. India gained independence in 1947 and has had no problem with democracy. The riots tend to be localized and don't have a great impact on business. Regarding intellectual property, there is a totally transparent judicial system, and the Right to Information Act has existed since 2005 in order to tackle corruption. After the financial crisis of 2008, India was one of the only nations to have managed to continue to have its economy grow. Therefore, it is clear that its judicial systems are maturing and growing in effectiveness. However, intellectual property was not something that was considered to be important in the past. More focus was placed on production than on systems, much like Japan 40 years ago. Intellectual property systems are now developing, and non-disclosure agreements have to be signed with any global company which enters into business in India.
Q4: If I understand correctly, agriculture has a 50% share in terms of workforce in India, yet equates to only 20% of the GDP. I assume that addressing this kind of gap is an important task. What are your comments on this?
Pradeep KASHYAP
You are absolutely right. Actually, agriculture now only accounts for 15% of GDP in India, whereas people working in the services accounts for 50% of the workforce. The challenge is to reduce the workforce in agriculture from 250 million to 150 million people. On top of this, during this current decade, the population of India will grow. Therefore, it is necessary to create jobs for about 200 million people. The Prime Minister has set a target of skilling 500 million people in order to develop new skills. Recently, there have been collaborations between Switzerland and India, as the former is able to provide good low-cost models on training workers. Examples of industries in which training will be important include construction, healthcare, and education. China is the only country which created jobs for 100 million people during the 1990s to shift workers from the agriculture sector into industry. However, as India is a democracy, it will be more time-consuming in reaching a consensus on how to approach this problem, and it won't be possible to use China as a model to follow.
Q5: Please explain what you know about the BOP model of the global pharmaceutical company Novartis's operations in India?
Pradeep KASHYAP
Novartis is a global company with a drug for tuberculosis, and India is the tuberculosis capital of the world. The government of India established a program in which any tuberculosis patient can receive free treatment. However, there have been many problems. There have been many cases of doctors, medicine, and equipment not being available in times of need. As a result, Novartis decided to create a BOP business model in India with the help of MART. Doctors and test labs were requested to join the program, with the incentive of being guaranteed more business through patient referrals. Novartis then supplied drugs to pharmacies in the necessary areas, thus pharmacies also benefited from increased sales. The most challenging aspect of this project was how to make sure that treatment continues, as many people in rural areas don't understand the importance of continuing to take medicine until full recovery. With this in mind, MART created one health entrepreneur for every 20 villages. The health entrepreneur is responsible for accompanying patients when they visit their doctor and administering medication. As the publicly supported system is unreliable, Novartis and MART set up a system whereby patients pay for treatment. Patients are willing to pay as they are guaranteed full and reliable treatment. This BOP model has become so successful that four million people have been exposed to this private system, and 12,000 patients have been fully cured. This same model has now been effectively implemented in five countries in Africa. This is another example of a win-win business model for all parties involved. BOP is a business model so, of course, Novartis also makes a profit.
Q6: I have questions on the legal infrastructure in India. These days, a certain number of Japanese small- and medium-sized enterprises (SMEs) in the manufacturing sector are expressing interest in investing in India and other Asian countries. As a result, our corporation (SME Support, Japan) now supports such SME activities. There have been many complaints from such Japanese firms on the complicated legal systems related to land acquisition in India. What is your advice or observation on this issue? Second, you provided several examples on how to find good local BOP business partners in India. Could you provide any advice to Japanese SMEs which lack confidence in relation to finding such business partners in India? Finally, several foreign businesses analysts remain undecided on whether riots at the Maruti's Manesar plant in India are truly an exceptional case or not. What are your comments on this?
Pradeep KASHYAP
The Maruti-Suzuki collaboration started in 1983. This is the first time that such an unfortunate incident has happened. This is just one incident and has not happened in any other Indo-Japanese collaboration. The media has created a very negative portrayal of this incident, but the fact is that this collaboration has been a very successful one. This seems to be an exceptional situation. Regarding legal barriers in relation to land acquisition, it is true that land is a major issue in India because sellers must be rehabilitated. Also, land is a state matter, rather than a centralized governmental one. Land ownership is politically the most sensitive issue in India. If residents in rural areas don't agree with new land reform laws proposed by a local government, there is a high chance that government will not be re-elected as the rural population accounts for 70%. In terms of choosing a local business partner when starting business in India, it seems that Japanese companies have so far chosen partners very well. Japanese companies in general have a slow and steady approach, which has led to much greater success than the majority of U.S. companies. The best way to approach establishing an SME business in India would be to approach the Ministry of Trade, Economy and Industry (METI) in Japan and the Confederation of Indian Industry (CII), of which all companies are a member. They would probably be able to give advice to Japanese SMEs to decide on who could be a suitable business partner in India.
*This summary was compiled by RIETI Editorial staff.