| | |
| --- | --- |
| Date | October 3, 2012 |
| Speaker | Hans Dietmar SCHWEISGUT(Ambassador of the Delegation of the European Union to Japan) |
| Moderator | NAKATOMI Michitaka(Consulting Fellow, RIETI/Senior Advisor to JETRO) |
Summary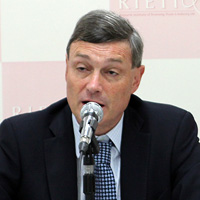 Hans Dietmar SCHWEISGUT
Ambassador Schweisgut opened his speech by reminding the audience that despite these difficult economic times with only slow growth projected in 2012 and 2013, the European Union (EU) remains the largest economy in the world. Even during the crisis, the EU imported €740 billion in manufactured goods in the first six months of 2012, up 4.5% on the same period last year.
Other key statistics on foreign direct investment (FDI), competitiveness and innovation illustrate that the EU remains a leading economic player despite all the negative media headlines. The Ambassador briefly outlined the latest EU responses to the sovereign debt crisis which has been a topic of major interest for policy makers and business leaders in Japan.
The Ambassador discussed how Europe has been obliged to develop a range of tools and mechanisms that not so long ago would have been deemed unthinkable including the creation of firewalls such as the European Financial Stability Facility (EFSF) and more recently the European Stability Mechanism (ESM). These truly historic efforts to resolve the crisis are ongoing as shown by the European Central Bank (ECB) recently announcing the landmark Outright Monetary Transactions (OMT) policy and the EU Commission announcing more detailed proposals on the move towards a Single Banking Supervisor in Europe.
The Ambassador also highlighted the wave of structural reforms that have been undertaken all over Europe. With much media talk of the supposed choice of growth or austerity, the Ambassador stressed how this is an artificial distinction and a false choice. No policymaker believes that sustainable growth can emerge from steadily growing deficits and debts. The Ambassador closed his comments on the crisis by stressing that there will be no quick solution to the crisis but rather an incremental progression of reforms to tackle the root causes.
Turning to the potential for growth from the expansion of trade links, the EU is committed to planting new seeds of economic growth through pursuing free trade agreements. The Ambassador stressed that there is a significant untapped potential in the trade flows between Japan and the EU (which together represent more than one third of the world economy), and that an free trade agreement (FTA) could unleash such potential, assuming that, on top of tariffs, non-tariff barriers (NTB's) are properly dismantled on Japan side. The Ambassador then provided an overview of the various steps taken to date (the Paragraph 34 exercise back in 2009 and its four "pilot projects," and then the work of the High Level Group) up to the successful completion of the scoping exercise. The importance of these confidence building steps was emphasized, in the context of the need to convince sceptics of the potential benefits of an FTA between the EU and Japan. Currently, based on the decision by the European Commission on July 18, 2012 to seek a negotiating mandate from the Council, the negotiation directives are being discussed by all 27 member states of the EU.
*This summary was compiled by RIETI Editorial staff.