| | |
| --- | --- |
| Date | January 31, 2012 |
| Speaker | Surin PITSUWAN(Secretary-General of the Association of Southeast Asian Nations [ASEAN]) |
| Moderator | NAKATOMI Michitaka(Senior Fellow, RIETI / Principle Trade Negotiator, Trade Policy Bureau, Ministry of Economy, Trade and Industry [METI]) |
Summary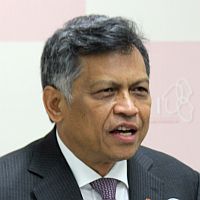 Surin PITSUWAN
It is extremely important for ASEAN and the elites of Japan to come together and understand the vision and aspirations of both sides. ASEAN couldn't be where it is today, with $2 trillion in trade between its member states and the world at a resilient and sustained average growth rate of 6.5%-7%, without the support of Japan since the late 1960s hitherto. Japan has made a tremendous contribution to Southeast Asia. Every country in the region began with a very centralized government and planned economy. This worked for a few years, and then each country tried to open up. The private sector became stronger, the political landscape opened up, and now we have some of the noisiest democracies in the world in Thailand, Indonesia, and the Philippines. We have very dynamic economies in Singapore, Malaysia, and Vietnam. We have diversity in our governance, economic structure—although it is more and more market oriented—, and we still have differences in the way we conduct our international affairs. However, all in all, we have made a unified journey up until now with the encouragement of Japan.
In the beginning, ASEAN had few technical resources to talk about. The Japan International Cooperation Agency (JICA) went to Thailand and set up an institution training personnel to participate in the new industries coming in from Japan and around the world. For that, ASEAN certainly owes much to Japan.
The idea of ASEAN integration began not as a free choice but as a strategy for survival. The world had become much more competitive. The rise of China and India has made it very clear to every ASEAN country that we must cooperate and compete from a larger platform with a market of 600 million people. This is more attractive to the world.
As Southeast Asia has developed collectively, we have made concessions, asked for concessions, given and taken, and that evolved into the ASEAN agreement in 1992. By then, China was emerging, India was beginning to get itself together, and we were beginning to feel that the oxygen of foreign investment in Southeast Asia had been exhaled to North and South Asia. We realized the need to become more competitive, and that is when the idea of creating one market came into being.
In 1997, all of a sudden we realized that we were much more integrated than we had thought. The economy crashed in Thailand, and then the next day in Malaysia, the next day in the Philippines, and then all the way to South Korea. It was the first East Asian financial crisis. Countries like Japan felt strongly that if something happened to ASEAN, Japan too would be negatively impacted due to its heavy investments and large trade volume with the region.
The idea that East Asia should come together and evolve in unity has come to fruition. Prime Minister Dr. Mahathir bin Mohamad was the first to propose an East Asian Economic Caucus (EAEC). The idea was despised and ridiculed at the time, but then it was 1997, and Malaysia was the chair. Dr. Mahathir invited China, Japan, and South Korea for the first time to Kuala Lumpur and the ASEAN summit, and we had the first ever get together of the ASEAN+3. Out of that, Japan took the lead in trying to get the International Monetary Fund (IMF) to put a package together to help ASEAN countries recover. This was known as the Miyazawa Plan. Since then, the feeling of union between Japan and Southeast Asia has become much stronger.
Japan has become aware that investing internationally is a strategy for the survival of the Japanese economy. With Japan's shrinking economy, shrinking population, and abundance of advanced technology, the only way out is to market Japanese products, invest, and create goods outside of Japan. Everyone must now accept this and work to make sure that our relationship of economic cooperation is becoming more productive.
East Asia must come together in a more formal and integrated way. However, East Asia is a landscape that is still lacking the formal processes, institutions, and systems that will allow us to evolve. Henry Kissinger has said that if you look at East Asia, economically, it is dynamic, vibrant, and creative. Its technology and science are similar to Western Europe and North America. He said this as China and Japan and Southeast Asia were growing. Mr. Kissinger's next observation was that East Asia does not have the institutions, processes, and systems to take care of their differences, which are in abundance compared to Europe. He suggested that this was the mission for East Asia—evolving together and creating a wave of relationships, institutions, and processes to make sure that economic growth continues and that political and security issues do not undermine the momentum of economic cooperation and growth in the region. That is, the direction, orientation, and logic of East Asia cooperation. That is why the ASEAN+3, ASEAN+6, and the East Asian Summit (EAS) came into being.
The EAS is comprised of 16 countries primarily interested in sustaining economic growth. Although it is less interested in security and politics, when the countries come together, all of the issues come onto the table. These countries and the world realize that East Asia has become a new engine of growth for the world, particularly in relation to what has happened in North America and Western Europe since 2008. Even as early as October 2008, the world was aware that East Asia would be the savior that would help stabilize the global economic crisis, helping the world return to forward movement.
So East Asia has grown from being a backwaters region in the 1960s to today, where it is the locomotive of the global economy. The challenge now is this: how can it maintain that status?
Japan has its own challenges, both in terms of its shrinking market and aging population, coupled with natural calamities in the Sendai area and in Bangkok. Japan realizes that its connectivity brings great profit, benefits, productivity, and growth to its own GDP while at the same time bringing a challenge. What happened in Thailand for two months disrupted the Japanese production network inside and outside of Japan. It is extremely important that Japan and other countries in the region join together much more intimately in order to ensure sustained growth moving forward.
This is why the ASEAN regional architecture is coming into being. The debate since 2005 has been whether the world will see the development of ASEAN+3 or ASEAN+6. Both groups have their own attractive points and weaknesses. For one, Japan, China, and Korea plus ASEAN is a manageable East Asia and equivalent to a regional EAEC. It has the momentum of the past. Is that going to be enough? In the competition with the world, India is emerging and Australia is full of dynamism. The two streams of thought are in contention.
Over the past year in Bali, the ASEAN countries decided to take the leadership of this architecture. It will not be one plus three as proposed by China or one plus six as proposed by Japan, but a unified regional architecture. The world is interested in this. Russia and the United States want to join, and the European Union (EU) is knocking on ASEAN's door. Southeast Asia is an open space. As much as Japan has invested technology, human resources, and capital into Southeast Asia, at this point, the largest foreign investor in the region is the EU.
ASEAN cannot afford to be a closed market. It must remain open, equitable, and accessible. In this landscape, ASEAN wants Japan to join and be prosperous with it. However, ASEAN has noticed that Japan has some reluctance toward the region. This may be due to the earthquake disaster, its aging population, or the global economic situation, but ASEAN is beginning to feel that Japan is restrained in its work to encourage dynamism in Southeast Asia. Out of $78 billion in foreign investment in 2010, 70% went into the service sector. This means that the middle class is expanding and quality of life is improving. The experiences, quality of life, discipline, and norms and values of Japan could work as a very effective package of soft power for the country. This is Japan's edge over others. Japan is close to ASEAN; it has an eastern kind of mentality; it has mutual respect; and it is courteous. The Japanese service industry's standards and quality are extremely appealing to the expanding middle class of Southeast Asia.
While Japan continues to infuse its capital into the material growth of Southeast Asia, it should be remembered that Japan has something else to offer the region. The growth of Japan must be parallel with the growth of Asia. It is no longer enough for Japan to grow within itself. It must grow outside.
This is not the time to disengage. This is not the time to be traumatized by natural disasters, political uncertainty, or the rising yen. This is the time to engage more with the rest of the world.
ASEAN wants to grow on the basis of sound research. Out of the 16 countries of East Asia, it was the wisdom of Japan that created the Economic Research Institute for ASEAN and East Asia (ERIA). This institution is a service to ASEAN as an intellectual and research arm helping us move forward into the future. This is a sign that Japan sees the importance of the region.
ASEAN and Japan still have a long road to travel together. As much as it is said that growth is impressive, trade has increased as well as prosperity, and there are still tremendous pockets of inequality in the region. These pockets of inequality lead to instability, tension, disruption, and sometimes political violence. Indonesia has evolved quite far. Thailand continues to struggle because of its domestic inequalities. Myanmar is emerging out of its own self-imposed isolation. Japan has never cut its own relationship with Myanmar. The country is evolving impressively. It is full of natural resources and is strategically located between two giants: China and India. ASEAN is at its bottom, like a cushion, supporting and helping it. ASEAN and Japanese cooperation there will be beneficial to the region as a whole.
ASEAN wants to be part of the Japanese growth and recovery. It also wants Japan to feel less restrained about its own resources because to recover truly both economically and psychologically, Japan must be productive. The feeling of productivity can be found in Southeast Asia more than anywhere else.
Doha is stalling, and the world is attempting to tantalize ASEAN with the idea of a Trans-Pacific Partnership (TPP). This idea came about only because of the effective growth of ASEAN. ASEAN is interested in the TPP, but it would rather concentrate on its own integration and framework. Those who are ready may explore the TPP, such as Brunei, Singapore, and Malaysia. The world does not know how long this idea will be around. There is uncertainty about the U.S. Congress and presidential elections. There are a lot of uncertainties. ASEAN would therefore rather concentrate on ideas that have already begun and for which there is already momentum.
Japan should not forsake ASEAN or Southeast Asian regional integration. Japan would be wrong to go full-force into the TPP when it is just beginning to evolve. There is no problem with toying with the idea, but Southeast Asia remains the better choice for Japan.
Comments
KITAGAMI Keiro (Vice Minister, METI)
The necessity for further economic integration and a more active role by Japan was pointed out. The Japanese government and people will overcome the challenges that Japan faces. The country is already in the process of looking outward, especially toward East Asia.
The TPP was mentioned as well. This is an interest for Japan, but it is also merely a vehicle. Japan is not pursuing a one-track path to free trade. Free trade agreements (FTAs) and bilateral agreements are important, as well as comprehensive regional economic partnerships. Japan's interest in the TPP is not an exclusive strategy, but a comprehensive one with the ultimate goal of achieving a Free Trade Area of the Asia-Pacific (FTAAP). This is the current overall strategy of the Japanese government. Japan is relying on ASEAN to begin the process of a comprehensive regional economic partnership by establishing working groups, as agreed upon in the EAS in 2010.
Japan believes that there already exists a connectivity plan in ASEAN. Other countries are emerging as well that are very relevant economically and diplomatically to ASEAN and Japan, such as India. Japan believes that these countries should be included. This would make the integration in Southeast Asia more attractive.
ERIA has already produced a comprehensive plan for East Asia, and this should be examined. Japan is ready to further increase the connectivity between ASEAN and other countries. Japan has decided to accept 1,000 trainees from the ASEAN area for infrastructure projects in Japan. Japan has made a plan for the Disaster Management Network for the ASEAN region, utilizing satellite facilities to increase connectivity in relation to crisis management.
ERIA has been pivotal in promoting greater energy cooperation in ASEAN. East Asia is not only the engine of future economic growth, but also it is the largest consumer of energy in order to fuel this engine. By 2035, the energy consumption in East Asia will double what it is consuming right now while the world at large will only increase by 1.75%. Japan believes in greater energy cooperation in the area. Japan will promote economic growth in terms of technology and infrastructure projects. Japan believes that the environment should be economically sustainable. Japan continues to propose a bilateral offset mechanism in which Japanese technology is transferred to other countries.
Japan will continue to propose further economic integration with ASEAN, enhancing economic growth in areas such as energy cooperation, technology, the environment, and service-oriented and cultural exports.
The ASEAN Roadshow will come to Japan in April. Along with ASEAN, Japan is fully prepared to make this a great success. The world is facing many troubles. Japan continues to believe that East Asia, centered on ASEAN, will be the engine for the world, and Japan thus looks forward to stronger cooperation, casting off the shackles of insularity to engage in ASEAN's journey.
Surin PITSUWAN
Japan and ASEAN have many cooperative initiatives, whether it is the Master Plan on ASEAN Connectivity or the comprehensive economic partnership of East Asia. All have been partly inspired by the leadership of Japan and METI. It is evident that Japan and ASEAN must make their journey together. The two sides see each other's strengths and recognize each other's limitations, and together, each can enhance the strengths of the other. Japan and ASEAN are on the same path and still have a commitment to walk together into the future in the face of the tremendous pressure and competition. Both sides must send the right signals together, showing that they are on the same page.
ISHIKANE Kimihiro (Ambassador to ASEAN)
Japan's private and public sectors have always cooperated with ASEAN, especially in 1977 when then-Prime Minister Takeo Fukuda visited the ASEAN economies.
The political and economic landscapes in ASEAN have been changing dramatically. Economic integration is taking place with ASEAN at its center. China's influence is growing, and the United States is again showing interest in the region.
What are the challenges of ASEAN, and what role can Japan play to help it with these issues? First, ASEAN faces the challenge of harmonious integration. There are pockets of inequalities across the region. Vulnerabilities exist in terms of finance, economics, and natural disasters. These vulnerabilities must be alleviated or eliminated.
Another challenge has to do with rule making. If ASEAN is to prosper, it will not be by constructing walls. ASEAN should have a high-quality protocol of interface.
The maintenance of the centrality of ASEAN is another challenge. ASEAN has used the idea of centrality to avoid problems of diversity and contests over influence. Japan fully supports the idea of ASEAN centrality in Southeast Asia.
Japan will also fully support the Master Plan on ASEAN Connectivity. This has been said repeatedly. Japan sets up task forces to set up projects for connectivity. We also held dialogue with the ASEAN Connectivity Coordinating Committee (ACCC). Japan was the first interlocutor of connectivity in this regard. Before the Bali Summit, there were ministerial meetings in Japan gathering the relevant ministers to sort out dozens of projects to be implemented by Japan in ASEAN. This support is slated to amount to more than two trillion yen. Cooperation with ASEAN countries by the public sector to support infrastructure investments will pave the way for greater investments by the private sector. Japan will thus pursue connectivity support with all of its energy.
Japan will also support ASEAN to overcome its vulnerabilities. The world has witnessed ASEAN's vulnerability to natural disasters, and Japan is ready to help improve this situation. Some of the countries in ASEAN are lagging behind in terms of Millennium Development Goals (MDGs), and Japan is interested in supporting a solution to this.
In terms of the further liberalization of money and capital, ASEAN hosted a special foreign ministers meeting after March 11. It was the first special ministerial meeting that ASEAN has ever hosted for an outside country. It was a clear demonstration that ASEAN values Japan.
Surin PITSUWAN
In terms of the Master Plan on ASEAN Connectivity, if anything, the plan gives a better perspective on where the region is going in terms of efforts to link together infrastructure. These projects are going to help ASEAN consolidate itself. It will ensure that each member economy knows how its own infrastructure efforts fit in with other efforts and contribute to growth in the region. The region is no longer building in isolation. Slowly, the region is building a comprehensive network. ASEAN recognizes that Japan is interested in both East-West and North-South corridors.
On April 9 in Jakarta, a historic meeting, the Special ASEAN-Japan Ministerial Meeting, was held. Never before had ASEAN held a meeting on a singular issue in a specific country. The meeting was intended to show that ASEAN cares about Japan. However, the foreign ministers had no way to support Japan directly—many of the measures each minister wished to implement for Japan were in the hands of economic ministers. Now these ministers are drafting an ASEAN-Japan 10-year Strategic Economic Cooperation Roadmap. ASEAN recognizes Japan's desire to grow with Asia.
The roadshow is a part of this initiative. Cooperation for the roadshow and the ASEAN-Japan 10-year Strategic Economic Cooperation Roadmap must be systematic, competitive, and attractive. In order to energize Japanese industry and cooperation, ASEAN is encouraging the activities of the Federation of Japanese Chamber of Commerce and Industry (FJCCIA). We have been holding dialogues with the heads of chambers of commerce in ASEAN. This is another mechanism to make the private sector of Japan feel welcome.
Questions and Answers
Q: There are four members of ASEAN that wish to participate in TPP. How do you address this? Is the TPP detrimental to ASEAN integration?
Surin PITSUWAN
The point is that it is certainly tantalizing and attractive to explore other forms of integration, but we should not forsake ASEAN.
Even U.S. President Obama has stated that we must find an alternative route to trade integration because the Doha Round has stalled. The TPP is a way of trying to explore an alternative, but it is not yet complete or holistic. It is born out of the frustration that the Asia-Pacific Economic Cooperation (APEC) is moving too slowly. The World Trade Organization (WTO) has stalled, and APEC is not going anywhere.
Four ASEAN countries are interested in the TPP, but this is not the only option. The ASEAN route has legitimacy in the region and should not be forgotten or forsaken along with the new interest in the TPP. These four ASEAN member economies have bilateral relations with the rest of the world. ASEAN is a collection of a very diverse group of countries and will not prevent individual countries from pursuing their interests. However, the journey together must go on. In the end, it is more beneficial to have a group of 600 million consumers investing and growing together.
Q: Myanmar used to be considered a stumbling block between ASEAN and the rest of the world, but the times are changing. The country must be encouraged to change its norms and laws. What lessons or assistance do you think ASEAN countries may be able to provide Myanmar?
Surin PITSUWAN
ASEAN has been supportive of reconciliation with Myanmar since the financial crisis in 1997. ASEAN has delivered the good will, pressure, and expectations of the world to Myanmar. We have also told the country to take its time, be comfortable with what it is doing, and be aware that the entire world is not hostile, but that it wants to see progress in terms of human rights and policy. In 2006, Myanmar knew that it could not chair ASEAN by itself. In 2008, when Cyclone Nargis hit, many joined with ASEAN to help Myanmar, and that is when we made a strong statement that the world was not entirely hostile to Myanmar. Since then, Myanmar has gained some confidence that it could deal with the world. There has been progress toward elections, and ASEAN was quick to issue a statement two months afterward that sanctions against Myanmar should be lifted. We made it clear that Myanmar will not benefit from the dynamism of ASEAN until it makes internal adjustments to such matters as its foreign investment law and production system. ASEAN told Myanmar that it must learn to speak the language of the market. When partners say they are interested in the Master Plan for Productivity, they invariably mean that their private sector is interested in the master plan on connectivity. They come in for profit, and there is nothing wrong with that.
ASEAN does not just look to Myanmar for manpower or cheap labor; it also looks to share its experiences. Myanmar certainly has ASEAN upon which to rely. Many foreign ministers have now gone to visit Myanmar. The debate is not entirely about how to help Myanmar; it is also about where ASEAN stands on the issues surrounding Myanmar. The country is part of ASEAN, and ASEAN's stance must be heard. ASEAN will continue to listen to Myanmar and explore to what areas the economy can make a contribution. ASEAN counts on Japanese, regional, and global support to assist Myanmar. ASEAN will also communicate to Myanmar what the world expects of it as the chair in 2014. If Myanmar makes one move in the right direction, ASEAN will be a cushion behind it to ensure that it does not move back.
FUJITA Masahisa (President, Chief Research Officer, RIETI / Professor, Konan University / Adjunct Professor, Institute of Economic Research, Kyoto University)
Many global issues were pointed out today, including the Great East Japan Earthquake. Japan is feeling less confident and more isolated, but it has a strong friend in ASEAN. This message is important. Japan has a long and strong relationship with ASEAN politically, culturally, and economically. Japan hopes to develop even greater cooperation with ASEAN. Culturally, AKB48 (a Japanese female idol group) is going to open a branch in Jakarta, JKT48, and it is hoped that this will serve as a bridge between the young people of Japan and ASEAN.
*This summary was compiled by RIETI Editorial staff.