Information
Time and Date: 10:00 - 17:30, Friday, July 6, 2010
Venue: London Business School, Room LT2
Hosts: Centre for Economic Policy Research (CEPR) and Research Institute for Economy, Trade and Industry (RIETI)
Summary
Third Session
"Closely Competing Firms and Price Adjustment: Some Findings from an Online Marketplace"
Prof. WATANABE Tsutomu (Faculty Fellow, RIETI/Professor, Institute of Economic Research, Hitotsubashi University)
Faculty Fellow WATANABE Tsutomu presented findings from an analysis of price competition in Japan, using a set of price data obtained from a leading price comparison website. He properly demonstrated that the price lowering behavior by one actor (retailer) prompts others to lower their prices in the online marketplace. It was also shown that pricing behavior - typically triggered by external shocks such as improved productivity - is transmitted to the market after a considerable amount of time (Figure 4).
Figure 4: Price Differences among Stores and Click Probability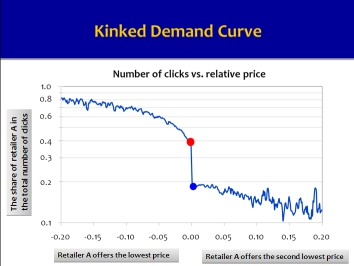 [Click to enlarge]
"A Response by Prof. DRIFFILL to Prof. Watanabe's Presentation"
Prof. John DRIFFILL (Professor of Economics, Birkbeck College, University of London)
Commenting on the presentation by Faculty Fellow Watanabe, Professor Driffill raised questions as to how the presented micro-analysis model can be utilized or expanded to enable a macro-level analysis of price fluctuations. He suggested that the stickiness (rigidity) of wages may be a larger factor for deflation and inflation than prices. He also pointed to the need to consider financial risk hedging.