I. Introduction
As part of the response to climate change, reducing carbon emissions through a shift from gasoline to electric vehicles (EVs) has become a global trend. China, which is already the world's largest automobile manufacturer and market, is leveraging the development of its EV industry to transform itself into an automotive superpower. EVs were designated as one of the 10 key industry sectors in the "Made in China 2025" plan announced in May 2015 (Note 1). The government has also set a goal of making battery electric vehicles the majority of car sales by 2035.
China has already established itself as the world's largest producer and market for EVs. In addition to government support, the rise of emerging private companies such as BYD and the modularization of production have provided favorable conditions for the development of the EV industry in China. Against this backdrop, China's automotive industry is rapidly catching up with Japan. In fact, the share of Chinese brands is rising in the Chinese market, while that of Japanese brands is falling. In the international market as well, Japan's automobile exports have been overtaken by China.
In China, EVs are commonly referred to as "new energy vehicles" (NEVs). The term includes three types of EVs: BEVs, PHEVs, and FCEVs (Table 1). Since large-scale production and sales of FCEVs have not yet begun in China or other countries, the discussion of EVs in the text will be limited to BEVs and PHEVs.

II. China as the Host the World's Largest Automotive Industry
The development of the automobile industry in China, which had long lagged behind that of developed countries, has grown rapidly, especially with the large-scale entry of foreign companies following China's accession to the WTO in 2001. The number of automobiles produced in China exceeded 1 million for the first time In 1992, and reached 10 million in 2009, surpassing Japan to become the world's largest automobile producer. Sales volume has also increased in tandem with production, making China the world's largest automobile market. Due to the economic friction between the U.S. and China and the COVID-19 pandemic, the auto industry entered a period of stagnation in 2017 when both production and sales peaked at around 29 million units, but has been on the road to recovery since the end of the COVID-19 pandemic in 2023. At the same time, the number of automobiles exported is growing rapidly, and China is on track to overtake Japan to become the world's largest exporter of automobiles in 2023.
According to the China Association of Automobile Manufacturers, vehicle sales in 2022 were up 2.1% year-on-year (YoY) to 26.86 million units (of which 23.56 million were passenger cars and 3.3 million were commercial vehicles) and production was up 3.4% to 27.02 million units. Both sales and production of automobiles in China exceeded 30% of the global total, making it the world's largest producer, far exceeding both the United States (production at 10.06 million units and sales at 14.23 million units) and Japan (production at 7.84 million units and sales at 4.20 million units) (see Table. 2). Following the end of the COVID-19 pandemic, cumulative vehicle production in China in January-April 2023 reached 8.355 million units, up 8.6% year-on-year, and sales reached 8.235 million units, up 7.1% year-on-year.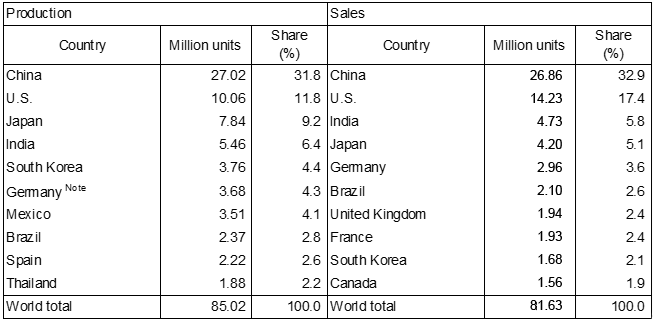 In China, auto exports are growing much faster than production and sales. According to the China Association of Automobile Manufacturers, China's auto exports had hovered around 1 million units per year until 2020 after exceeding 1 million units for the first time in 2012. They doubled to 2.015 million units in 2021, and then surged further to 3.111 million units in 2022. The number of vehicles China exported in 2022 surpassed that of Germany, making it the world's second largest exporter after Japan (Note 2). In 2023, China's auto exports continued to gain momentum, with a cumulative total of 1.370 million units exported from January to April, up 89.2% from the previous year As a result, China has now replaced Japan as the world's largest exporter (Note 3).
III. The Accelerating Shift to EVs in China and Its Background
EVs are driving automobile production, sales, and exports in China, and in 2022, EV sales grew 93.4% YoY to 6,887,000 units, accounting for 25.6% of total global vehicle sales (Figure 1). Of this total, BEVs grew 81.6% year-on-year to 5,365,000 units, and PHEVs increased 151.6% to 1,518,000 units. For the eighth consecutive year, China has ranked first in the world in EV sales. Cumulative January-April 2023 EV production rose 42.8% YoY to 2,291,000 units and sales rose 42.8% YoY to 2,222,000 units (a 27.0% share of total global vehicle sales).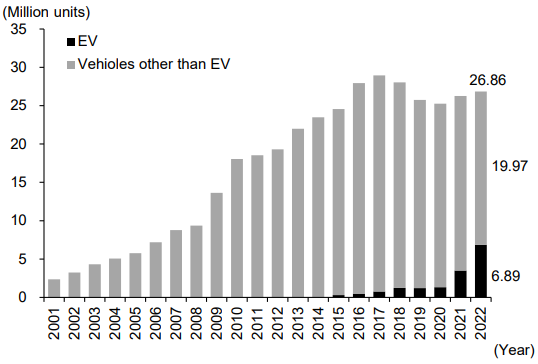 Source: Compiled by the author from CEIC (original data from China Association of Automobile Manufacturers.)
China has already become a major EV power, surpassing the EU, the US, and Japan. Looking at passenger cars only, China's share of total global EV sales (10.2 million units) in 2022 reached 57.8%, far ahead of that of the EU (19.4%), the US (9.7%), and Japan (1.0%) (Figure 2). In addition, the share of EVs in total passenger car sales is 29% in China, far exceeding that of the US (8%), EU (21%), and Japan (3%) (Figure 3).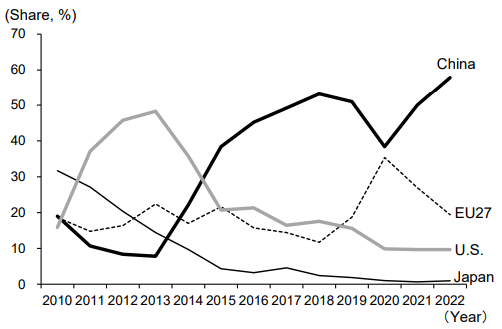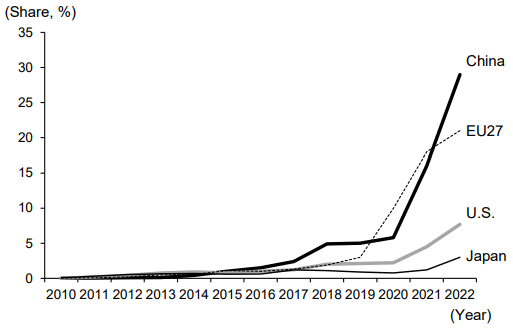 Of the top 10 companies in global EV sales in 2022, six are Chinese companies (Table 3). Of these, BYD's sales volume reached 1.85 million units with a global share of 18.3%, overtaking Tesla (sales volume of 1.31 million units with a global share of 13.0%) to take the top spot worldwide.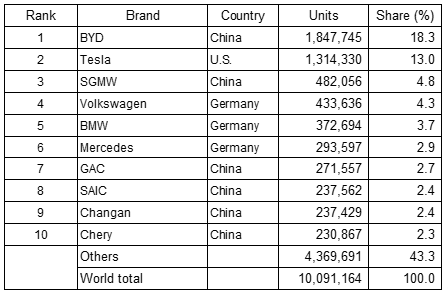 The number of EVs exported from China surged to 679,000 units in 2022, 2.2 times that of the previous year, and reached 348,000 units in January-April 2023, more than 2.7 times that of the previous year. The expansion of EV exports has contributed significantly to the overall growth of China's vehicle exports (Figure 4).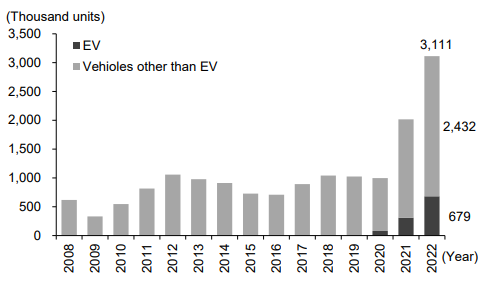 The main reasons behind the rapid expansion of the EV industry in China are government support measures aimed at environmental protection, as well as technological innovation, cost reduction, and supply chain development.
First, the Chinese government is actively promoting the spread of environmentally friendly EVs, with an emphasis on climate change countermeasures and energy conservation. To date, it has implemented support measures such as purchase subsidies for EVs (to end at the end of 2022), purchase tax exemptions (10% of purchase price) (to end at the end of 2023), and deregulation of license plates. In addition, the State Council announced in November 2020 its "New Energy Vehicle Industry Development Plan (2021-2035)," which calls for the increase in EV sales from about 5% of total auto sales at the time to about 20% in 2025, and the shift of the majority of new auto sales to BEVs by 2035.
Also, although Chinese companies were relatively late to enter the EV market, they have made significant progress in terms of technological innovation and cost reduction (Note 4). Chinese EV companies have superior technologies in car batteries, electric drive systems, and smart mobility. Leveraging these strengths, Chinese-made EVs have become internationally competitive in terms of cruising range, charging speed, and automated driving.
Furthermore, China has a well-developed supply chain for the entire industry, including not only EV manufacturers, but also battery manufacturing, charging infrastructure, and component suppliers. In particular, China's Contemporary Amperex Technology (CATL) and BYD rank first and second, respectively, in the global EV battery market, with the two companies together accounting for about half of the global market share. Well-developed supply chains have led to increased efficiency in manufacturing and R&D, reduced production costs, and increased competitiveness.
IV. The rise of BYD and other Chinese brands
For a long time, the Chinese auto industry was dominated by vehicles produced in joint ventures with foreign capital and sold as foreign brands, but here we are seeing the rise of Chinese brands in the domestic market. The share of Chinese brands in passenger car sales was hovering around 40% for the past decade, but it rose to 44.5% in 2021, 49.9% in 2022, and finally exceeded 50%, reaching 52.2% in the first quarter of 2023 (Figure 5). On the other hand, among foreign brands, the share of Japanese-affiliated brands has dropped significantly from a peak of 23.1% in 2020 to 15.5% in the first quarter of 2023, while the share of Korean-affiliated brands has dropped from 9.0% in 2014 to 1.7% in the first quarter of 2023.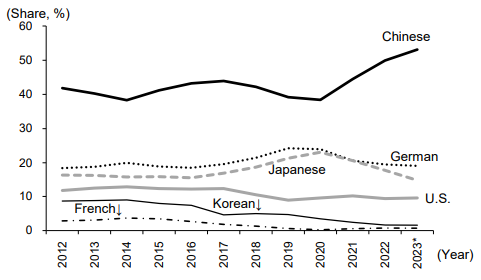 The main Chinese brands are BYD and other emerging private companies.
First, BYD's passenger car sales have been growing rapidly, and in the first quarter of 2023 they finally overtook Volkswagen, the long-time leader in the Chinese market (Figure 6).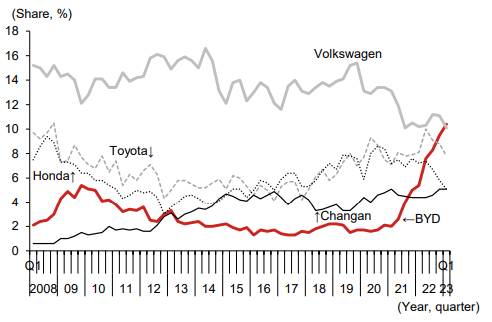 In the EV field, of the top 10 companies in terms of sales volume in 2022, with the exception of Tesla, which is 100% foreign-owned, and some companies such as SAIC Motor that have joint ventures with foreign companies, the rest are Chinese-brand mainstays (Table 4). Looking at passenger cars only, Chinese brands have a 79.9% share of the EV market in China (Note 5).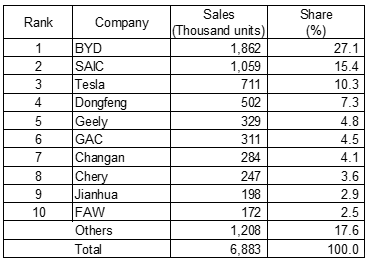 Furthermore, in terms of exports by manufacturer, the top 10 exporters in 2022, led by emerging private companies such as Chery and Geely, are exporting more Chinese brands (Table 5).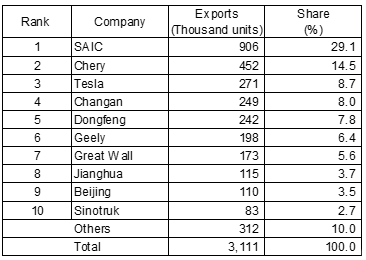 BYD, a privately owned company headquartered in Shenzhen, is one step ahead in the development of the EV industry in China.
BYD was founded in 1995 as a battery manufacturer and has since expanded its business globally in four areas: IT electronics, automobiles, new energy, and urban mobility. The company develops and manufactures not only batteries but also motors, controllers, and other core EV technologies in-house. In particular, in the automotive business, the company is developing sales not only in China but also in more than 70 countries and regions around the world, and as mentioned above, it became the world's number one EV sales company in 2022.
Berkshire Hathaway, led by renowned investor Warren Buffett, saw growth potential in BYD and acquired 10% of its shares for $230 million in September 2008. This brought significant national and international media attention to the company.
In December 2008, BYD introduced the F3DM, the world's first mass-produced plug-in hybrid passenger car. Subsequently, the company also developed commercial EVs such as buses, trucks, and forklifts.
The company's strength lies in its battery technology, and its EVs are equipped with lithium-ion iron phosphate batteries that use proprietary technology. Compared to the so-called ternary lithium-ion batteries used by other companies, these batteries are superior in terms of safety, energy density, and cruising range per charge.
Having consolidated its position as the leading manufacturer in the Chinese market, BYD is now focusing on developing overseas markets, and has announced a series of plans to enter passenger car markets in Japan, Germany, Norway, Denmark, Sweden, and India from July 2022 onward.
BYD has been exporting EV buses and taxis from China to Japan since 2015, and on January 31, 2023, the company opened its first dealership in Japan and began selling electric passenger cars.
V. China catching up with Japan by leveraging modularized production of EVs
China is riding the global trend of shifting to EVs and aims to become an automotive powerhouse. Modularization in EV production is on the rise, and this provides a favorable technological environment for the development of the automotive industry in China.
Based on the basic design concept (architecture) of a product, industries can be broadly classified into two types: modular and integral. In modular industries, products are made by combining standardized modules that can be manufactured independently. Since each module performs a specific function and is interchangeable, they can be assembled into a variety of products. This approach is efficient and flexible, and contributes to increased productivity and product variation. A typical example of a modular industry is the smartphone. On the other hand, in integral industries, the traditional approach is to create products by designing specific components and combining them in coordination with each other. While this method is suitable for creating unique products, it tends to increase design and production costs because many of the parts and components are proprietary and require close communication and information sharing between departments. A classic example of an integral industry is the conventional automobile industry.
Japan is considered to excel in integral type industries, while China excels in modular industries. In Japan, the skills and spirit of "Takumi" (master craftsmen), including strong attention to detail, accumulation of technology and experience, pursuit of quality and reliability, inheritance of traditions, and innovation support its integral-type industries. China, on the other hand, has demonstrated its strength in modular industries by taking advantage of its mass production, cost competitiveness, and manufacturing speed and flexibility.
The production of EVs involves significantly fewer parts than conventional gasoline-powered vehicles, making it easier to design and manufacture parts and components as independent modules. This gives China's automotive industry a great opportunity to catch up with Japan, which in turn will have to face more and more competition with China.