In China, the Internet industry has emerged as a new engine driving economic growth in recent years, and the "Internet Plus" action plan, which aims to amalgamate the Internet with conventional industries, has also become an important part of the government's industrial policy. Baidu, Alibaba, Tencent, and JD.com, leaders of China's Internet industry, have already grown into the world's top 10 companies, closing in on Google, Amazon.com, and Facebook in terms of market capitalization (Figure 1). Although many of the Internet companies in China were founded by Chinese and their management teams are also primarily Chinese, they are "foreign companies" in the sense that they are listed overseas, with the majority of their shares owned by foreign investors (Table 1).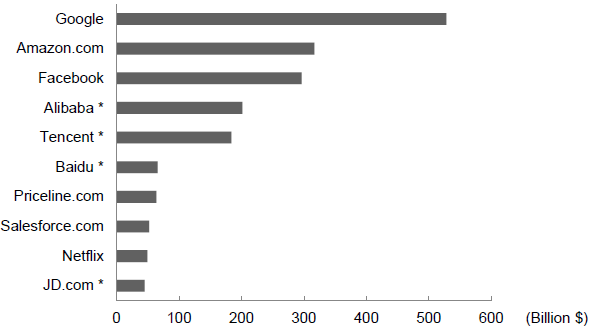 Table1: Top 10 Internet Companies in China and their Listing Status
Rank
Company Name
Main Business
Year of IPO
Market
Market Capitalization
(Billion $)Note
1
Alibaba
E-commerce
2014
NYSE
240.0
2
Tencent
Internet service
2004
Hong Kong
247.8
3
Baidu
Search engine
2005
NASDAQ
60.8
4
JD.com
E-commerce
2014
NASDAQ
36.7
5
Qihoo 360
Anti-virus service
2011
NYSE
Delisted on July 18, 2016
6
Sohu
Internet service
2000
NASDAQ
1.5
7
Net Ease
Internet service
2000
NASDAQ
2.73
8
CTrip
Travel and sightseeing
2003
NASDAQ
1.90
9
VIP
E-commerce
2012
NYSE
9.3
10
Suning
E-commerce
2004
Shenzhen
15.9
Note: As of August 18, 2016
Source: The top 10 Internet companies in China are compiled by the author based on the "China's top 100 Internet companies 2016" published on July 12, 2016 by the Internet Society of China, and the year of IPO, market, and market capitalization are prepared based on WIND.
The Chinese government has imposed restrictions on ownership by foreigners in some areas including the Internet industry, with the aims of guaranteeing national security and protecting domestic industries. The fact that Internet companies are actually controlled by foreign investors seems to be contradictory to this policy, but these companies have circumvented restrictions on foreign ownership by adopting variable interest entity (VIE) structures. Under this structure, a company is divided into (1) a domestically-owned operating company that actually conducts business and (2) a holding company registered overseas that becomes a vehicle for fundraising and listing overseas, and the shareholders of the holding company that include foreign investors control the domestically-owned operating company through subsidiaries and a series of contractual arrangements, instead of ownership, and enjoy rights similar to those of the shareholders of the domestically-owned operating company.
In China, VIE structures have been widely used as vehicles for fundraising in the Internet industry as well as other areas such as education and publication where foreign ownership is prohibited or restricted. However, Chinese companies that are listed overseas are beginning to seek a return to the domestic market as progress has been made in reforming the securities market, including the listing system, and in easing restrictions on foreign ownership on the one hand, while regulations on the use of VIE structures are likely to be tightened, on the other.