China in Transition
China's Automobile Market Slows Further
- Automakers revising their investment plans

Chi Hung KWAN
Consulting Fellow, RIETI
Automobile production in China surged following its entry into the World Trade Organization in 2001, and in 2003 it overtook France to become the world's fourth largest automobile producer with an output of 4.44 million units (a year-on-year rise of 36.6%). In addition to supply-side factors, such as the growing production capacity of foreign auto manufacturers including Japan's Toyota Motor Corp., Honda Motor Co. and Nissan Motor Co., the rise of the capitalist class and a robust domestic economy have supported auto sales on the demand side. Anticipating further growth in China's auto market, Japanese and other major automakers are moving ahead with plans to boost production. However, auto sales have begun to slow after peaking in March 2004, threatening to turn the boom to bust. This has forced automakers to reduce output and revise their investment plans.
October auto sales totaled 405,000 units, including 178,000 passenger cars, a plunge of 25.4% and 21.1%, respectively, from their March peaks. At the same time, passenger car production has fallen even more sharply by 40.3%. The biggest factor behind the slowdown in sales is uncertainty over the future of the economy created by government policies designed to cool down the overheated economy. Additional factors include more stringent screening of automobile loans and higher crude oil prices, which have raised the cost of automobile ownership. Consumers are anticipating lower car prices when China scraps its auto import quota in 2005, and are putting off purchases until then. As the gap between supply and demand widens, the price of automobiles is already falling sharply. Comparing the prices of 55 models for which data from the Beijing Yayuncun Automobile Trading Market were available for both 2003 and 2004, prices of passenger cars have dropped 8.9% over the past year, and none of the models was more expensive. Moreover, because the recent surge in crude oil and steel prices is raising production costs, profit margins for automakers are becoming increasingly thin.
Despite the slowdown in the automobile market, automakers are continuing to boost production capacity. Assuming planned investment goes forward, China's annual production capacity as of 2007 is expected to reach 11 million to 12 million units. To absorb this increase, demand would have to grow by an average of 40% annually. However, even the most optimistic forecasts indicate demand as of 2007 of about 7 million units. Although even this more modest projection implies average annual demand growth of 17%, it translates to an annual surplus of some 4 million to 5 million units in three years' time (Zhu Min, State Information Center, Economic Forecasting Division, "An Analysis of the Development Environment of China's Automobile Industry", China Economic Times, Nov. 25, 2004).
It is hard to imagine carmakers will go ahead with their plans in the face of such a large gap between supply and demand; should the slowdown in the auto market be protracted, they will no doubt revise these plans. Shanghai GM and Shanghai Volkswagen Automotive Co. already temporarily halted operations in mid-July in an effort to adjust inventories. Volkswagen has said a decline in operating profits for its China operations for the year to December 2004 is unavoidable, and announced in November it would review its business plans for China and slash investment over the next two years by 22%.
Japanese automobile manufacturers, on the other hand, are showing no signs of slowing down their foray into the Chinese market. The three major automakers, Toyota, Honda and Nissan, have announced they will roughly double production capacity in China over the next three years to some 1.5 million units from the present 700,000. Among other automakers, in the second half of 2004 Mitsubishi Motors Corp. said it will boost its stake in its Chinese joint venture; and Suzuki Motor Corp. said it plans to increase production at its joint venture company. Given that a supply glut seems unavoidable, Japanese firms will also be forced to revise their investment plans.
Figure: Automobile sales in China (anuary 2000 - October 2004)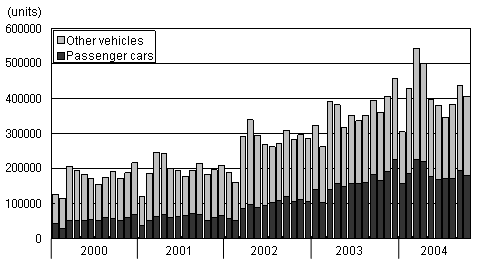 (Source)Based on figures released by the China Asociation of Automobile Manufacturers.
Article(s) by this author